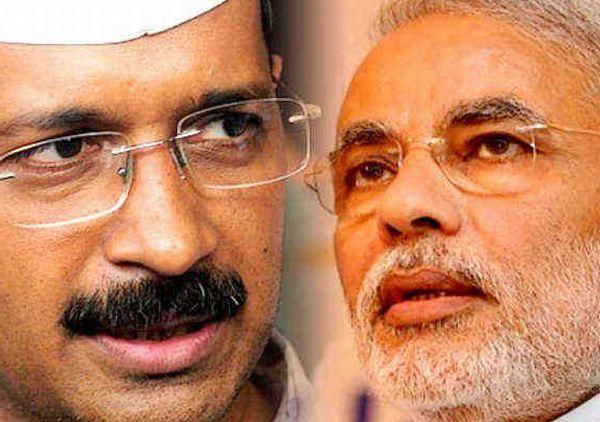 'The AAP is likely to take root in some metropolises -- although it won't be easy to replicate the small-scale Delhi model with equal intensity or cadre-strength in a large state,' says Praful Bidwai on a day when the AAP has decided to form the government in Delhi.
Within days of making a stunning electoral debut in Delhi, the Aam Aadmi Party found itself in a dilemma. Both the Bharatiya Janata Party and the Congress offered to support the AAP if it formed a government with 28 members in the 70-strong legislative assembly.
Should it accept the offer and assume governmental responsibility?
Or, should it, in keeping with its 'idealism' and the popular mandate, stay out of power until it wins a majority?
If the AAP did the first -- as it has just chosen to do -- it might be able to take some worthy measures in the interest of its supporters and set an example of transparent governance.
But that risks damaging its claim to being an uncompromising 'new force' in politics, which doesn't wheel-and-deal with parties which it denounces as corrupt.
Besides, the AAP doesn't have the numbers to ensure that its government will last if the Congress withdraws support.
Had the AAP stayed out of government, it may have been punished by its supporters for shirking responsibility and squandering away a chance to do what it can despite its limited mandate. It might end up losing some seats.
Faced with this unpalatable choice, the AAP summoned up an awkward, inconsistent response. It stipulated 18 conditions for forming a government, which the Congress must accept -- and also asked the lieutenant governor for 10 days's time to decide on the issue.
The awkwardness and illogic only confirmed the existence of sharply divergent views within the AAP on forming a government, as well as broader ideological differences.
The AAP tried to deal with (or rather, finesse) such divergence by inviting its supporters and mohalla committees to give their opinion by SMS/e-mail or in person.
However, this sounds less like a popular referendum than a damage-control operation to mask the AAP's indecisiveness.
Whether such methods will help or hinder the AAP is not yet clear. But it is plain that internal differences, and even some incoherence, are inevitable given the nature of the animal that the AAP is.
It is vital to understand the AAP phenomenon in all its complexity in order to see where it is likely to be headed. First and foremost, the AAP represents something novel and remarkable in Indian politics.
With the exception of the Jayaprakash Narayan movement in Bihar and Uttar Pradesh and the Navanirman agitation in Gujarat in the 1970s, it is the first sizeable party to be thrown up by a civil society mobilisation -- specifically, Kisan Baburao 'Anna' Hazare's anti-corruption movement, launched in 2011, followed by massive anti-gang rape protests over the past year.
Other recent civil society mobilisations -- including large ones like the Narmada Bachao Andolan, sustained for two decades, the Sangh Parivar's intense Ramjanambhoomi campaign, or movements on land, food and environmental issues -- did not result in the formation of a political party which contests elections. Rather, they were co-opted by 'regular' parties or got dissipated.
The AAP is also a phenomenon in whose birth the media played the midwife's role, the first such case ever. It is no coincidence that the AAP was incubated and developed in Delhi, and that its activities were covered to saturation point by India's Delhi-centric media, especially television.
At the same time, the AAP's is a story of spectacularly successful political marketing of a clear mission, that of fighting corruption by creating what can be called an anti-political identity.
It says: 'No political party in India today works for the common man's needs... Since most... parties are corrupt, greedy and thick-skinned, it is time to bring political power back into the people's hands.'
Thus, the AAP created a brand for itself by tapping into widespread sentiment against conventional politics and politicians, which is strongest among the middle-classes, by linking them inextricably with corruption and greed.
It focused more on its adversaries's weaknesses than its own strengths or the feasibility of its extravagant manifesto promises such as cutting electricity bills by half.
The AAP successfully conveyed the message that 'normal politics' is some kind of 'dirty business' and mounted a frontal challenge to it.
The consistency of its challenge since the AAP took the lead in Hazare's Lokpal agitation had, as marketing expert Santosh Desai says, a strong 'brand recall' value.
This was enhanced by its deployment of powerful symbols: The Aam Aadmi-blazoned Gandhi cap (which represents austerity and continuity with the freedom struggle) and the jhadoo (broom, which suggests cleansing and also connects the AAP with subaltern layers, especially Dalits).
The AAP is also a product of some of the most energetic and imaginative organising and mobilising of people seen in India: Door-to-door canvassing, collecting small donations as a token of commitment, holding street-corner meetings, using autorickshaws as advertising platforms, and creating 'metro waves' among commuters by using volunteers, with party symbol and cap in hand.
No one has deployed communication tools from flyers and FM radio to television, Facebook and Twitter as skilfully as the AAP to reinforce a party's identity and message. All these activities gave a sense of involvement and participation not only to AAP organisers/volunteers, but also to ordinary people.
The AAP's focus on certain slums and lower middle-class localities -- where Arvind Kejriwal's NGO Parivartan had worked since 2000 to demand their regularisation and to protest against high power bills -- paid it rich dividends.
Many people in these localities, exhausted with traditional parties which cynically ignore them between elections wanted to give the new 'clean' party a chance.
The votes of the underprivileged added value to the AAP's middle-class core support base, highlighted by its emphatic victory in eight of the 10 assembly seats falling under the New Delhi Lok Sabha constituency, including Karol Bagh, Malaviya Nagar, Greater Kailash, Patel Nagar and New (Central) Delhi, where businessmen, professionals and bureaucrats live.
In contesting against Chief Minister Sheila Dikshit, Kejriwal took a calculated risk -- 'an important element of marketing' (Desai). He won more votes than her and the BJP rival combined, magically boosting the AAP brand.
According to surveys, the AAP trounced both its rivals among the 18 to 22 age-group voters, and nearly beat the BJP in the 22 to 27 age-group.
It also took away a chunk of Dalit votes from the Bahujan Samaj Party. But Muslims rejected both the AAP and the BJP and voted mainly for the Congress.
Despite its remarkable achievements, the AAP professes no particular ideology. It says ideology is 'for the pundits and the media to pontificate about.' It declares it is 'solution-focused rather than ideology-driven.'
It rejects the 'age old-tendency to pin down political parties as Left, Right, Centre, etc' which makes everyone forget 'the issues at hand and their solutions.'
The greatest issue, 'the biggest evil' in India today, for the AAP, is corruption, which it doesn't relate to economic policies or social structures.
Deeply entrenched poverty, deprivation, economic inequality and injustice -- at the root of social backwardness and misery -- aren't major issues.
Like most parties, the AAP too advocates 'populist' policies, but doesn't really pursue them.
Fighting corporate power isn't an AAP priority. It once took on a Mumbai-based business house, only to beat a hasty retreat.
The AAP has no stand on the aggressive Hindutva communalism personified by Narendra Modi. Tackle corruption through the Jan Lokpal, cleanse governance through transparency, and that is Nirvana! Despite denials, this is also an ideological position.
In this respect too, the AAP resembles the JP movement which called for 'Total Revolution' and 'Direct Democracy' while ignoring 'ideology,' key social-economic agendas -- and communalism.
Tragically, the movement legitimised the Jana Sangh and even the Rashtriya Swayamsevak Sangh, till 1977 considered a political pariah. It soon got dissolved into the ill-fated Janata Party.
The AAP is similarly silent on the greatest threat India faces: Hindutva-communalism under Modi.
The AAP's silence on Modi is rooted in the same phenomenon for which it lambasts other parties -- opportunism. Some AAP supporters openly say they will vote for Modi in the Lok Sabha election. The AAP does not want to antagonise them.
Similarly, the AAP's top leaders differ among themselves on economic policy, affirmative action, Kashmir, etc. They brush these differences under the carpet. But they will surface over time.
Getting rid of red beacons, the AAP's foremost demand -- and its top criterion of moral degeneration -- won't cover them up.
What are the AAP's prospects? It is likely to take root in some metropolises -- although it won't be easy to replicate the small-scale Delhi model with equal intensity or cadre-strength in a large state.
But one thing is clear. Unless the AAP takes a strong anti-Modi stand, it will end up helping the BJP.