'Devyani -- she is a public servant and her personal life has already received far too much attention -- and her ambitious father now need to retreat to the background so that wiser diplomatic heads restore sanity to India-US relations as India prepares for parliamentary elections,' says Ambassador K C Singh.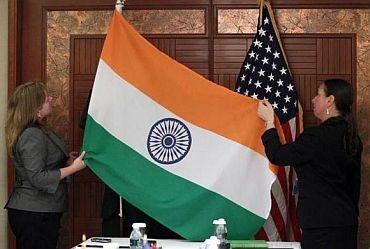 When United States Secretary of State John Kerry assumed office on February 1, 2013, it was assumed in India that the warmth that Hillary Clinton exuded towards India may be replaced by a new, more business-like style.

But no one imagined that the trajectory of United States-India relations would be anything but upwards.
The trouble, if any, was anticipated to be lurking over the planned drawdown of US troops in Afghanistan, with attendant Indian concerns about the end-game.
Nawaz Sharif's election as prime minister of Pakistan was again wrongly assumed by many, in and outside the government, in Delhi as harbinger of happier times for the region.
The opening moves by Kerry with shuttle diplomacy in West Asia delineated rearranged priorities for someone seeking a place in history, presidency having receded beyond his grasp.

Advance quotes from the memoir of former defence secretary Robert Gates are hinting at divisions and uncertainty at the top of US administration in their handling of war and peace.
That the India brief was on drift mode was obvious from Kerry having waited till June to visit India, eventually for the fourth meeting of the US-India Strategic Dialogue.

His articulation in public on bilateral relations left a question mark over how strategic he really perceived them to be.
In a public address at the Habitat Centre in New Delhi, there was no mention of terrorism. Mostly long preaching on how climate change and the then unfolding rain induced tragedy in Uttarakhand were inter-related.

Kerry did not let an opportunity pass for the marketing of new clean energy technologies, and to push India towards accepting emission ceilings.
The assumption of office by the fifth generation of Chinese leadership and the informal summit in California between Presidents Barack Obama and Xi Jinping was held against the background of the Snowden revelations about the predatory electronic intelligence gathering by the National Security Agency.
The gradual unfolding of the extent of the abuse of the cyber world, essentially a global common, created tremors globally. Indonesia frowned at the Australians, Brazilian President D Rouseff cancelled a proposed visit to Washington and the Europeans, particularly the Germans, threatened of its impact on the Free Trade Agreement under negotiation.
Prime Minister Manmohan Singh swallowed his pride and went on a farewell visit to US in September 2013.
Analysts in India wondered if pizzazz could be restored to a relationship that had hit multiple hurdles on both sides, giving an impression of loss of momentum.
The US felt unrewarded in the civil nuclear cooperation field as the nuclear liability law passed by Parliament held suppliers of equipment and technology liable for any future malfunction.

Multi-brand retail also, under political and public pressure, was permitted subject to onerous conditionality.
On the Indian side there was mounting consternation over America's revised visa policy clearly targeting Indian software companies.

In the defence field too, while India placed huge orders for military transport aircraft, there was US bickering over their bid for Medium Multiple Role Combat aircraft being outclassed by the French.
The US also had intellectual property issues in the pharmaceutical sector, where India thought patent extensions were mere tweaking of existing drugs while the US saw a breach.
Alongside these lists of unmet commercial possibilities on either side, the cottage industry of working groups in myriad fields continued to meet, discuss and even move forward wherever possible.
Thus, while the mechanics of a 'strategic relationship' lurched on, the romance had evaporated from the relationship.

Prime Minister Singh in perhaps his last press conference some days ago, when asked the high point of his 10 years in office, singled out the India-US civilian nuclear deal.
He was right to the extent that under President George W Bush the deal was only incidentally about energy. It was about lifting the technology denial regimes, created in waves post India's 1974 nuclear test, without which India could not aspire to compete with China.
The US made a strategic shift, to the painful surprise of China, Pakistan, etc, which had potential for creating a new and balanced Asian security order, subsuming the peaceful rise of China.
Unfortunately, eight years after that achievement, two debilitating wars by the US in Iraq and Afghanistan, the banking meltdown of 2008 and the Eurozone crisis, it is a new dynamics in which India and the US are operating.
The US appears to have made some fundamental choices: Iran over supporters of Al Qaeda and Sunni extremism, including if necessary its traditional allies like Saudi Arabia; peace in West Asia over Israeli bickering and back-pedalling; withdrawal from Afghanistan even if to level zero and likely resurgence of Taliban; offshore balancing of Chinese assertiveness in the East and South China Seas through twin methods of Trans Pacific Partnerships and military capacity building of selective powers directly or through Japan.
The Devyani Khobragade issue has lingered like the Arctic chill over bilateral relations.

From the Indian standpoint the manner of arrest, in breach of the Vienna Convention on Consular Relations, showed extreme insensitivity and unconcern for its impact on public opinion in India. From the US perspective the issue was the protection of the domestic help's rights.
Why and how a wage dispute was allowed to become visa fraud -- when the US embassy in Delhi has handled hundreds of such applications over the last two decades knowing the discrepancy between stated salary and actual emoluments -- and finally was turned into human trafficking, escapes explanation?
If it was done deliberately to send India a signal of extreme unhappiness about pending issues, partly explained above, the US government has been extremely successful. If not, it is a careless use of discretion.
Something needed to be done quickly as the next date of appearance for Devyani loomed January 13, following which the issue would have exacerbated rapidly.
The best case scenario was for the US to have conceded that in view of Devyani having been co-opted onto the UN delegation, her immunities became absolute for that period.
Thus with the Indian government not waiving her immunity, the US had the option to seek her withdrawal from their territory.
Instead, the US allowed it to proceed to the precipice with the Manhattan court turning down request for an extension and the district attorney preparing to file charges.
Only then a deal emerged that while she was indicted on charges of false statement and visa fraud, mercifully not human trafficking, but the G1 visa protection was extended allowing India to withdraw her, having refused to lift her immunity.

The immediate impact on bilateral relations was manifested in the postponement of Energy Secretary Ernest Moniz's visit as well as that of Nisha Desai Biswal, the new assistant secretary for the region.
Whatever goodwill a person of Indian origin was supposed to beget has been dissipated by the actions of another such individual -- US Attorney for the Southern District of New York Preet Bharara.
The focus must shift back to the larger issue of domestics with other Indian diplomats in the US, as well as future arrangements that are not easy diet for evangelical soul-savers and guinea pigs for Preet Bhararas to build political careers.
That the State Department allowed the issue to arise and then linger for two months casts its commitment to India-US relations in poor light.
There is also the lingering suspicion that a number of former India hands played a role in this melodrama as the State Department handled the matter for over six months.
Devyani -- she is a public servant and her personal life has already received far too much attention -- and her ambitious father now need to retreat to the background so that wiser diplomatic heads restore sanity to India-US relations as India prepares for parliamentary elections.
Ambassador K C Singh is a former Indian diplomat.