'By extending its support to assist the LeT, China is not helping the cause of containment and eventual destruction of radicalism and terror,' says Lieutenant General Syed Ata Hasnain (retd).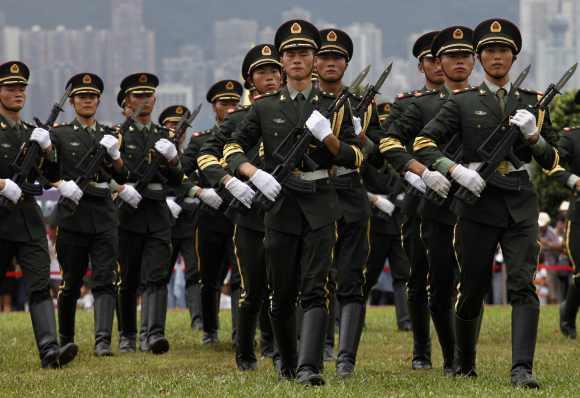 Nations mostly do things in the international environment in support of their national interests; that is an oft repeated truism. However, there would be times that compromise with this may be made in pursuance of an ally's interests without sufficient realisation of a long term fallout.
A nation such as China, on fast track growth, mindful of its international status, internal security compulsions and having a repertoire of futurologists for advice is usually wont to undertaking such support which would be harmful to its future interests.
The case refers to the recent reported Chinese action of blocking United Nations investigation against the release on bail of Zaki-ur Rehman Lakhvi by a Pakistan court in April, for supposed lack of evidence.
China has cited insufficient information provided by India for its action while all other permanent and non-permanent members of the UN Security Council supported the investigation under UN Resolution 1287.
China needs to realise that it is a signatory to all international protocols on terrorism, but even more importantly during Prime Minister Narendra Modi's recent visit to Beijing, it had jointly accepted with India the need for cooperation in fighting international terrorism.
While China's action is not entirely surprising given its past record of saving Hizbul chief Syed Salahuddin from similar investigation, it is the lack of realisation of the negative effect on its own problems of home grown terror that astounds observers.
Double speak is not something unexpected in international strategic considerations, but the inability to see something staring at you in the face is difficult to comprehend.
China's problem with its Islamic population in Xinjiang is too well known. Its social insensitivity to the population in terms of banning fasting during the holy month of Ramzan and ordering the change of pattern of head scarves for women can only add to the antipathy that the populace already has against Beijing.
The ease with which Islamist terrorists have struck locations deep inside the Chinese mainland should be a reminder that the action-reaction theory works efficiently there. A bustling city like Kunming, hundreds of miles from Xinjiang, was hit by an unconventional terrorist attack using knives just two years ago.
Various institutions and infrastructure projects remain under threat. In the face of this it was expected that China would follow a very prudent policy of countering terrorism, especially of the Islamist label. After all, in Xinjiang, Muslims account for 59 percent of the region's population.
Recent reports of the presence of Uyghur Muslims among Islamic State cadres should also demonstrate how human exfiltration and infiltration is always possible despite the strictest population control measures.
China cannot expect that it will remain impervious to such movement which is inevitably in both directions.
The propensity to play 'good terrorist-bad terrorist' on the lines of its protege Pakistan is actually surprising because China is known to be much more pragmatic and would recognise the fallout.
If it perceives that by supporting Pakistan's ploy and playing to the Lashkar -e-Tayiba's existential interest it can wall itself up against the larger turbulence of the radical world, it would need deeper study of the malaise.
The world is increasingly working towards containment of transnational terror although it is yet to fully come to terms with the issue and draw up consensus-based doctrines. International migration is extremely difficult to contain and with it comes the inevitable movement of ideology.
Hunting with the hounds and running with the hares may sound cliched, but it is not a policy that a pragmatic nation like China can follow given all its infirmities.
The compulsions of supporting Pakistan from a strategic view point are well understood. Pakistan's geostrategic location gives it an out of proportion significance; the China Pakistan Economic Corridor, CEPC, and the proposed $46 billion investment through 52 agreements between Pakistan and China exemplifies this significance.
Yet, China has to weigh its interests in supporting a radical Wahabbi terrorist organisation against its interests in other parts of the Islamic world which are virulently anti-Wahabbi; Iran among them.
China's international commercial empire has reached humongous proportions and is expanding. Its dreams of making the New Silk Route with all its super connectivity is contingent upon the stability of the areas it crosses.
The Central Asian region is as yet almost untouched by the problem of radicalism, but the efforts to bring the region within the sway of radical ideology are increasing by the day. Perhaps China's analysts need to understand that while the Old Great Game in this very region revolved around spheres of influence and physical expansion of empires, the New Great Game is something quite different.
In current times the Game is all about three essentials -- infrastructure for connectivity and trade, energy and ideology. The latter is more about the attempts to infuse radicalism in the area. The core centre for all this remains Pakistan.
The world expects that as the International Security Assistance Force withdraws completely from Afghanistan, China will play a responsible role in stabilising the region while securing its own interests in the mineral belt and connectivity with the Indian Ocean.
This role is unlikely to be played in the manner contemplated unless China assists in the containment of ideologies inimical to regional and international stability.
By extending its support to assist a declared terrorist organisation such as the LeT, China is not helping the cause of containment and eventual destruction of radicalism and terror.
In fact, it is going against the very protocols of which it is a signatory and the resolutions it has mutually adopted with nations with which it wishes to work towards regional and international stability.
Pragmatic nations which fail to fully comprehend complicated international socio-political tussles should normally refrain from taking sides less the fallout consumes them too. China is surely such a nation.
Lieutenant General Syed Ata Hasnain (retd) is a former General Officer Commanding of the Srinagar-based 15 Corps and is currently associated with the Vivekanand International Foundation and Delhi Policy Group.