The least the Opposition can do, for India's sake, is try to offer one, says Mitali Saran.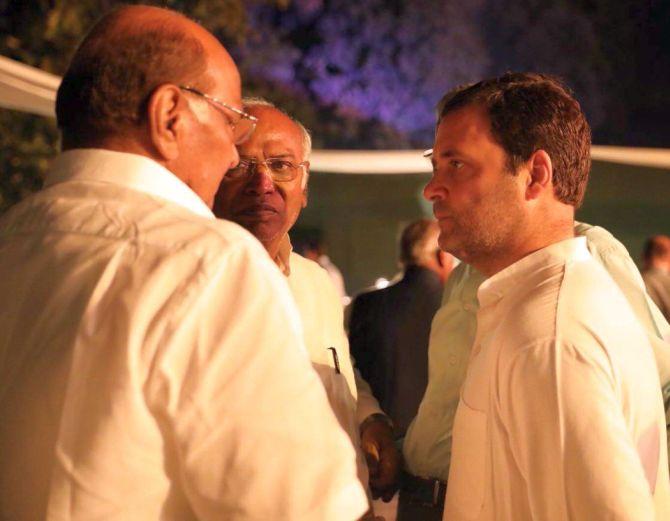 IMAGE: Sharad Pawar, Mallikarjun Kharge and Rahul Gandhi at Sonia Gandhi's dinner on March 13, 2018 for Opposition leaders. Photograph: Kind courtesy @INCIndia/Twitter
Well here we are, staring at the smoking ruins of the Bharatiya Janata Party's election promises and trying to stop the ringing in our ears.
Indian voters are a cynical lot, used to having our hearts broken first by one party and then the next; but even by cynical standards, the distance between Mr Modi's promises and his delivery is impressive.
A recent piece by Shivam Vij in The Print points out the cleverness of election slogans like 'Achhe din' that suggest works in progress rather than hard deadlines, thus paving the road for Mr Modi to argue for more time in 2019.
But this road -- much like life -- is one long blind curve. If someone tells you that what you seek is always just beyond the horizon, it comes down to how much you believe it, and how long you're willing to travel.
At this point, a lot of Indians are fed up with the hardships and inconveniences of demonetisation and GST, and angered by the failings and cruelties of the Aadhaar fiasco.
We want answers to questions like 'How did Judge Loya die?' We ask 'Where are the jobs?' and want better answers than 'Sell pakodas.'
The name Modi now reminds us of Nirav Modi and Lalit Modi being allowed to make off with thousands of millions of rupees.
We see our institutions being destroyed, our press leashed and craven.
We see unemployment, barbaric mob killings, communal statements from government officials, mind-boggling corruption, and a joyless puritanism being pressed upon society.
We see education being replaced by brainwashing -- and to my mind, actively cheating young people out of their potential for empowered self-development constitutes this government's greatest sin.
It seems many people are looking for change. Today even BJP supporters are unhappy with their party.
They dislike Mr Modi's failure to deliver and his propensity for too much big talk; they resent his quasi-despotism and the fact that he surrounds himself with incompetent, insensitive people. GST and demonetisation are not popular.
And yet huge numbers of disillusioned citizens are saying, 'But what's the alternative?'
Other than its organisational chops, the BJP's sharpest weapon has been its spin and marketing machine. This machine built the prime minister's buoyant personal brand, though by now it is somewhat diminished.
This machine daily spins failure to look like success, stagnation to look like progress, and Hindutva to look like a correction of 'distorted history', though there is no better reality check than one's own wallet; people are wise to the online and WhatsApp industry of fake news.
This machine also did a fine job of discrediting the Opposition in the public mind, sometimes fairly, sometimes by repeating lies until they served as truth.
But the Congress cannot blame only the machine. The party was first stunned by its 2014 defeat, then directionless, then mousy. But even now that it shows signs of of real revitalisation -- more quickness and aggression, a compelling social media presence, and a decent showing in Gujarat, now that Rahul has shaken the 'Pappu' tag and is being taken seriously -- people remain wary of it, and sceptical of its intentions.
A friend reports that his BJP supporting friends are so frustrated, they say they wish that Rahul Gandhi would do better, so that they could vote for the Congress.
Forget BJP supporters -- legions of potential Congress voters reluctantly plan to hit NOTA in the voting booth.
The truth is that public memory of the United Progressive Alliance's dismal second term still festers, and the party has been unable to shake off the richly deserved opprobrium it attracted when it was in power.
Nobody wants the bad old days back. And the truth is also that it has never had a better opportunity to earn back voters' trust.
But for that it needs to look, feel, and smell like an alternative -- a real alternative, not just to Mr Modi's BJP, but also to the Congress' own worst past self, which sometimes looks suspiciously like Mr Modi's BJP.
The party currently has the advantage of the underdog: It can learn from its mistakes, course-correct, re-define and re-articulate its vision, and try to mean it.
To win back the disappointed Congress voter, it has to show her that the devil she knows has been to rehab, kicked its worst habits, and reoriented its priorities.
This time, when it comes home, it's not going to steal from her handbag, or neglect its chores, or let itself go.
Whether the Opposition will -- or can -- offer that alternative remains to be seen. But the least it can do, for the sake of India, is try.
And it would be a courtesy to all those disappointed BJP voters.