'Imran Khan hopes to fulfill the dreams of the founders of of Pakistan in establishing an Islamic Welfare State.'
'The grave situation of the economy makes realisation of this dream very difficult,' points out Colonel R N Ghosh Dastidar (retd).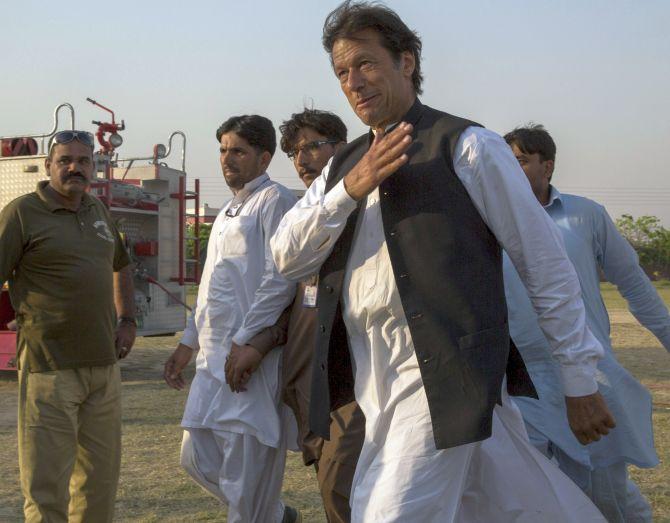 Civility has never been one of his virtues; his contemporaries despise him for his candour and hate his courage.
The electronic and social media adore him; both were a major contributor to his victory.
Imran Khan is also gifted with incredible persuasive powers, to sway people's thinking.
The youth identify with him, believe in him and so, empower him. His ideas are innovative and visionary.
Imran Khan's challenging political journey has now reached its zenith.
In his victory speech, he expressed his inspiration to build Pakistan as a 'humanitarian State based on the principles of first Islamic State of Medina'. The main objectives of his governance will be eradicating poverty and establishing equality of all citizens before the law and that his tenure which will be defined by austerity.
Imran's success is like a modern day fairy tale, of the triumph of democracy over the corrupt, repressive political parties and the ever interfering military. To realise his dreams, let's examine the state of Pakistan today and the challenges he faces.
Pakistan today is 207 million strong, with 66% of the population under 30. The dividend of the youthful population is seriously negated by endemic poverty, illiteracy and inequality.
Pakistani society is a boiling cauldron. Secular liberals oppose the imposition of Sharia laws. The Saudi-aided madarssas want adoption of orthodox Islam.
With its engagements in the Afghanistan and India, Pakistan is fundamental to the world's fight against terrorism.
With America, in respect to Afghanistan, it audaciously plays the dual role of an ally and villain. Imran has been vitriolic in his opposition to US meddling in Pakistan.
For China, Pakistan is an important link in its Belt Road initiative, in which it is investing over $62 billion, and a State inimical to India.
For India, Pakistan is an unstable nuclear armed neighbor who has promised to bleed it with a 'thousand cuts' and is actively involved in cross border terrorism.
A rising debt burden and a near defunct foreign currency reserve has brought Pakistan to the brink of defaulting on its loans and defaulting on the payment for its oil imports.
Pakistan's budget deficit is nearly 10%. Its import bill has increased exponentially -- on account of oil -- whereas its exports have grown marginally only.
Its foreign exchange reserves are only $10.3 billion. This caters for just two months of imports. The devaluation of the rupee in December 2017 has increased inflation, making the common man restive.
Pakistan urgently needs $12 billion to tide over this crisis. Saudi Arabia has agreed to give $5 billion in loans. If the IMF is approached for loans to tide over the shortfall of $7 billion, then the US is likely to pressurise the IMF to make Pakistan reveal the state of finances of the China Pakistan Economic Corridor, which will impinge on Pakistan's sovereignty and its relations with China.
Imran Khan hopes to fulfill the dreams of the founders of of Pakistan in establishing an Islamic Welfare State.
This will mean investment in health, education, housing, skill development and other social sectors which will make the population's youthful dividend, productive.
This will require huge investment, the results which are slow to fructify.
The grave situation of the economy makes realisation of this dream very difficult.
Imran Khan has correctly identified State owned enterprises as the white elephants of Pakistan's economy. He needs to privatise them on priority.
Privatisation will result in job losses, alternative employment avenues will have to be provided or civil unrest will erupt.
To revitalise exports he may consider further devaluation of the rupee to make exports competitive, but the accompanied risk of inflation and civil unrest will put him in a Catch-22 situation.
To get the economy on even keel, he will have to revisit the policies of subsidies (electricity, fertilisers, textiles and many others) and make it only need based to eliminate the parasites of freeloaders. This too will require a walk over the tightrope.
Agriculture contributes to approximately 25% of Pakistan's GDP but employs over 40% of the population.
The country has an advanced irrigation network, yet per hectare yield is low. 30% of water and food grain are wasted.
The current growth per annum is 2% to 3% which is insufficient to feed Pakistan's 207 million people.
Immediate reforms in equitable land distribution, modern farm techniques, upgrading irrigation system will require political resolve and funds.
Industrialisation will be the key to growth and to provide employment.
Foreign investment is a vital requirement. Corruption, bureaucratic delays, a debt-ridden banking system, archaic laws, frequent power cuts make Pakistan rank 147 amongst 190 nations, for ease of doing business.
To realise his dream of eradicating poverty, he will have to make the economy grow at a minimum 7% per annum for the next decade.
To achieve this, the economy will require an investment of $60 billion or 20% of the GDP each year, from foreign and domestic investors.
To increase revenue, the tax collection base has to be enlarged from the present 8% to 9.5% to 17% to 18%.
Imran Khan will face strong head winds in expansion of the tax base.
It is imperative that the government modernises the entire nation in terms of modern technology.
Adoption of modern technology in all spheres will prove economic dynamism and also herald modernisation of this orthodox, conservative society.
Its success or failure will judge Imran Khan's governance.
Imran Khan has been rock steady in his demand to cleanse governance since 1996.
Now at the helm of affairs, he has to work assiduously to overcome and turn around the vital negatives of the nation that are its nemesis: Endemic corruption, sectarian violence, disturbed Khyber Pakthunwa-FATA-Sindh-Balochistan and a galloping population (from 83 million in 1981 to 207.7 million today).
The last and vital key to success will be to ensure the non interference by Pakistan's military and least judicial activism by the judiciary.
In Pakistan, history provides ample proof to the contrary.
Imran Khan will have to ensure smooth ties with the US to ensure an early solution of the Afghan problem which has extracted a heavy toll of Pakistan's economy, social structure and law and order.
Imran will have to redefine Pakistan's India policy to ensure Pakistan's peace and prosperity and that of the sub continent. He will also have to reach out to Iran and improve relations with this oil rich nation.
The CPEC is today the heart and soul of Pakistan's economy. He will have to ensure that no foreign country adversely influences his nation so that this lifeline for growth is stymied.
Imran Khan brings with him qualities which are rare in Pakistan's political class. His integrity, courage, steadfastness and public trust make him a resolute, determined reformist leader, capable of succeeding in a hard country like Pakistan.
This is Imran Khan's tryst with destiny. He has miles to go before he sleeps and India and the world wait with abated breath, his final Innings.
Colonel Rabindra Nath Ghosh Dastidar (retd) has vast and varied experience in the Indian Army.