'Those leading the current political dispensation, whether at the central or the state level, must recognise the enormous risks that their divisive policies are creating for the national security and wellbeing of the country,' cautions former foreign secretary Shyam Saran.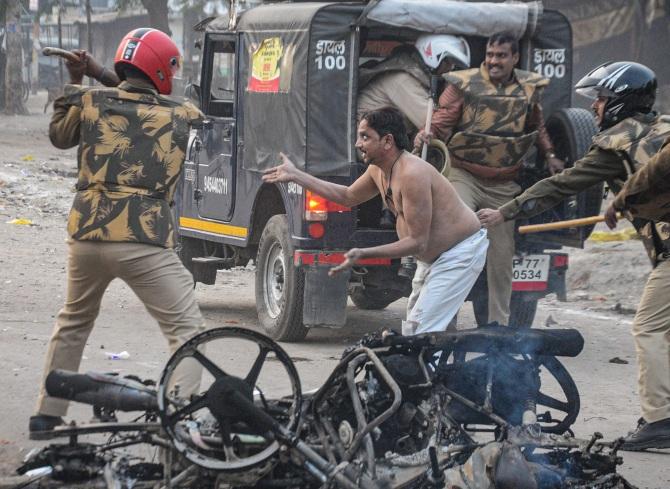 The brutal violence unleashed against students and faculty of Jawaharlal Nehru University on January 5 by storm-troopers, whose masked faces did nothing to hide their political and ideological affiliations, was a calculated message to academic institutions, civil society and minorities, that they would be bludgeoned into submission if they dare to resist the reconstruction of the Indian State and society in accordance with a majoritarian blueprint.
What we saw unfold at JNU was a continuation of the bloodstained saga that began at Jamia Milia Islamia, spread to Aligarh Muslim University and then enveloped the state of Uttar Pradesh, whose chief minister sought 'revenge' against those protesting against the Citizenship Amendment Act.
In all these instances, the law and order machinery charged with safeguarding the lives and property of citizens became instead the complicit instruments of inflicting indiscriminate violence and destruction against whomsoever the State deemed as inimical to the pursuit of its ideological and political agenda.
There is a level of ruthlessness in the State's response to dissent, which is disturbing.
It is spreading fear and anxiety and is designed to silence any opposition.
This sharper polarisation may yield political dividends as we have witnessed in the recent past.
This is a dangerous game with no holds barred, which could severely and adversely impact the country's future.
What is unfolding is polarisation on religious and ideological lines, which often become intertwined.
The Muslim minority and the Left wing are lumped together as antithetical to national interests.
The use of a compliant law and order machinery, as in Jamia and AMU and later in UP or violent storm troopers of the kind we saw at JNU, will confront the Modi government with an expanding circle of resistance.
States with non-Bharatiya Janata Party governments will encourage such resistance.
This is already happening and it would be prudent for the government to respond with a degree of accommodation and reassurance.
Failure to do so may well expand opposition and some elements may well resort to retaliatory violence.
There will be a temptation then to use the security imperative to respond with increasing firepower.
Increasingly onerous limitations will be placed on the rights guaranteed to citizens under the Constitution.
There is a danger that democracy in India will get hollowed out in the process.
It will be a monumental tragedy if we end up in a spiral of disaffection and escalating violence.
It will make the country acutely vulnerable to hostile external forces.
We must not forget that China exploited insurgencies in the north east in the past to undermine India's security.
Pakistan has exploited politically disturbed conditions in Punjab and Kashmir.
If political turmoil strikes at the heart of the Indian State, our national security will be threatened like never before.
Securing our unsettled land borders will become more challenging than it already is.
We also have the example of dealing with Left Wing Extremism, where despite the deployment of immense coercive power by the state, only limited success has been achieved.
The resort to armed suppression by the State rarely stays limited to perpetrators of violence.
By its very nature it ends up targeting a much larger catchment area and population.
This breeds even more disaffection and violent resistance.
Successful end to such insurgencies has almost always required a willingness to engage in a dialogue and being open to compromise which democratic processes are best suited for.
In Jammu and Kashmir, a virtual lockdown continues into its sixth month since the change in the status of the state.
The situation there should alert us to what may happen in other parts of the country if recourse to coercive measures is the instrument of choice to deal with an alienated population.
It is not wise to push dissent into disaffection.
There is an unspoken confidence within government that its pursuit of a majoritarian agenda will have minimal foreign policy impacts.
That India being a major power and a dynamically growing economy will mute critical voices both among friends and adversaries.
This confidence is misplaced.
For one thing, the state of the Indian economy cannot be insulated from the political turmoil engendered by the pursuit of policies which are creating rising disquiet and anger in particular among the minority community.
Areas that have been affected by LWE and the Kashmir valley are not exactly the favourite locations for investment and for doing business.
The current slowdown in the economy will be exacerbated under the impact of the spreading unrest in different parts of the country.
Sentiment among foreign investors will be negatively affected.
Our diplomatic space will also shrink.
Nor is there an appreciation that India has built up considerable political capital over the past seven decades as a successful multi-religious, multi-cultural and multi-lingual plural democracy.
This is soft power which reinforces the efficacy of hard power derived from expanded economic and military capabilities.
The series of actions that have followed Prime Minister Modi's second term, including the change in the Constitutional status of Kashmir, the judgment on the building of a Ram temple in Ayodhya and now the CAA, have had a negative perceptional impact externally.
The images from JNU will not help.
The pressures on India may come explicitly from civil society and media in foreign countries, but these will create opportunities for governments of friends and adversaries alike to derive advantage at India's expense. This, too, will undermine national security.
A divided country is an insecure country.
A united country made up of diverse peoples can only be built as an inclusive country.
Those leading the current political dispensation, whether at the central or the state level, must recognise the enormous risks that their divisive policies are creating for the national security and wellbeing of the country.
They must acknowledge the deep anxiety and fear, which their policies are creating among India's minorities, civil society in general and business and industry and reach out to reassure them.
Without this, India will be unable to deal effectively with the mounting challenge of reviving a slowing economy and coping with a complex and rapidly changing geopolitical landscape.