It is bound to fail like the earlier ones, again causing Pakistan enormously more damage than to India, points out Shekhar Gupta.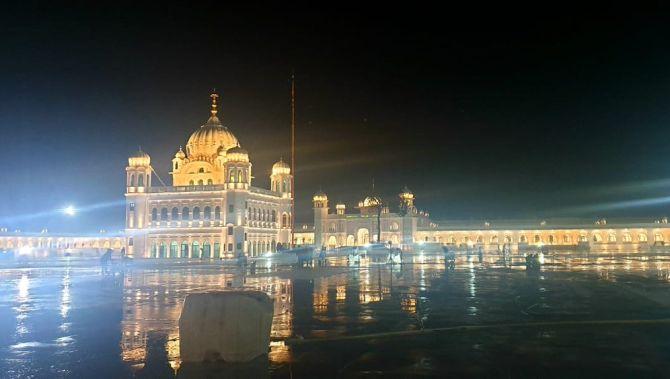 Imran Khan isn't the brightest being you've met, except when playing cricket.
Yet, even by his standards, his offer to make the visit to Kartarpur Sahib visa free for only the Sikhs from India was curious.
How would he, to begin with, define a Sikh?
Sikhism is neither doctrinaire, nor exclusive.
Anyone from any faith is welcome in a gurdwara.
You just need to follow a couple of simple rules: A covered head, bare feet.
Then, you can pray, the priest will treat you and get you the blessings from the holy book like any other devotee, and the sangat (community) will feed you at the langar.
There is no place in Sikhism, including the Golden Temple or Akal Takht Sahib, where anyone's faith bars them.
The essence of Sikhism is bar none.
That is where the philosophy of the langar, a community meal where everyone eats together, comes from.
You share a meal, you are equals.
Then anyone, irrespective of faith, can do kar sewa (voluntary work).
And so many do.
This is the reason Sikh holy places are among the cleanest anywhere.
There is much anxiety in India about the moves and intentions of Imran/the Pakistan army/the Inter-Services Intelligence over Kartarpur Sahib.
They all might be -- and probably are -- as diabolical as we suspect.
But they aren't particularly bright.
Even if they had such a genius idea of subverting India's Sikhs and reviving separatism through Kartarpur Sahib, Imran has ruined their 'operation' by offering freebies to only the Sikhs.
Besides the fact that the Sikh faith, intrinsically equal and inclusive, will dismiss this preferential treatment with contempt, Imran will also not know how to define a Sikh, or tell one from any other devotee of Guru Nanak and the great faith he and his nine successors founded.
There is nothing in Sikh practice and tradition that discriminates Sikh from non-Sikh.
Imran has bought into the old military establishment folklore in Pakistan that a final Sikh-Hindu division is inevitable.
That two efforts in the past -- one in the mid-1960s and the second in the 1981-1994 period -- failed, but the time for a third push has now come.
That's why some overseas Sikh organisations, especially in Canada, are being brought together with Pakistani immigrant groups, especially Kashmiri (Mirpuri), and this so-called 'Referendum 2020' is being sponsored.
Another chapter is being opened in an old playbook.
It is bound to fail like the earlier ones, again causing Pakistan enormously more damage than to India.
We, in India, need have no anxieties.
Breaking the Sikhs away from India is a fantasy of the Pakistani elites going back to the early 1950s, when that generation's wounds of Partition were still raw.
The Pakistanis took this operation to its first peak in the mid-1960s, hoping to prise the Sikhs away.
One faction of the Punjabi Suba (separate Punjabi state) movement had a radical/separatist impulse.
But Partap Singh Kairon as chief minister in Punjab, and after his assassination Lal Bahadur Shastri and Indira Gandhi handled the challenge adroitly.
Punjab was divided again, with Hindi-predominant Haryana and Himachal Pradesh becoming new states and a Punjabi-speaking (and Sikh) majority now with a Punjab of its own.
A curious little sidelight: The Pakistanis also separated and tried to indoctrinate Sikh Indian prisoners of war, especially officers, in 1965.
That chapter ended, and the second one was launched in 1981 by a Pakistani establishment emboldened by the new clout it had acquired with the Afghan jihad.
It coincided, however, with many other factors internal to India: A revivalist mood among the Sikhs, weak governments, and the marginalisation of the Shiromani Akali Dal.
Then, the arrival of a leader as charismatic and puritanical as Jarnail Singh Bhindranwale.
What followed is well recorded history.
It is just that in the following 13 years, tens of thousands died.
And then, just when it had begun to look like Punjab was a lost cause, it all ended.
So rapidly that even those of us following this closely didn't have the time to catch our breath.
And why did this happen? For sure, the security forces and intelligence agencies did their job well.
But that phase of terror ended the day the Sikhs themselves decided that they had had enough.
The real hero of that fight was the predominantly Sikh Punjab police.
It was quite dramatic how Sikh popular opinion turned.
From a point where some of my fellow journalists were even talking of visiting 'liberated zones' in Punjab, it ended almost overnight.
In fact, no one even wanted to talk about this anymore.
K P S Gill, who led the campaign as Punjab police chief then, spoke to me in detail for an India Today story, and when I asked him why and how this ended so dramatically, he said, you see, the Pakistanis do not read Iqbal: Kuchch baat hai ke hasti, mit-ti nahin hamaari...
For the Pakistanis to think that they can bring back those days, therefore, is fantastic nonsense.
Similarly, for us in India to now worry that the Pakistanis will take 'our' Sikhs away from 'us' is embarrassing neurosis.
We have to be nuts to get unnerved over the pictures of Bhindranwale on the odd hoarding in Kartarpur Sahib.
You can even find them in and around the Golden Temple, on key-chains sold in shops outside it, on the backs of cars in Delhi, and sometimes even as computer and tablet screen-savers.
If we choose to get alarmed by any of this, we must have very little confidence in ourselves as a nation, and trust in the Sikh community.
To think that they are so gullible as to fall for the same trope in 2019 is an insult to their intelligence.
And to think any of us as 'we' who have to protect 'them' -- the Sikhs from evil Pakistanis -- is worse than being irrational.
It's stupid.
We had said that Indian social and national coherence had strengthened over the years as it had become more relaxed.
We are stronger not because we are merely united in our diversity, but because we are at ease with it now.
It is possible to argue today that the founders of our Republic were a bit anxious and erred in giving us the slogan of 'Unity in Diversity'.
They should have simply said, celebrate diversity.
Once you accept that, you need not worry about the national commitment to any fellow Indian.
That's why it is time to forget subversive fears.
India isn't made of porcelain.
One of the holiest shrines for the Indian Sikhs and so many non-Sikh Indians is open now.
It's a moment of collective joy for us to cherish.
Switch off those TV discussions on the 'return of Khalistan'.
It isn't happening.
Don't paint the devil on the wall.
And if it still bothers you, just remember that concluding line of the Sikh prayer, invoking Guru Nanak: Nanak naam chardi kala/tere bhane sarbat da bhala.
Translated loosely: Nanak, your name would keep us all upbeat/on the ascendant/gung-ho (you can choose either or all, or find another name for that brilliant Sikh attitude)/may the entire mankind be joyful and prosperous with your benevolence.
By special arrangement with The Print