Why is the BJP upset about the dialogues in a Tamil movie, wonders A Ganesh Nadar.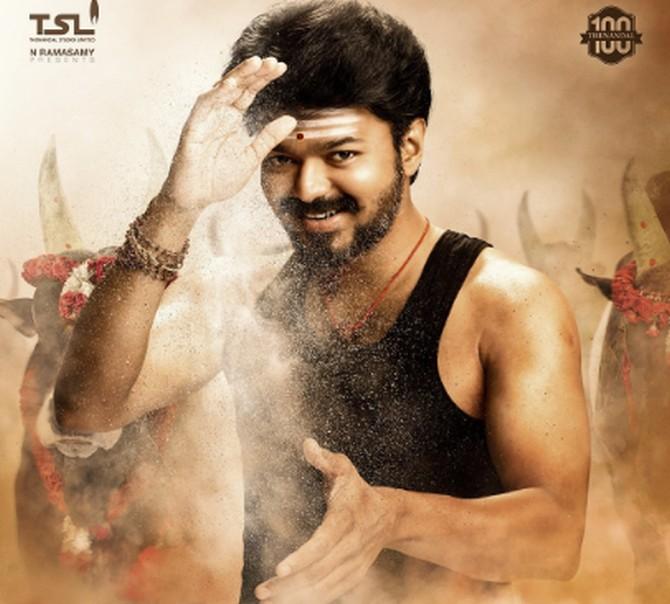 Mersal is Chennai slang, mainly deployed by the young to indicate shock/amazement.
And that's what happened to BJP leaders when the Vijay starrer Mersal released over the Diwali weekend.
State BJP chief Tamilisai Soundararajan and Pon Radhakrishan -- the solitary Union minister from Tamil Nadu -- were in a state of mersal as there had been no hint in the media about dialogues in the movie that would go straight for the Modi Sarkar's throat.
Vijay, known locally as Ilaya Thalapathi (young commander) -- to set him apart from the Thalapathi of Tamil cinema, Rajnikanth -- declares in the film that there is 7% GST in Singapore but the city-State provides its citizens with free medicare.
Here, Vijay goes on to say (Disclaimer: I haven't seen the film yet, so this is hearsay) has 28% GST, but it doesn't provide proper care.
In Tamil Nadu, below-poverty-line families have 'Amma cards', with which they can avail of medical treatment even at private hospitals. Clearly, Vijay was not referring to Tamil Nadu in Mersal.
Then he talks about the lack of oxygen in hospitals due to unpaid bills for two years (again not Tamil Nadu).
He also talks about a new-born baby in an ICU being bitten to death by rodents (not in Tamil Nadu, again).
He refers to patients on ventilators dying when the power goes off because there is no backup power (no, not in Tamil Nadu).
He talks about babies dying in hospitals (certainly not in Tamil Nadu).
He then says people go to private hospitals because they are not scared of the disease, but of government hospitals. Again not in Tamil Nadu as the state government gives the poor mediclaim cards to go to private hospitals.
The BJP does not have a single MLA in Tamil Nadu, so why is the state party unit getting so worked up about dialogues in a Tamil movie that don't even apply to the state?
There is a track in the film featuring comedian Vadivelu where he encounters robbers and tells them, 'Who has money these days now that everything is digital?'
Why is the BJP perceiving this dialogue as an attack on digital India when the line actually praises digital India as it prevents citizens from getting robbed?
Mersal's producers said they would delete the portions that offended the BJP. After the said offending portions went viral on social media drew a groundswell of national support, the producers appear to have changed their mind.
Kamal Haasan was the first to support Mersal against the BJP's attempts to re-censor the film, then Rajnikanth -- who is perceived to be close to the BJP -- tweeted his support for Mersal.
South Indian Artistes Association President Vishal has denounced BJP leader H Raja -- who been vocal against Mersal -- for encouraging piracy. Why? Because, Raja, it seems, watched the movie on the Internet!
S Ramana Girivasan, who wrote Mersal's dialogues which are at the heart of the controversy, has curiously been omitted from the ruckus. Poor fellow must wonder, 'Damn, I wrote the dialogues, but people are talking to Vijay and the producers. Every Kannan, Kamakshi and Kumaran are being asked their opinion about the film, but nobody is talking to me!'
Last heard, likely daunted by the hostile response their protest evoked, Tamil Nadu's BJP leaders were planning to beat a hasty retreat.