Nitish Kumar has failed to curb communal forces and hoodlums across communities.
And that is ominous for Bihar's present and future, warns Mohammad Sajjad.
Illustration: Dominic Xavier/Rediff.com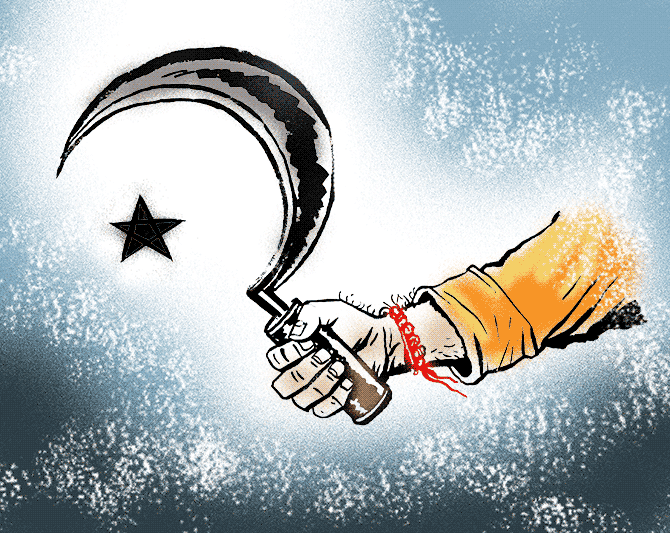 On January 23, 2018, in two different villages -- Makhdumpur-Kodaria in the western subdivision, and Assiya in Gaighat in the eastern subdivision -- in Muzaffarpur district, north Bihar, there was acute communal tension leading to violence, the saving grace being that there were no fatalities.
The immediate provocation was the route through which the idols of Saraswati, the goddess of learning, were being taken for immersion.
Saraswati Puja thus far was not an occasion for Hindu-Muslim tension.
Historically, since colonial times, it is around the processions of Durga, Mahabiri Jhanda, Muharram etc when there would be communal tension and violence. Since then, in government schools, all students, cutting across religious lines, would participate in the Saraswati Puja festivities.
At the most, the immersion procession saw little or lesser participation by Muslim students, and the only slogan shouted relatively more mildly and gently, and with long pauses, was, 'Saraswati Mata ki jai'.
The only worry used to be the coercive fund collection by students and unemployed youth for arranging the Saraswati Puja.
This year, there are reports of a new development. Even the processions to immerse the idols of Saraswati involved a raging demonstration of weapons -- traditional (such as swords and spears), as well as arms like country-made pistols, which would be fired in the air, particularly while passing through Muslim localities, and chanting of slogans.
Eyewitnesses testify that the body language, the decibel level of the slogan chanting, and the demonstration of weapons would become much more aggressive while passing through Muslim localities.
The immediate reason for the clash in Makhdumpur-Kodaria village near the Muzaffarpur aerodrome was over the route for the immersion procession.
Here, tension has been simmering since long.
Seeing the tension and anticipating a communal clash, the administration had already sanctioned an alternative route for the procession through the south-west to immerse the idols in the Kadaaney rivulet/canal.
The processionists, however, defied this and insisted on passing through Muslim settlements, northward, and coming out on National Highway 102, and then going eastward, to Tirhutiya canal of Pakri Pakohi, close to the Muzaffarpur aerodrome.
The Muslims of Makhdumpur-Kodaria agreed to the procession passing through their settlement, provided it did not comprise 'strangers' or 'outsiders'.
Around 50 such people had arrived on about 25 motorcycles, covering their faces with saffron gamchhas (scarves) and carrying weapons. Despite all the anticipation of violence, only a small number of policemen had been deployed there.
As the situation aggravated, more policemen, led by Inspector Shujauddin Khan, were sent to the scene.
Khan is supposed to be a competent officer, and heads the Sadr thana in Muzaffarpur. He was severely injured in the stone-pelting carried out by the mob. They deleted video recordings of the violence.
The police seized some motorbikes, and arrested 13 people, of whom six are Muslims (including a lady in her 60s, besides two other Muslim women and a young boy).
An FIR has been lodged by the police and the senior superintendent of police, Vivek Kumar, has issued a statement underlining that the situation turned violent only because of the presence of 50-odd 'strange' people.
The fact ought to be noted that a locality historically free from communal violence was now getting rapidly communalised.
A few kilometres to the west of Makhdumpur-Kodaria, Azizpur (Saraiya) saw a communal clash on January 18, 2015, for which some Bajrang Dal activists were later held by the police with the help of a journalist's video-recording. They now face trial.
Barely 40 kilometres away, in Agarpur-Lalganj (Vaishali), communal violence flared up on November 18, 2015.
On August 5-6, 2016, communal violence erupted in Maker village and spread up to Chapra in Saran district. This village, too, is hardly 40 km from Makhdumpur-Kodaria.
Last year, too, some dispute had erupted on the occasion of Saraswati Puja in Makhdumpur-Kodaria.
The district administration intervened and a joint meeting of Hindus and Muslims resulted in an amicable settlement.
Soon after this, some Bajrang Dal activists jumped into the fray, but, by then, things had already been resolved.
Ever since, the Bajrang Dal and Vishwa Hindu Parishad have been more active in the locality.
In late June 2017, an NDTV photographer, Munne Bharti, a resident of Vaishali, was forced by Bajrang Dal members to chant 'Jai Shri Ram' on the way to Samastipur via Muzaffarpur on National Highway 28.
In late November 2017, there was communal tension in a nearby village, Damodarpur, where a Muslim girl was eve-teased by some Hindu boys. One of the accused was said to be a member of the Bajrang Dal.
The discontent of upper castes and saffronisation of the lower castes
The Kanti assembly seat, well known for the Muzaffarpur thermal power station, has been electing Bhumihars, an upper caste that is politically and educationally dominant.
In 1995 and in 2000, it elected Muslims, the only one of the district's 11 assembly seats to do so.
For long, it also elected a nominee of the leftist Socialist Unity Centre of India, Professor Nalini Ranjan Singh, a London-educated Bhumihar landlord.
In 1995, he defected to the Samata Party, lost the election, and then joined the BJP and has since been in political oblivion.
Makhdumpur-Kodaria also happens to be among the few Muslim populated villages of Muzaffarpur from where Muslims were the first to go to the Gulf in the early 1980s, mostly as waiters, and in similar humble posts.
The Muslims from these villages are mostly mechanics, drivers, vehicle-painters, etc in which capacities some of them have also become slightly affluent. Otherwise, they are mostly poor, marginal, peasants, and least educated.
The recent wave of communal hatred against Muslims is also caused partly by the rise of a tiny middle class among Muslims, and their employment in the Middle East is one of the factors contributing to their affluence.
In my earlier columns (which you can read in the Related Links), I have been reported the communalisation of Bihar's Hindus and Muslims.
The Bajrang Dal -- joined by the backward castes, but more prominently by the community of Mallahs (fishermen) -- is becoming more visible and assertive, specifically in Bihar's Saran, Tirhut and Mithila regions.
In the 2015 assembly election, Kanti elected a Dalit, Ashok Chaudhry, who had contested as an Independent.
Thus, it is one of the rare seats which elected a Dalit even though it is not reserved for the scheduled castes.
Chaudhry defeated the incumbent MLA, Ajit Kumar, a Bhumihar and former minister in the Nitish Kumar cabinet who had defected to Jitan Manjhi's Hindustan Awam Morcha, a BJP ally.
In July 2016, there was an atrocity against Dalits in Paroo, Muzaffarpur, which was essentially a conflict between the Bhumihars and Paswans.
On January, 23, 2018, in Asiya village, in Gaighat in eastern Muzaffarpur, violence broke out between the Yadavs and Kurmis, leaving a large number of people injured.
Gaighat is a seat with a considerable Yadav and Muslim population. In 2015, it unseated the BJP's Rajput MLA, Veena Devi.
Here, too, tension has been brewing since Muharram in early October 2017.
In a nearby village, Ramnagar, Muslims of adjoining villages used to assemble with their taziyas every Muharram.
Last year, on the 10th day of Muharram, October 2, by the time the taziyas could assemble, some Hindus from the Kurmi caste -- which, incidentally, Chief Minister Nitish Kumar belongs to -- had gathered at the site to perform a ceremony.
This was dismantled by the Yadavs and the Muharram ceremony was performed, as the Muslims had been doing there every year.
On January 23 this year, when the Saraswati idol immersion procession insisted on passing through Assiya village, the Yadavs objected, resulting in violence between them and Kurmis.
Some observers would say that in recent years, those assembly seats with a history of having an elected Muslim MLA are witnessing increased activity by saffron outfits. Efforts are on to consolidate the Hindus for electoral advantage.
Secondly, ever since Lalu Yadav was incarcerated in December 2017 by the CBI court in the fodder scam case, there is a perceptible rise in Backward-Dalit consolidation in favour of the Rashtriya Janata Dal.
The Yadavs, and sections of other backwards and Dalits sympathetic to the RJD, now apprehend that Tejaswi Yadav and Misa Yadav would also not be spared by the BJP, and that before the next election they too would be imprisoned in cases of disproportionate assets.
Political observers in the locality say that some strange strands of politics are unfolding. The saffron forces are trying to consolidate Hindu OBCs, for which they need communal polarisation.
Rising unemployment, more accentuated since demonetisation with many labourers from unorganised sectors coming back to their villages, combined with agrarian distress, is providing ready recruits to saffron outfits like the Bajrang Dal and VHP.
The BJP is also understood to be trying to marginalise Nitish Kumar and emerge as the only alternative in the next election.
Nitish Kumar, fearing political oblivion in the days to come, is trying to win over the Bhumihars, sections of Ati-Pichhrha, Mahadalit and, more importantly, women, first through a liquor ban and now through a sensitisation against dowry, besides empowerment through reservations in the local bodies and some welfarist educational schemes.
Through symbolism and tokenism, Nitish Kumar may naively hope to win over not only the Bhumihars but also Muslims who are upset with him for having ditched the Mahagathbandhan and re-aligning with the BJP in July 2017.
However, it would perhaps be quite unrealistic to hope that with such tokenism, Nitish would be able to win the support of either of the two targeted communities.
Rather, the need of the hour is to firmly deal with communal forces and hoodlums across communities.
Nitish Kumar is just not able to do this.
And that is ominous for Bihar's present and future.
Mohammad Sajjad is professor, Centre of Advanced Study in History, Aligarh Muslim University.