'Why would the Communists do this?
I have three possible answers: One, they are specifically opposed to the Global Education Meet that the ambassador organised.
Two, they are beginning to realise their days are numbered in Kerala.
Three, the standard modus operandi of leftists is anarchism because they are not constrained by any codes of ethics.
Roughly, the bad, the good, and the ugly,' says Rajeev Srinivasan.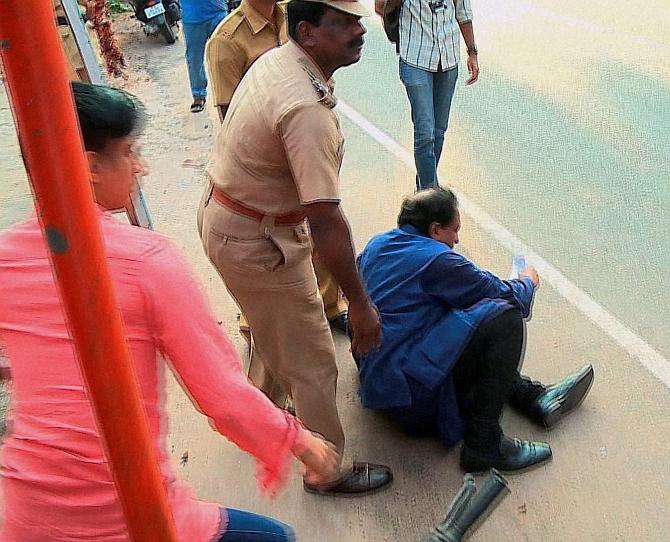 IMAGE: Ambassador T P Sreenivasan, soon after being manhandled by Students Federation of India 'activists' during a protest in Thiruvananthapuram, January 29, 2016. Photograph: PTI Photo/TV grab.
The incident in which retired ambassador T P Sreenivasan was assaulted and slapped so hard that he fell down was truly shocking, even to those used to the antics of leftists.
As a respected and prominent citizen of Thiruvananthapuram, the ambassador is an active participant in many fora, and the head of the Kerala Higher Education Council, as well as a Rediff columnist and host of the foreign affairs television programme, Videsa Vicharam. He is an urbane diplomat who represented India's interests in many countries, and the assault on him is in a way an assault on the Indian State as well.
Why would the Communists (the Student Federation of India) do this? I have three possible answers: One, they are specifically opposed to the Global Education Meet that the ambassador organised. Two, they are beginning to realise their days are numbered in Kerala. Three, the standard modus operandi of leftists is anarchism because they are not constrained by any codes of ethics. Roughly, the bad, the good, and the ugly.
Why is there opposition to the Global Education Meet? Well, Kerala's campuses have truly been destroyed by politics. My late father, who was a professor at a once-prestigious college, once wrote in a book on politics that students should have no role in it. This, despite the fact that he himself was elected speaker of the college union in the same college, on a leftist ticket. (Which he resigned in disgust, but that's another story).
I have been back to that college with my mother (also a former professor there), and the place is truly in ruins. Decades ago, I remember it as a vibrant arts-and-sciences campus with brilliant students, many of whom went on to illustrious careers, especially in the civil services. Now, just a cursory look at the students (I am sorry to say they don't look like the cream of the crop), the campus (once stately, now overgrown with weeds and covered with posters), the library (pathetic), each tell their sad stories. Sic transit gloria mundi!
This is symptomatic of what has happened to education in Kerala in general. At one time, Travancore University aspired to be the best: In fact, in the 1920s (if I remember right) they invited Albert Einstein to be their vice-chancellor (he declined politely). The Indian Institute of Science was almost set up in Thiruvananthapuram before they decided on Bengaluru.
The decline was swift. By my days some time ago, Kerala University had already become pathetic. During my pre-degree coursework (equivalent to Plus 1 and Plus 2) days, there was practically not a single week of uninterrupted classes. There were boycotts or strikes by the Congress or Communist student unions. Leaked exam papers were not uncommon.
Today, I'd say that a degree from any university in Kerala is not worth much. Unfortunately, that's true of degrees from many other states as well, as it has been a race to the bottom: A degree does not guarantee that the student is anything more than marginally literate. Dispirited professors, cowed administrators, rampant politics on campus: It is a nightmare. All political parties use college students as cannon fodder. No one wants colleges to return to being purely academic: They need foot soldiers.
None of this bodes well for India as a whole. Other countries have caught up with and surpassed us. At IIT Madras, I had classmates from Sri Lanka, Malaysia, Fiji, Palestine and Iran. I am pretty certain that they have their own, well-equipped universities now, and would be uninterested in coming to India. This means education, traditionally part of our competitive advantage, is slipping out of our hands, especially in Kerala.
Into this scenario rode the brave Ambassador Sreenivasan, with a proposal to create the equivalent of Special Economic Zones in education. However improbable, the attempt is laudable: To induce foreign universities to set up shop in conjunction with local colleges, with the student thus able to get a degree from the foreign university.
Let us remember that college education is a major export for many Western countries, with India being a big consumer. I have read somewhere that Australia makes $19 billion a year in tuition fees; a large proportion of that is from Indian students going there to study.
It appears that the Communists had gathered to protest the Global Education Meet mooting the same. The chief guest was supposed to be Kerala's Congress Chief Minister Oommen Chandy, who is in the eye of a firestorm of scandals and scams. The Communists were prepared to confront him, but he wisely stayed away: His political instincts served him well, once again. Instead, they took out their wrath on poor Ambassador Sreenivasan, slapping him to the ground. If you can't get the one you want, bash the one you can get, I suppose, is the logic.
Incidentally, it is not that Communist leaders want to deny their own offspring a Western education. A senior leader's son is apparently studying for his MBA at Birmingham University, paying Rs 50 lakhs (Rs 5 million). I had an IIT classmate who was another senior comrade's son, and he used to harangue all of us about how wonderful the Soviet Union was. However, when it came to graduate study, it was the US he chose. It's a truism comrades excel in: do as I say, not as I do.
There is a second reason: Kerala assembly elections are nigh, and all political parties are a little nervous. The Congress, with its scam-a-day, is almost certain to lose, and is acting as though it expects to: They are happily indulging in scorched-earth policies. The Communists, by prior form, including Kerala's habit of alternating between the two fronts, should win this election. But they are nervous because their traditional vote bank among the Hindus is in some jeopardy now: The Ezhavas are seriously considering switching allegiance to the Bharatiya Janata Party.
The BJP, for that matter, have never actually elected a single MP or MLA, although they have come tantalisingly close; and a new campaign, and a new leader, and the presence of Prime Minister Modi at the Centre, as well as an alliance with Ezhavas, are giving them some leverage this time.
Then there is the third, and ugly reason: This is how Communists are. Just yesterday came the news that Comrade Bala (alias Aravindan Balakrishnan), a Malayali-origin Brit, had been sentenced to 23 years in prison. A charismatic Maoist cult leader, he had kept several women enslaved, raped them, impregnated some, abused children, etc. He had kept his daughter in captivity for 30 years. His heroes were Stalin, Mao and Pol Pot.
A few weeks ago, another leftist, The Hindu paper's long-time British correspondent, the 65-year-old Hasan Suroor, had been caught in a sting where he thought he was about to have an illicit rendezvous with a 13-year-old. And these are just the tip of the iceberg.
Is there something seriously wrong with Communists? Are they amoral monsters?
Two recent books make the case coming from different angles. The first is Party Animals: My Family and Other Communists by a British author, David Aaronovitch. He dutifully chronicles how his committed Communist parents kept supporting Stalin and others through the decades, ignoring, 'cult-like', their depravities and their monstrosities. It must be some kind of Stockholm Syndrome, a religion, where absolute blind faith is the norm.
The second is God is Watching You: How the Fear of God makes us Human by Dominic Johnson. Although his context is a Semitic world-view (the 'fear of God' is not Indic), he makes the interesting point, invoking Daniel Kahnemann's ideas, that the fear of retribution from a jealous god is a deterrent to bad behaviour. If you don't fear this, then you feel free to indulge in being loutish.
Apparently, the weak Indian State has no deterrent value. In fact, Ambassador Sreenivasan will be able to testify that there were several policemen just standing around and watching while the Communist fellow attacked him. There was no deterrence, no fear of punishment, nor any sign of morality.
Ambassador Sreenivasan has recovered his sense of humour, and noted wryly in an article that this is the second time he has been assaulted in the line of duty. Once before, Kenyan extortionists had tunnelled into his official residence, the Indian embassy in Nairobi, and attacked him.
That, at the very least, had an identifiable motive: Money. This incident, for a dying ideology, and on his home turf, is much more alarming. The Ambassador will laugh it off. But the incident is a serious blot on Indian politics.