Plastic bags are but one aspect of India's growing waste management crisis, says Geetanjali Krishna.
Illustration: Uttam Ghosh/Rediff.com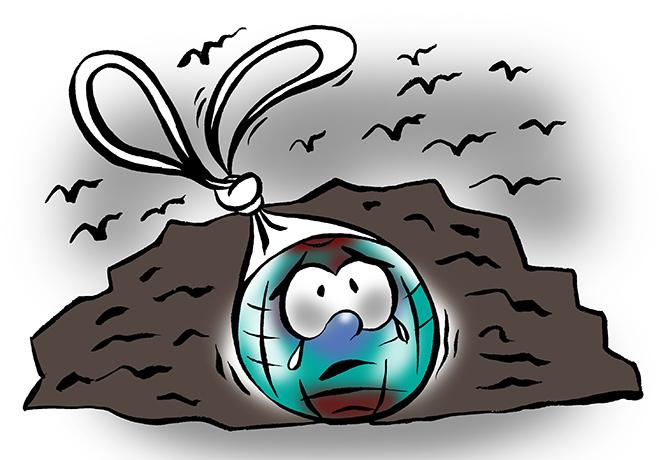 Shelves upon shelves of single-use plastic glared at me at the neighbourhood shop the other day.
Just as a customer ahead of me left with two plastic bags of shopping, the rather dreary public service announcement exhorting people to stop using plastic bags, compost their kitchen waste and dispose of the rest properly, came on the radio.
I raised my eyebrows at its apposite timing, and the shopkeeper became instantly defensive.
"Stopping the use of plastic bags is easier said than done!" he said. "My customers demand plastic bags because the paper ones are so flimsy..."
Most of them didn't carry their own reusable shopping bags, he said. Even when he had orders delivered to customers, he used plastic bags to separate the items ordered. "My customers like it this way!"
I explained that plastic bags were but one aspect of India's growing waste management crisis.
Pointing to the shelves full of shampoo, toothpaste and other mass consumer products in plastic packaging, I told him these would lie in landfills long after he and I had gone -- probably for our children and grandchildren to deal with.
The man wasn't impressed. He'd heard all this before and understood the problem, he said, but where was the solution?
Was any research organisation working on alternative biodegradable packaging options or ways to decompose plastic?
I replied that I wasn't sure of the scientific work happening in this field. There was, I said, an interesting zero waste store in New York that I read about, where customers could refill their glass bottles with shampoo, conditioner and more.
"Perhaps a concept like that might work on a small scale in America," said he. "But here, consumers would rightfully mistrust the hygiene standards of refillable products, and cause nothing but an added headache for shopkeepers like me!"
Meanwhile, a young college-goer was listening intently to our conversation. Finally, when she piped in with her own two bits, I was amazed that more voices like hers were not being heard today.
"I don't think plastic bans or enforcing the segregation of waste in households will solve our waste problem," she said. "The government has to step in!"
The shopkeeper was glad to find an ally and nodded vigorously.
The solution she advocated was for the government to enforce a complete ban on the manufacture of single-use plastics.
"Look at all these mass-produced plastic bottles of shampoo, plates and cutlery -- our not using them, isn't going to wish them away," she said. "They are here to stay whether we buy them or not, and while we feel virtuous about segregating pitiful mole hills of household waste we generate, these will grow into yet another mountain of plastic in the landfill!"
Meanwhile, she averred, till the government found a way to strictly enforce the ban on manufacturing single-use plastics, there was no point in eschewing them right now.
"We may as well get some use out of them before they add to the mess in our landfills!"
Having said her piece, she marched out. The shopkeeper and I stared at each other mutely.
"What a girl!" he said. I nodded. "Yes, what a girl..."