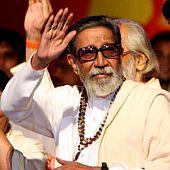 Bal Thackeray described himself as a missionary warrior for the cause of Marathi, but what it meant could never be deciphered by anyone, writes Kumar Ketkar

Balasaheb was a mystery even to his son Uddhav and nephew Raj. For the Shiv Sena, he was a riddle wrapped in mystery. Without getting hyperbolic, one can say Winston Churchill's words on Russia hold true for Balasaheb Thackeray: "A riddle wrapped in a mystery inside an enigma".
He was so mercurial that even his closest political ally could not predict what position he would take on any issue. His unpredictability often confounded the media. The English electronic media was in awe of him, not because of his mission or message, but because he could provide interesting one liners and concurrent visual.
He had an uncanny sense of creating controversy. Indeed, he thrived on controversies. For that, he would not mind contradicting himself. And that added to the drama.

After going to town that he would not let the India-Pakistan cricket matches held, he had the gumption to invite Pakistani cricketer Javed Miandad for dinner. That was a visual treat for television channels. When asked how could he oppose India-Pakistan cricket matches and yet invite the Pakistani star for dinner, he said that he wanted Indian cricketers to learn from Miandad what grit means and how to fight back in the most difficult situation. He said that Indians develop cold feet while the Pakistanis retaliate and display a "killer instinct". He would, then, drill this point politically by saying that the Hindus should develop the "killer instinct" like them. It was a smart and yet vicious comment.
Although the Shiv Sena was in alliance with the Bharatiya Janata Party at the national level, he never burdened himself with the responsibilities of such alliance. He used to be on his own. When actor Sanjay Dutt was under attack from the BJP for his alleged role in the 1992-93 riot, Balasaheb suddenly declared in a Shivaji Park meeting that Dutt was innocent. That statement came like a bolt from blue, because Shiv Sena's own mouthpiece, Saamna, had run a campaign against Dutt's presumed nefarious activities. Not only the BJP, but even the Shiv Sena was shocked.
Similarly, when the BJP was putting forward Lal Krishna Advani's name for prime ministership for the 2009 elections, Balasaheb said if Sharad Pawar would be the candidate, he would support him because a Marathi person should become the prime minister. He took the same position while supporting Pratibha Patil's candidature for the President's post.
But, then, Pranab Mukherjee was not a Marathi and yet Balasaheb declared support to him, embarrassing the BJP. At least half a dozen times, the BJP had threatened to break the alliance with the Shiv Sena because of this irreverent style of Balasaheb, but the SS chief would respond nonchalantly, saying "Do what you want!"
Indeed, even the Hindutva of Balasaheb was different from the Hindutva of the Sangh Parivar. The Rashtriya Swayamsevak Sangh (RSS) could never really get along with Balasaheb and the Shiv Sena supremo quite often made fun of the "knickerwallas". Bal Thackeray, as he used to be called almost till late 1980s, could not be disciplined into any straitjacket.
Born in a perfect middle class family in central Mumbai, Thackeray never had any specific political belief. He enjoyed pranks and, therefore, the art of cartooning came naturally to him. He drew those caricatures with no holds barred style, making fun of anyone -- Gandhiji, Nehru, Jayprakash, and even Vajpayee.
He had no encumbrances. That was a problem for his allies, but fun for him. It was always difficult to psychoanalyse him. He was enamoured of Bollywood and cricket stars. Many a times, he would spend time with celebrities rather than his own party leaders. In fact, he hardly ever held meetings with them to discuss party strategies, electoral plans or political campaigns.
He had no interest in long-term goals. Nor did he aspire to be the chief minister, central minister or any such entity. Although he was vociferous about Maharashtra and Marathi Manoos, he was not even fully familiar with the state's geography or important features of various regions. He had neither the understanding nor interest in agricultural issues and rural problems. He was an urban person and had a certain disdain for the peasant life.
That is why, although he was believed to be the uncrowned supremo of Maharashtra, he could hardly spread Shiv Sena's reach in Marathwada, Vidarbha or Western Maharashtra. He had no notion of the huge sugar industry, which was a core of the rural economy of the state. The vast rural banking network, which was controlled by the Congress or the Nationalist Congress Party (NCP), was beyond his comprehension.

The debates of cotton or sugarcane pricing, farmers' suicides, famines, irrigation and issues related to biotechnology would bore him. When asked about his vision for Maharashtra, he would give irrelevant answers such as having a convenient Konkan railway, making Marathi compulsory on shop signboards or developing Marathi pride.
He never really defined Marathi identity or what he meant by it. He never had any scheme to promote the Marathi business and industry. He never set up any institution to promote Marathi culture and arts. He never promoted or encouraged research in Marathi history. Indeed, his knowledge of history was limited to the short biography of Shivaji Maharaj.
The history prior to Shivaji Maharaj and the period after the British came did not interest him. In fact, discussion on any complex topic, a problem with multiple dimensions, an issue requiring historical understanding would tire him. He wanted simple solutions to complex problems.

He described himself as a missionary warrior for the cause of Marathi, but what it meant could never be deciphered by anyone. And yet, he became a symbol of Marathi pride, a Maharashtra icon, who survived nearly 20 chief ministers through 45 years.
He formed the party and remained at its helm for all those years, a feat not achieved by anyone in the country. But how he achieved it would remain a subject of socio-psychological analysis and, therefore, a mystery inside an enigma.