The Ayodhya verdict heralds not the beginning of theocracy or a Hindu rashtra (that never existed in 5,000 years), but marks the end of a divisive phase of our history, says Colonel Anil A Athale (retd).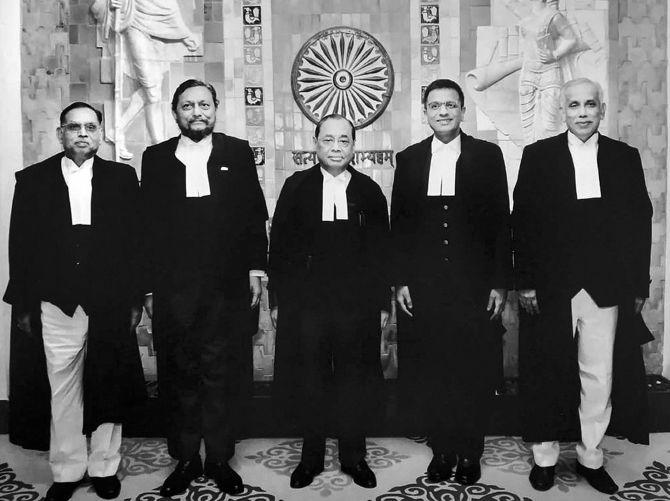 The Ayodhya verdict by the Supreme Court of India on November 9 held valid the Hindu claim to build a temple at the birth place of Lord Ram. The self-appointed secularist Cassandras were proved wrong and the country witnessed no violence.
Dismayed by the fact that their doomsday prophecies were proved wrong, many of these worthies have now begun to predict that India is now on the way to becoming a theocracy.
Discounting some of these reactions as 'motivated', it is nevertheless worth examining if that is indeed the path India is likely to follow.
Even more relevant than the example of Pakistan, many Indians are concerned whether India will follow the kind of majoritarianism that brought misery to Sri Lanka. As someone who has studied that country and its civil war threadbare, I am certainly in a position to comment.
It is indeed true that till the 1960s and early 1970s, Sri Lanka was well on its way to becoming a developed country. Thanks to the spread of education, control of population, good law and order, ample natural resources, even before Singapore, Sri Lanka was thought to become a developed country.
Thanks to its better standard of living, Sri Lankans feared illegal migration from impoverished India. But the rise of majoritarianism and resultant civil war that lasted 35 years, Sri Lanka is only now limping back to normalcy.
In the last five or six years, it is undeniable that a majority of Hindus have begun to be assertive in northern and western India. However, the conditions that led to the kind of suppression of minorities and theocracy in Pakistan or Sri Lanka are very different from that obtained in India.
Theravada Buddhism, that is strongest in Sri Lanka, had a strong network of Buddhist monks dominating the education field. As a well-organised body, the monks played a major role in the social and political life of Sri Lanka.
Hinduism on the other hand is not an organised religion. In fact it could well be described as a 'federation' of different faiths.
To illustrate, Vaishnavaites (worshippers of Vishnu or his incarnations of Ram and Krishna), Shaivites (worshippers of Shiva) and Shaktas (worshippers of Durga and her other incarnations), could well be three different faiths with their own holy books and distinct rituals.
These divisions in Hinduism have existed since times immemorial and are a part and parcel of the umbrella faith.
It is not uncommon to find even family members following their own paths.
This basic acceptance of pluralism in Hinduism is what led to the equal acceptance of other faiths like Islam, Christianity, Jainism, Buddhism and Sikhism.
This core level acceptance of pluralism was often misinterpreted as 'tolerance' or even secularism.
Let it be clearly understood by all Indians, Hindus are not inherently either tolerant or secular and can be bigoted or intolerant if their faith is questioned or is under threat.
This problem only arose when the Hindu acceptance of pluralism was not reciprocated by monotheistic faiths.
What we are witnessing today in the 21st century is a transition taking place in the attitudes of non-indigenous faiths.
The Ayodhya verdict was a corrective to a historical wrong, and other faiths, by accepting the verdict, have begun to embrace pluralism, which is the hallmark of the Indian civilisation.
If one takes a cursory look at the 5,000 years of recorded history of India, the only time India came close to being a theocratic State was during the time of Asoka. Emperor Asoka actively propagated Buddhism.
This was possibly the only instance in our history when India had a State religion.
In all of the recorded history of India, Shaivism and Vaishnavism, the two main strands of Hindu faith, seem to have had a clear co-existence.
It is well known that most of the rulers of northern India were Vaishnavites, yet the major Shiva shrines existed in the north at places like Kashi, while Vainshnavite shrines in otherwise Shiva worshipping south are found at Rameswaram or Guruvayur.
If one has to seek further evidence of the unlikeliness of a repeat of a Sri Lanka kind of situation in India, recent political happenings in Maharashtra should put to rest these doubts.
Two avowedly Hindutvawadi parties like the Bharatiya Janata Party and Shiv Sena cannot stay together.
As a matter of fact, now that the emotive issue of the Ram Janambhoomi is settled, it will be difficult for any party to invoke 'victimhood' to divide society and gather votes.
The Ayodhya verdict heralds not the beginning of theocracy or a Hindu rashtra (that never existed in 5,000 years), but marks the end of a divisive phase of our history.
Pluralism is too strongly entrenched in our civilisational DNA to be dented by passing events.