'The Opposition parties should seriously give thought to endorsing Kovind's candidacy and close this chapter of divisive politics,' advises M K Bhadrakumar.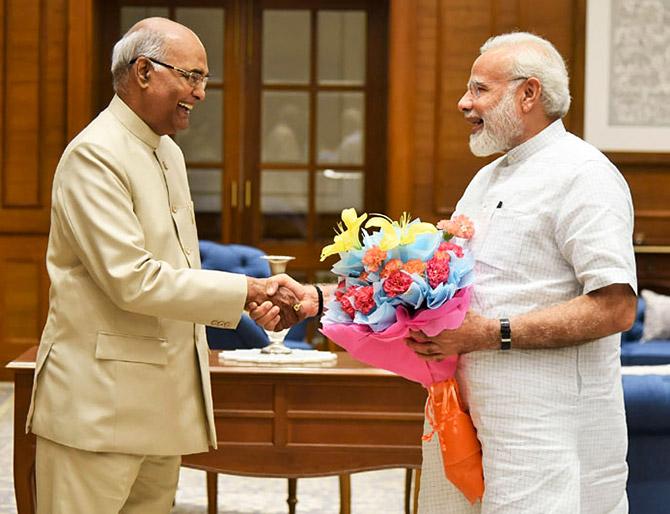 Like many others, the first thought that came to me too was Kovind Who? -- as a friend starkly framed the shock and awe when the name of the BJP's Presidential candidate surged into view yesterday.
But then, that dismal perception has changed dramatically overnight.
From all accounts, Ram Nath Kovind also happens to be eminently qualified to be the head of the Indian State by virtue of his erudition, range of experience in public life and a long career in politics (and, without unsavoury controversies shadowing his reputation).
Of course, it is a fact of life that the ruling elites repose trust in him. Why not?
It has always been the prerogative of the ruling party to nominate its choice as the President and we have learnt to live with that political reality.
What counts is that symbolism is important in the life of a nation.
Even if K R Narayanan probably did nothing for his own community while he was President, and although it is bizarre to think of that erudite product of the London School of Economics in 'casteist' terms, the fact remains that his Presidency was a matter of pride for all Dalits.
One could unfailingly palpably sense this from frank conversations with Dalit friends.
In political terms, the nomination of Kovind may or may not prove to be a masterstroke -- we simply have to await the 2019 poll to know how successfully the BJP bosses micromanage the fusion of the (under-construction) Ayodhya temple and Hindutva ideology,/strong> with the development agenda -- with Kovind.
The point is, Dalits continued to desert the Congress party even after K R Narayanan's election as President just as Muslims never warmed up to the Hindutva ideology even after A P J Abdul Kalam's election,
Therefore, whether the BJP's choice of Kovind is 'encashable' in electoral terms in the 2019 poll remains to be seen.
Such diverse factors sail into view at election time in our country.
All that can be said with certainty is that the BJP has become a serious contender for Dalit votes.
Now, whether that in itself is a good thing to happen from the angle of Dalit interests -- that their votes are going to be hopelessly scattered among various claimants -- is also a key issue here.
Indian history shows that upper caste Hindu domination was perpetuated in conditions of 'divide and rule'.
The experience of the Muslim community has been that if and when they rally behind good leadership (as they did in Kerala or West Bengal -- but failed to do in North India), they have the potential to be part of the ruling elite by virtue of their sheer numbers.
Nonetheless, Kovind's choice is important.
Morally speaking, it is an act of atonement at the very least for the barbaric things that have been done to them for centuries.
It transmits a message of hope among the dispossessed millions that someday in the future, howsoever remote a future that might appear today to be, India will begin to perform optimally as a country that provides for social mobility in full measure -- in short, when democracy begins to be meaningful for Indians, finally.
The sad reality is that while professing egalitarian sentiments, our political parties are almost entirely led by upper caste Hindus.
Alas, even the Left falls into that category. The Communist parties probably never ever elected a Dalit general secretary in all these past seven decades, notwithstanding the genuine scope for inner party democracy in their functioning. (I hope I'm wrong.)
Now, is that accidental? Is it because our political class do not have caste sentiments?
To my mind, the Opposition parties should seriously give thought to endorsing Kovind's candidacy and close this chapter of divisive politics.
The result of the forthcoming Presidential election is a foregone conclusion and the desperate attempt by the Opposition to make a counter move at this stage can only be seen as pure political theatre cloaked as value-based politics -- especially, if they now conjure up from thin air another Dalit name as their 'consensus candidate'.
IMAGE: Bihar Governor Ram Nath Kovind -- the National Democratic Alliance candidate for the Presidency -- meets Prime Minister Narendra Modi in New Delhi, June 19, 2017. Photograph: Press Information Bureau