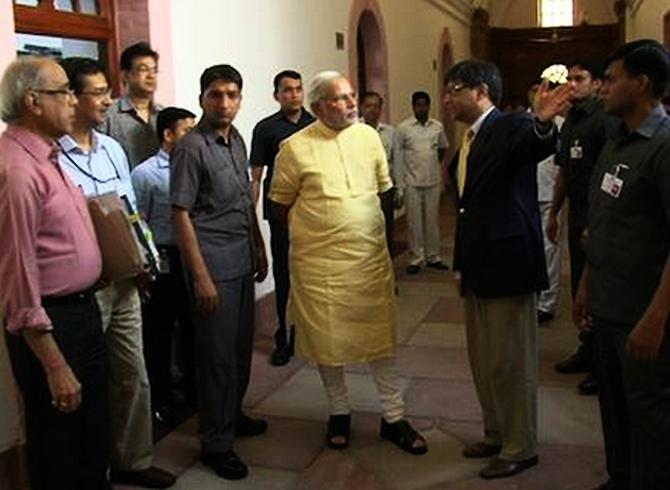 Who are the men the prime minister relies on to execute his impressive agenda? Sheela Bhatt/Rediff.com finds out.
As expected, Prime Minister Narendra Modi has selected his office staff on the lines of the Gandhinagar model.
When he was chief minister of Gujarat, his office was the nodal centre of power. His staff functioned to create, execute and make a success of what is now called the 'Gujarat model'.
Gujarat's ministers were an extension of the Chief Minister's Office. One will have to see if many Union ministries, particularly in the infrastructure sector, becomes a branch office of the Prime Minister's Office.
Like most Indian politicians, while Modi's selection process for his office staff is on predicted lines, his priorities are quite distinct.
First and foremost, what Modi likes is that his Indian Administrative Service officers and other officers function in a low-key manner. No two ways about it! It is most important that these officers have no glamour quotient of their own.
Two, for obvious reasons, he doesn't like anybody forming their own power centre, as L K Jha had done in Lal Bahadur Shastri's time or Brajesh Mishra did with Atal Bihari Vajpayee.
Three, he likes his officers to be financially honest. It is also impossible to get noticed by Modi if the officer is not hard-working. Modi likes karmath (doers). Also, Modi's officers have to keep up with modern technology and management jargon.
Modi has worked with officers who are sensitive to 'grass roots level administration' and are not simply high-flying members of the elite cadre. He demands that his officers be 'aligned' to his views and style.
The way Modi functions, it is absolutely imperative that none of his confidants say anything of substance to the media. Someone who craves to talk to the media is not 'Modi's person', really.
It goes without saying that nobody occupies a place in Modi's office unless s/he has impeccable credentials for being loyal to the boss. The Loyalty Factor is the obvious requirement of all Indian politicians without exception. Only, in Prime Minister Modi's case, it is more so.
Modi's people are most unlikely to utter the oft-heard sentence -- there is life beyond work. Not really.
All of Modi's men -- be it his cook Badri or his personal assistant Omprakash, or his trusted A K Sharma and Bharat Lal -- are available 24x7. Even beyond office hours they work silently and, more importantly, efficiently.
The most important person in the PMO after Modi is his principal secretary, Nripendra Misra, 69. He is a retired IAS officer of the 1967 batch from the Uttar Pradesh cadre.
Misra, who has served in various capacities in the government, retired as chairman of the Telecom Regulatory Authority of India in 2009. He is meticulous and suitably talented for the given job.
But there was an issue over his appointment since the TRAI Act did not allow for it. The Modi government issued its first ordinance to overcome this. This needs to be ratified by Parliament, something that was not done in the recently concluded session, so it is likely that it will be done in the Budget session.
It may not be well known, but when Misra served in Lucknow in then chief minister Mulayam Singh Yadav's office, things didn't go well between them. Yadav turned so adversarial that he spoilt Misra's confidential record by making negative remarks about his health etc. Later, Cabinet Secretary T S R Subramanian, a UP cadre IAS officer, made a fresh CR, helping Misra.
Misra's selection is surprising because he is a bit of a 'high-flier', and Modi's first requirement from his officers is that they have to be low key and understated.
Some of Misra's contemporaries call him a high-flier because he has got prime postings throughout his career. He worked closely with Yadav and Kalyan Singh when they were UP chief ministers.
And how many IAS officers can flaunt the experience of working at the Indian embassy in Washington, at the World Trade Organisation as part of the team in the Doha Rounds, as chairman, Telecom Regulatory Authority of India, and also as consultant to the World Bank, Asian Development Bank and with the government of Nepal?
Besides these stints, he was also secretary, department of telecommunications and fertilisers. In the United Prograssive Alliance's 2G spectrum allotment scam, then telecom minister A Raja, who is the prime accused in the case, alleges that he only went by TRAI's advice. Misra was grilled for two days as an important witness in the special CBI court that is hearing the case.
It is said that Rajnath Singh and Arun Jaitley impressed upon Modi the need to give Misra one of the most coveted posts in the government.
As soon as he was appointed, Misra gave a surprising interview to a daily newspaper stating the Modi government's top 10 priorities. Everybody knows that in Modi's scheme of things this is just not done. For Modi-watchers it was a shock to see Misra's interview much before Modi's office could stabilise in South Block.
A few days later, Modi brought in one of his most trusted officers, Dr Pramod Kumar Mishra, as additional principal secretary, the number two to Nripendra Misra.
Like Misra, Dr Mishra has an enviable track record. In Gujarat, he has seen it all and done it all. He worked in the rural development, agriculture, cooperation and revenue departments and in the State Electricity Corporation and the State Disaster Management Authority.
As Union agriculture secretary between 2006 and 2008 he was behind the National Agriculture Development Programme and the National Food Security Mission. He worked relentlessly to increase India's agricultural GDP. His work in disaster management was appreciated at international forums.
Dr Mishra is from the 1972 batch which has turned out to be one of the exceptionally brilliant batches in IAS history.
His appointment is eloquent because in all likelihood he will have direct access to Modi and can overshadow Nripendra Misra within the close-knit PMO. The most important thing about Dr Mishra, a Gujarat cadre IAS officer, is that in a way he, literally, initiated Modi in the complex world of bureaucracy and public administration.
The Odisha native was principal secretary to Modi in Gandhinagar between 2001 and 2004, the years that made Modi larger than life in India's public life.
Dr Mishra taught Modi the ABC of public policies and movement of files inside the system, when Modi's metamorphosis occurred from an RSS pracharak to the chief minister of a dynamic state.
The day after his retirement Dr Mishra was handpicked by Modi to head the Gujarat Electricity Regulatory Commission for five years. Modi's highly ambitious plans for the power sector will thus be in highly efficient hands in the PMO. Dr Mishra is affable, mild-mannered and soft-spoken. In fact, he is quite a contrast to Modi. They make a great combination in public life.
The latest entrant to the PMO is Rajiv Nayan Choubey, an IAS officer of the 1981 batch from the Tamil Nadu cadre. He was additional secretary in the ministry of power. He has enriching experience in the petroleum and gas sectors, when he functioned as director general of hydrocarbons. He is a Bihari and well-versed with Delhi's babu culture. In 2009-2010 he handled Tamil Nadu's interests as its special resident commissioner in New Delhi.
Nripendra Misra has first-rate experience of high-level trade negotiations, Dr P K Mishra has vast experience of the grass-roots and agriculture sector. He, Bharat Lal and Arvind Sharma, a joint secretary in the PMO, would know from Modi's body language what the prime minister wants.
At the other end is Jagdish Thakker, known to prepare a press release within half an hour of a Modi event. He never goofs up. He holds the designation of Public Relations Officer in the PMO, but gives the PM comfort in matters of what to portray and what not to portray before the media.
Thakkar is more in the 'department of image-building' than in the media. He helps Modi with quick translations. He is meticulous, like most of Modi's men are. He does filing and documentation with discipline and knows Modi's weaknesses and strengths and serves him accordingly.
Since he knows the contemporary history of Gujarat well -- he served under seven chief ministers -- Modi values his worth.
Jagdishbhai knows the secrets of Amarsinh Chaudhary and Madhavsinh Solanki, Shankarsinh Vaghela, Keshubhai Patel and Narendra Modi. But he will never speak out, and his knowledge of the twists and turns in Gandhinagar and now Modi's South Block office will always remain a secret.
Back home Jagdishbhai was an expert in giving Modi an assessment of the local media and its stance on various current issues.
Arvind Sharma, of the 1988 IAS batch, is well-versed with Uttar Pradesh, his birthplace. He is a religious man with enormous patience to listen to people. He has helped Modi in every possible manner.
He is down to earth and can walk into office in jeans and a T-shirt at odd hours. He is quite similar to the typical Hanuman Chalisa reading educated man from UP who has native genius to excel whereever he goes, and, whatever he does, says a professional who knows him.
He joined Modi's CMO in October 2001 as a joint secretary soon after Modi became chief minister and was appointed additional principal secretary to the chief minister in April 2013.
To Modi he is more than family. Sharma handled issues ranging from industry to political issues. AK, as he is called, handled with aplomb the Vibrant Gujarat event and contributed immensely to what is now famous as the Gujarat model.
AK is an officer who never gets angry and never falters under pressure. He has a way of handling truant MLAs and of handling a huge team under pressure. AK brings a humble touch to the way he performs.
AK is also admired because he is the longest-serving batsman in Modi's back office. He is likely to score better in New Delhi.
Bharat Lal, an officer belonging to the Indian Forest Service, has been close to Modi for a long time. He helped Gujarat bag the Tata Nano car project and accompanied Modi on foreign tours. He was a window to New Delhi for Modi's office in Gandhinagar.
Most state chief ministers would certainly like an officer like him. He has such drive that when the Badri-Kedarnath disaster happened after the freak cloudburst last year, Gujarat was the fastest in helping the flood victims.
Hiren Joshi, an IT expert, who has also joined Modi's PMO, suggests that the prime minister will keep the conventional media under control or simply ignore it and communicate through the social media to the people.
Joshi helps Modi to reach out to the Internet savvy audience. He is a modern-day media communicator.
Modi's selection of officers reveals that there is no 'Gujarati lobby' as such in his PMO. There was what was called a 'Mallu lobby' in Dr Manmohan Singh's PMO where Malayalam-speaking officers dominated that prime minister's office. But in the absence of great talent of Gujarati officers in the civil services, 'Gujaratisation' of the PMO is not possible. Surely, Modi will make it business-friendly, in all likelihood.
Some junior-level officers like Sanjay Bhavsar, Tanmay Mehta and Dinesh Thakur are also shifting from Gandhinagar to New Delhi to help 'Saheb' continue his forward march. Sanjay is a government officer who maintains Modi's appointments.
Modi has chosen Ajit Kumar Doval as his National Security Advisor. He is the most maverick police officer in recent times. His appointment generated some controversy because his predecessor Shivshankar Menon was a diplomat. How Doval and Modi's team will work together is yet to be seen. Doval is set to change the 'charter' of the NSA's office. One does not know if Modi wants to do the same.
Modi's strongest characteristic as team leader is that he is a good listener. As with most leaders, there is a huge difference between the private Modi and the public Modi. Those who work with him and have worked with him say he is an inspiring leader in pushing his administrative agenda.
Prime Minister Modi, they say, is a highly charismatic, aggressive and not-so-humble leader who likes truly humble officers.