Sunanda K Datta-Ray considers them sound in theory, but incapable of making any dent in the corruption that is India's way of life.
Illustrations: Dominic Xavier/Rediff.com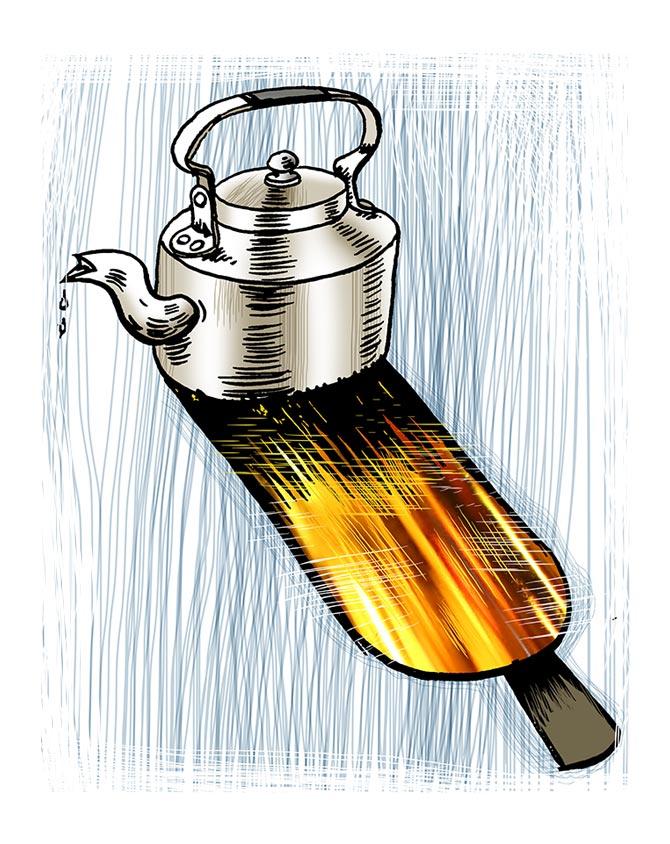 Christmas Eve is an appropriate time to consider the pretentiousness, hypocrisy and dangers of social drinking in this country. Vijay Rupani, who took over as Gujarat chief minister in August, and his minister of state for home affairs, Pradeepsinh Jadeja, are to be complimented for their ordinance to prevent driving under the influence during the festive season. But only if the law is strictly and impartially applied unlike the death penalty for manufacturing and selling poison alcohol -- Make in India run riot -- that exists only to impress people with the piety of Mahatma Gandhi's home state.
The suspicion is that police and politicians connive to frustrate the law. Prohibition is like demonetisation -- sound in theory but incapable of making any dent in the corruption that is India's way of life.
An absurd duality that distinguishes between locals and NRIs/tourists is another standing invitation to make money under the pretence of upholding the law. Successive regimes have made it easier for tourists to get a drink but locals caught with a bottle are supposedly imprisoned for 10 years or fined Rs 5 lakh. Of course, no one is, but the draconian law allows more pockets to be lined.
The erstwhile Soviet Union didn't dishonestly exploit its dual system. Natives with their pitiful roubles queued patiently outside restaurants and at shop counters (just like bank queues in India) while foreigners with dollars received instant service. The Soviet Consulate in Calcutta once assured me the rupee-rouble agreement ensured my Indian money would rank as hard currency. Nothing of the kind. A Moscow shop cashier disdainfully refused to look at them.
Duality means demeaning discrimination at home, too, recalling the colour bar of colonial times. Soon after returning to India after spending my teen years abroad, I ordered a gin and lime in the bar of the five-star hotel I was staying in. The barman asked if I was a hotel guest. Yes, I was. Was I a foreigner? No, I wasn't, in some indignation. Did I then have a permit? Permit for what? The man explained, and I had to admit the need hadn't occurred to me.
"Then I am afraid I can't serve you, sir," he apologised.
I walked out shamefacedly, not failing to notice that all the drinkers, who had fallen silent during the exchange, were white. But within 10 minutes a liveried abdar turned up at my room with a gin and lime on a salver. So much for prohibition!
This is another avenue that encourages corruption.
Any Indian can pretend to be a tourist and persuade others, with the help of a little scattered largesse, to treat him as such. Any doctor in a prohibition-ridden city would for a fee certify that his otherwise hale and hearty client couldn't survive without a drink.
"Cold tea" was a popular euphemism for whisky in Bombay, and many restaurants served it in a teapot. If Thursday was "dry" in Delhi hotels, the alcohol consumed that day was billed with Wednesday's or Friday's date. While the front door of Calcutta liquor shops remained religiously shut on the weekly dry day, sales were always brisk at the back door.
Smugglers and bootleggers flourish under the sun of prohibition.
Covering an election in Gujarat once, I was warned not to accept a drink when visiting a candidate whose affiliation I dare not disclose. "Who knows what he mixes it with!" said my friend.
It was also calculated in the heyday of prohibition that Indians drank more Scotch whisky than Scotland produced. That's Make in India for you. Our resourceful entrepreneurs need little urging.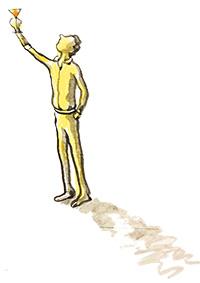 However, there's no denying that excessive drinking does pose problems, especially with a newly-rich middle class for whom money is the only yardstick. But as the American, Scandinavian and Australian examples show, prohibition doesn't eliminate drinking. It not only encourages alcoholism, but also gives rise to a criminal network of manufacturers, retailers, excise officials and others.
The answer lies in temperance. Indira Gandhi was probably the last national leader to advocate a strong temperance movement. I doubt if any of her successors even know what that means. Their talk of prohibition carries no hint of self-restraint or moderation. Instead, the reek of sanctimonious self-righteousness and rigorous compulsion touches an instant chord that can be relied on to bring in the votes.
It isn't easy to explain the virtue of temperance to the uneducated multitude. But it must be done. I'll drink to that… in moderation.