Akhilesh Yadav has a real chance at capturing the national consciousness with this election, says Vikram Johri.
Illustration: Uttam Ghosh/Rediff.com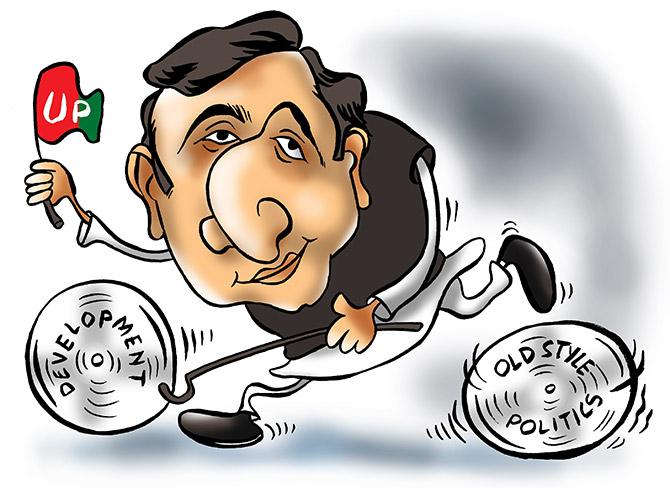 At a rally in Meerut, Prime Minister Narendra Modi showcased, once again, his penchant for coining avoidable acronyms.
'I want you to vote out SCAM,' he urged those present, before proceeding to single out the names of the political bigwigs contained in that term.
One of those bigwigs, Akhilesh Yadav, must be rubbing his hands in glee.
He, along with Mayawati, made the last two letters of the prime minister's acronym, an indication of his recently acquired clout within the Samajwadi fold.
Political pundits are divided over whether the coup within the ruling party in UP was organic or staged, but few can deny that Akhilesh has come up trumps against some of the most seasoned players in Indian politics.
His ascension as the undisputed leader of the Samajwadi Party mirrors, in some ways, that of the prime minister who too rode on grassroots support to edge out heavyweight old-timers like Lal Krishna Advani and Murli Manohar Joshi.
But Akhilesh took a risk far greater than Modi.
Unlike the BJP, for which the word of the Nagpur-based RSS is final, Akhilesh was taking on his own clan.
The timing was fortuitous.
While pollsters remain divided over which way the election will swing, there are indications that the Samajwadi Party will romp home with Akhilesh at the helm.
He is liked by a cross-section of UP society. Even Muslims, who had deserted the Samajwadi Party in the aftermath of the 2013 Muzaffarnagar riots, now say they will vote for Akhilesh 'kyunki unhone kaam kiya hai (because he has worked).'
His 'Dial 100' scheme, since rechristened UP-100, has been a runaway success, especially in rural areas where policing has thus far been lackadaisical.
The Lucknow Metro is due to begin commercial operations in March.
These, together with the Agra-Lucknow expressway, which was unveiled last year after completion in record time, have enabled the chief minister to claim a (albeit belated) development agenda that the UP electorate seems only too happy to bless.
The rise of Akhilesh from a chief minister who was famously embattled running a government where his word mattered little to now, when he is the face of the party and the government, is symbolic of a wider churn in Indian politics.
True, caste and community affiliation continues to matter -- witness the silent coup, since challenged, effected by Sasikala in Tamil Nadu -- but the voters of today are increasingly disposed to rewarding purposeful talk of development.
This may be an outcome of the growth the country has witnessed, where metropolitan areas can boast of lifestyles comparable to the West.
But it is also due in part to Modi's ringing victory in 2014, a victory so massive and, thus, so inexplicable that it could only be attributed to the voters' desire to install a prime minister who, at least in the popular imagination, had decisively focused on development in his home state of Gujarat.
To be sure, the prime minister could not have reached his position without the deft social engineering his team effected in, say, western UP, but the sheer scale of his victory pointed to a national shift away from the traditional levers of patronage towards a development-focused programme.
Akhilesh, for one, seems to have drawn lessons from that victory by pursuing a twin agenda: Of getting projects off the ground, while simultaneously working to rid his party of corrupt elements.
As far back as 2012, he had prevailed upon his party to cancel a proposed alliance with alleged gangster-turned-politician D P Yadav.
More recently, he challenged his uncle Shivpal Yadav when the latter finalised a merger with don Mukhtar Ansari's Ekta Dal.
The merger did not go through, and the episode set in motion events that culminated in Akhilesh's taking over of the party. Tellingly, Ansari has found refuge in Mayawati's camp.
This, as well as the fact that the Bahujan Samaj Party has fielded close to 100 Muslim candidates in this election, suggests that UP 2017, for all of Akhilesh's pains, will continue to hark back to the old days.
On the ground in UP, the Supreme Court's January ruling that political parties cannot seek votes on the basis of religion counts for little.
Yet, if Akhilesh succeeds, it would signal the possibility of a new narrative in a state where development has been held hostage to rabidly communal politics.
Thus far a modernising influence in a party steeped in old politics, Akhilesh has a real chance at capturing the national consciousness with this election.
He may belong to a regional party, but what contours national politics will take in the post-Modi era is anyone's guess.
With the Congress in tatters nationally and the AAP yet to prove its mettle, Akhilesh Yadav is the man to watch out for.
Check out the ENGAGING FEATURES in the RELATED LINKS below...