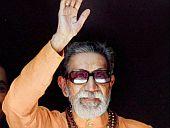 Sena Bhavan in Mumbai, the Shiv Sena headquarters, will carry an empty feeling similar to what Raigad fort must have felt after the death of Shivaji Maharaj, feels Sumit Rajwade.
Taxi, Sena Bhavan' -- the words I have used the most during lunch time. No, I am not in the habit of sneaking to the Shiv Sena headquarters every afternoon like a closet partisan. Our office is in Mahim, north-central Mumbai, and I often visit the restaurants in the Dadar area, where Sena Bhavan is located, during lunch time.
Sena Bhavan -- the high-standing fort-like structure representing the dynasty of Balasaheb Thackeray -- will not be the same Monday onwards. It will carry an empty feeling similar to what Raigad fort must have felt after the death of Shivaji Maharaj.
I am not even remotely attached to politics, I am a simple Marathi Manoos. I studied at the Parle Tilak school and then at Parle College. I stayed in Vile Parle East, north-west Mumbai, until recently (I moved to Thane west, a satellite city close to Mumbai, in June), among my community.
The environment in which I grew up was a total Marathi man's world. I enjoyed the comfort and safety of the locality and the credit goes to the man who saw the need for it.
Let me illustrate this for you with three stories.
There was a garbage collector right opposite our society who had encroached upon a plot of land designated as a public ground. One morning I heard a mob shouting slogans and joined them. It was led by local leaders to get Rahimtullah out and reclaim the plot.
Sanjay Upadhaye made a fantastic speech and highlighted the importance of unity in the Marathi community which is rarely seen otherwise. Today, the ground is used for many public interest programmes round the year and is named after Keshav Baliram Hedgewar, the founder of the Rashtriya Swayamsevak Sangh.
I realised the Sena's efforts to unite Marathi people in Mumbai and Maharashtra for a cause.
I still remember the 1992-1993 Mumbai riots, when I was studying in Pune. I have seen with my own eyes khar vakhars (shops selling wood) burning. I have participated in guarding our housing colonies with knives and stones kept on the terrace.
I have seen a force in Marathi housewives who felt they should fight in case there was an attack on them. There was a big aarti on our street with army tanks on either side.
I then realised that the Shiv Sena was not for goons, but for Marathi people -- young or old, men or women, rich or poor, it is for all.
I felt the importance of the Sena's role in giving us a safe locality to live in a city which boasts of a cosmopolitan culture.
I worked briefly for an NGO. The permissions for using public places, police clearances or general support for youth development programmes such as exhibitions, slide shows etc came instantly from the political parties which welcomed the initiative taken by a Marathi organisation.
I could now see a strong sense of Marathi culture and participation in many cultural programmes in the masses which was not there before.
Preserving the culture through various activities is a pillar of unity which the Shiv Sena supported.
We always used to ask when someone called a bandh: Is the Shiv Sena supporting it?
If the answer is yes, our decision was made. We would not venture out or go to office. We would rather hit the grocery store to buy essentials as the shops would shut on bandh day. At times we understood the cause, at times we would simply discuss it over a cup of tea when the restaurants opened in the evening. Today I realise that someone actually fought for it, giving up other pleasures of life.
Somehow, somewhere, I am sad today. I am not able to articulate it correctly, but my eyes turn moist looking at the television coverage of Balasaheb's last journey.
I never met him in person, only saw him from a distance a couple of times, but felt his presence everywhere. I feel someone who cared for us is gone. He left behind many political questions which time will answer, but he definitely left us one answer:
'Marathi Manoos, you can do it. You can fight. Don't be afraid, be brave.'
While writing this down I can understand what I am feeling, what I am going through. It is the same feeling of darkness that envelops one after someone turns off the light. A little uncertain, a little unsafe, a little scared, little un-united.
I have been sitting in front of the television set for the last three days. I remember sitting like this only once before, during the 26/11 terror attacks on Mumbai by terrorists. I have not worked much since Thursday. I have been hearing speculation since Thursday about Balasaheb's health. It all ended on Saturday afternoon.
I am now hearing various figures -- from 15 lakh to 22 lakh -- being touted as the number of people who have turned up to pay their homage to Balasaheb. A seven-km long line, people carrying a saffron carpet on the head, men and women paying their tribute to the undisputed leader of this city, Mumbai.
I can only compare this in my imagination to the outpouring of grief for Dr B R Ambedkar, Bal Gangadhar Tilak or Jawaharlal Nehru.
Balasaheb lived as a leader and his last journey seals his leadership. May God grant rest to his soul.
Salute the Tiger! Jai Hind, Jai Shivaji, Jai Maharashtra!
Sumit Rajwade is a senior software professional.