SAARC summit in Islamabad in jeopardy.
A SAARC summit can only take place when leaders of all member countries are present, notes Rajeev Sharma.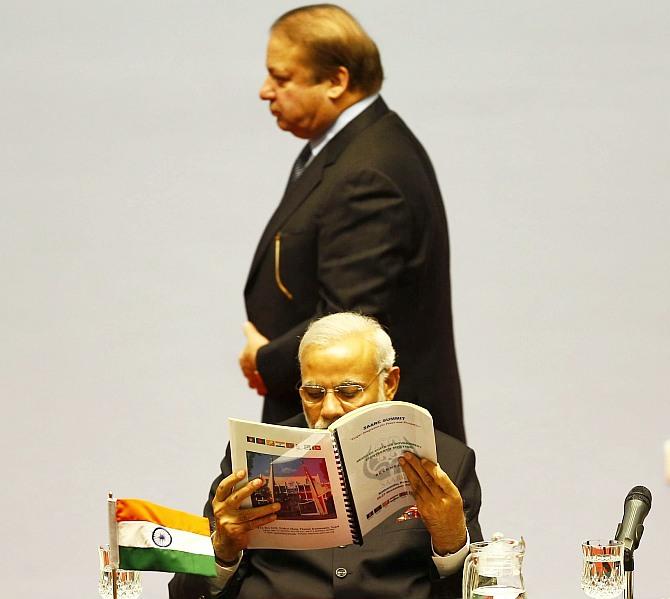 IMAGE: Remember this photograph? Prime Minister Narendra Modi ignores Pakistan Prime Minister at the SAARC summit in Kathmandu, November 26, 2014. Photograph: PTI Photo
Later, Barkha Dutt reported that both prime ministers met secretly in the Nepali capital, an encounter arranged by Indian businessman Sajjan Jindal, a report denied by the mninistry of external affairs.
Pakistani envoy Abdul Basit's aggressive remarks on April 7 and his unilateral characterisation of the India-Pakistan peace process as 'suspended' has not only put bilateral relations between the two nuclear armed South Asian neighbours in the deep freeze, but also put a question mark on the 19th SAARC summit that Pakistan is scheduled to host this November.
Basit had made a specific mention of the SAARC summit thus: 'The 19th SAARC summit will be held in Islamabad in November this year. We sincerely hope the summit, building on the past achievements, would help create more synergies and win-win situations.'
But given the chill that has set in India-Pakistan bilateral relations in the aftermath of his provocative press conference, a dark cloud hangs on the next SAARC summit.
It will be highly doubtful if Prime Minister Narendra Modi will undertake a trip to Pakistan to attend the SAARC summit, which takes place only when leaders of all member countries are present.
Interestingly, even before Basit stunned the world with his unusually strongly worded statement that he read out at a press conference in New Delhi's Foreign Correspondents Club on Thursday, India had handed out a not-so-subtle warning to Islamabad and made it clear that the Modi government will go ahead in forging SAARC connectivity with or without Pakistan.
This warning note was sounded by Foreign Secretary Subrahmanyam Jaishankar in his speech at the inauguration of the Indian Centre of the Carnegie Endowment for International Peace on April 6.
Dr Jaishankar prefaced his Pakistan-specific remarks without mentioning the P word by saying that the current Indian government was sensitised to the fact that to reach the ultimate goal of shared prosperity India will not only have to sharply raise levels of cooperation and connectivity, but also bring to bear a new mindset.
He made it clear that as far as India was concerned, it would 'itself drive regional cooperation, rather than be driven by it.'
By saying that India would pursue its own goals purposefully, without letting others (read Pakistan) be overly influenced by the limitations of its partners or diverted by difficulties of the day, he elaborated: 'It is this thinking that infused a new energy into SAARC, visible since the Kathmandu summit of 2014. The change is equally discernible in the plethora of initiatives coming out of India, whether it is the SAARC satellite, disaster management exercises or the e-knowledge network. When SAARC has worked, we are happy to forge ahead.'
'Where there are difficulties, we are equally open to working plurilaterally or even sub-regionally. The intent is to get the region to be serious about cooperation within.'
Pakistan has traditionally erected roadblocks within the regional grouping and the SAARC Motor Vehicle Agreement is a case in point.
Pakistan had been blocking this key SAARC agreement for one reason or the other for years. The Modi government countered it and implemented it last year by taking the sub-regional route of BBIN (Bangladesh, Bhutan, India and Nepal).
Now BBIN countries have the motor vehicle agreement wherein the four SAARC countries would have seamless travel of private and commercial vehicles among themselves. This would go a long way in plugging an important loophole in terms of connectivity as far as these four SAARC nations are concerned.
In effect, it means that it is Pakistan's loss, not SAARC's. It shows that India is in the driver's seat of forging regional connectivity even if Pakistan is not on board.
Dr Jaishankar sought to sugarcoat his Pakistan remarks by saying that India was committed to normalising ties with Pakistan with a fair measure of economic cooperation and people to people ties with the intransigent neighbour.
The foreign secretary's Pakistan remarks show that the Modi government has not given up on Pakistan, at least not as yet, even after negative vibes emanating from Pakistan in context of the Pathankot JIT episode.
The Pakistani media has reported extensively, quoting unnamed sources, that the Pakistani JIT which last week completed its India tour, including a trip to the terror-hit Pathankot airbase, has not found any involvement of any Pakistani national in the January 2-5 terror attack.
The Modi government's stance is that it will await the official version rather than go by Pakistani media reports. Thus, the foreign secretary's Pakistan-specific remarks in his April 6 speech need to be seen in the larger political context of India-Pakistan relations.
However, Abdul Basit's unusually aggressive behaviour may well change the dynamics of Indo-Pak ties in a big way.
Rajeev Sharma is an independent journalist and strategic analyst who tweets @Kishkindha