'For around five hours the storm, reportedly the strongest one ever recorded in the Bay of Bengal, that mother of many a deathly vortex, shook Kolkata like a toddler playing with a rattling toy,' observes Debashish Chatterjee.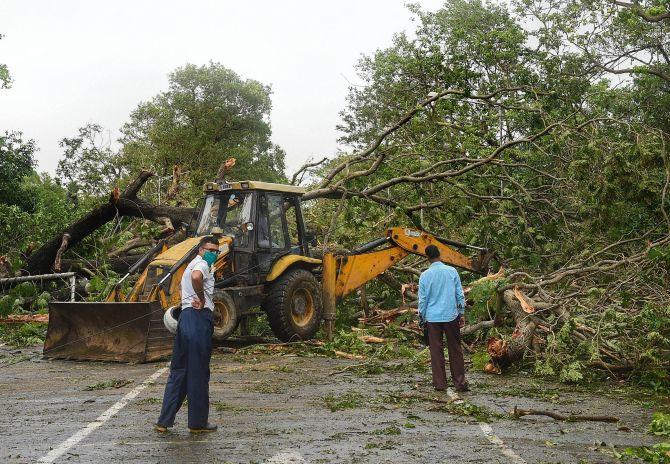 The helmeted bodies of two young men float in knee-deep water in Howrah.
Books, hundreds of them, float through a flooded College Street.
Uprooted huge trees, thousands of them, branches akimbo, turn roads into roadblocks, the mess of wires of civilisation turning them into booby traps.
Debris and tragedy are strewn as far as the eye can go.
These were scenes from West Bengal's capital and its nearby areas a day after cyclone Amphan ran a 400km-wide sledgehammer through West Bengal and Bangladesh while the 'national Indian' television channels were busy investigating just how many buses Priyanka Gandhi had -- or had not -- arranged to take back stranded labourers from Uttar Pradesh.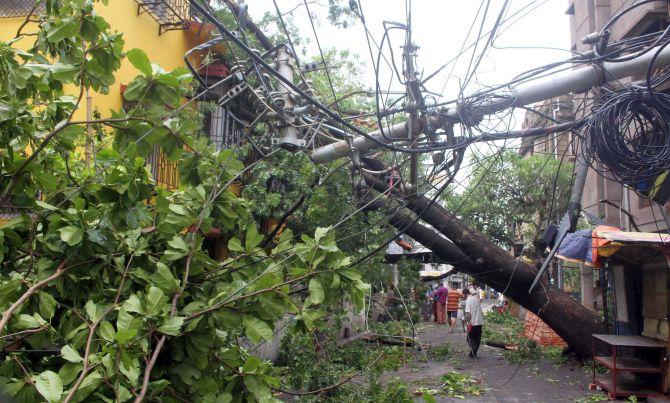 For around five hours the storm, reportedly the strongest one ever recorded in the Bay of Bengal, that mother of many a deathly vortex, shook Kolkata like a toddler playing with a rattling toy.
Windows of houses smashed.
Asbestos sheets and tiles of roofs flew like rockets.
Power lines were turned into knots, substations lit up, transformers exploded like Diwali crackers.
Lights flickered and gave up.
Phones, both mobile and landline, fell silent.
Through the darkness, there was only the howling of the wind.
You could clearly make out when the calm of the eye of the storm passed through Kolkata, and when the tail lashed.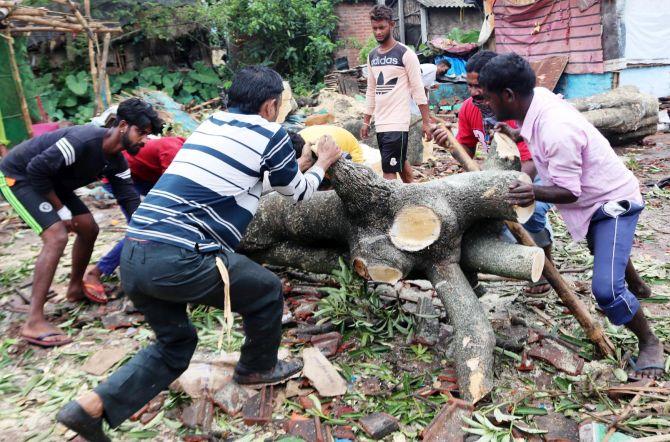 West Bengal Chief Minister Mamata Banerjee, widely regarded as the most street-smart politician in India at present, broke down on television while assessing the damage Amphan had done to the state.
She compared it to a disaster that struck the region in 1737, and said unless the Centre helped the state would be in neck-deep water.
Prime Minister Narendra Damodardas Modi, widely regarded as the man with the sharpest news sense since Paul Julius Freiherr von Reuter, rushed to Bengal himself after social media erupted over his 23-hour silence on the Amphan disaster.
After touring affected areas by helicopter, he also said he was being driven to tears at the devastation and announced a relief package of Rs 1,000 crore -- the amount the chief minister had pegged the cost of reconstruction at.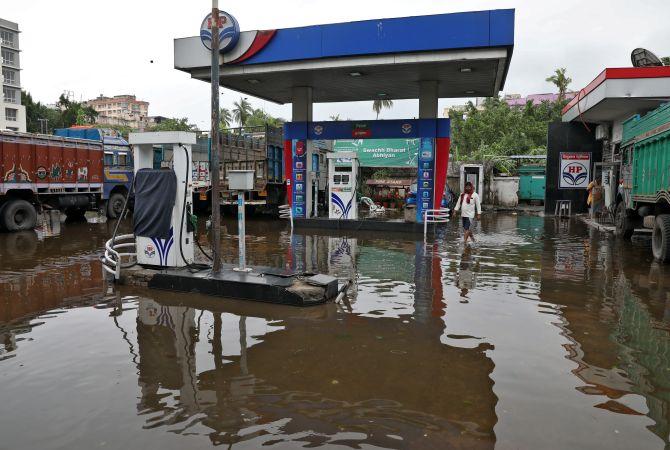 Dilip Ghosh, the West Bengal BJP chief, promptly added while speaking to Bengali TV channels that the Centre should closely monitor how the money is spent, lest the ruling Trimaool make hay while the water plunders.
Assembly elections in West Bengal are due in 2021, and a large part of the Bengali bhadralok are already banging their bartans in their balconies in anticipation of poriborton (change) in the near future.
Meanwhile, back to the present, large swathes of West Bengal have been plunged into darkness, both literal and allegorical.
Officials are getting information from places like the Sunderbans -- the mangrove sentinel of nature that acts as a natural barrier to storms from the Bay of Bengal -- through satellite phones and HAM radio.
More than 500,000 people were evacuated from most-risk areas in West Bengal before the storm struck.
Millions of people have had their homes blown away or damaged.
Arranging food and water for them will be a mammoth task. Specially because the lockdown to ward off the novel coronavirus pandemic has already frayed supply chains.
Roofs of factories have been stripped, trees and rain have damaged machinery, and livelihoods have been turned off.
River embankments have been smashed to smithereens, and large parts of four districts -- Howrah, Kolkata, South and North 24 Parganas -- are submerged.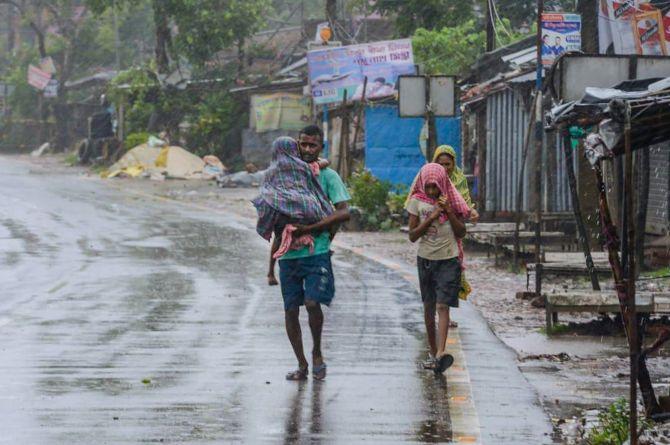 The death toll is hovering around 80, but information is hard to get and near impossible to verify.
The state government has announced Rs 2.5 lakh ex-gratia for each deceased, and the Centre has announced Rs 2 lakh.
Forty-eight hours after the storm struck, large parts of Kolkata, where at least 15 people have died, are without water or electricity.
Mobile network is still patchy, as is the Internet, in the few places where they are working in the state capital.
More than 400 traffic signal posts have reportedly been uprooted in the city alone.
There are long queues for water across the city.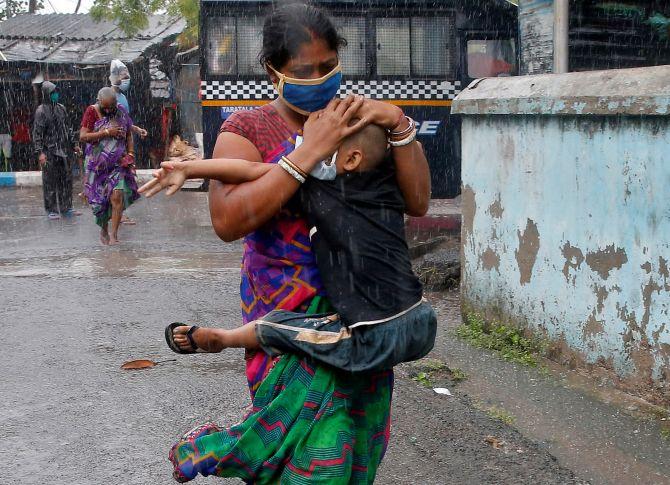 A top West Bengal bureaucrat, who tweets from a handle named after a literary character, has said that the city administration has been doing an outstanding job of clearing trees from the streets and restoring life to normal, but visuals are trickling in of Kolkata residents hitting the streets in protest in many areas, protesting being left without water or electricity.
In just Salt Lake, the Kolkata suburb that has been probably the least affected, more than 2,500 trees have fallen. The figure is around double for the entire city's green sentries.
Vendors and publishers on College Street, where most college students of the city buy their books from and where researchers dig for rare gems, have said the damage is unprecedented and without government help their lives would be destroyed.
Thousands of acres of farmland have been flooded in West Bengal, which is largely an agrarian economy.
This, in a poor region of an India that is already staring at negative GDP growth due to the COVID-19 infection.
If you mention the economy's co-morbidity predating that you are, of course, an anti-national.
Production: Aslam Hunani/Rediff.com