He staked everything to ensure the BJP returned to power; and now that it has, he stands to lose a lot, points out Aditi Phadnis.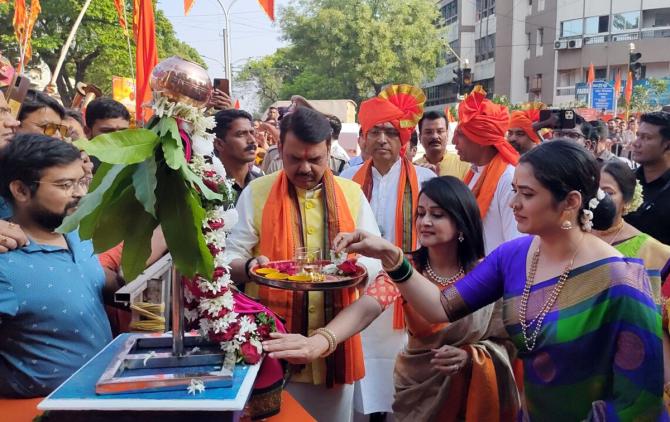 Devendra Fadnavis's last speech as chief minister in the Maharashtra assembly (November 2019) ended with a poem written by him and it ended with 'mee punha yein (I'll be back).'
This caused great hilarity in Maharashtra's political circles, with Jitendra Awhad adding his own postscript via a TikTok video that played the chief minister's announcement of 'mee punha yein' and a bored man standing before the camera and saying: 'bring some chuna (lime) along with you when you come back.'
The autumn of 2019 marked a turning point in Maharashtra politics: The 36-day drama that eventually led to the installation of Uddhav Thackeray as chief minister; Ajit Pawar's 'defection' and his return; and Mr Fadnavis's resignation as chief minister.
After a brief interregnum in the Opposition and with the active support of Governor B S Koshyari, Mr Fadnavis did return, but as deputy chief minister with charge of finance, reporting to Eknath Shinde, auto-driver-turned-chief minister and leader of the breakaway Shiv Sena.
When reporters met Mr Fadnavis at a Diwali milan last year and asked him if he was happy about his current role, his reply was a bald 'No'.
Since then, things have only gone from bad to worse.
Within weeks of being made chief minister, Mr Shinde set up the Maharashtra Institution for Transformation (MITRA), a state body along the lines of the Centre's NITI Aayog. Mr Fadnavis was made co-chairman.
The decision would have been unexceptionable had Mr Shinde not named as vice-chairman (with cabinet rank) Ajay Ashar, a builder and head of the Ashar group, which continues to develop properties across Mumbai in Bandra, Ghatkopar and Thane.
When the Maharashtra Vikas Aghadi was in power and Mr Shinde was minister for urban development, Mumbai BJP chief Ashish Shelar spoke in the assembly about the 'closeness' between Mr Ashar and Mr Shinde. The speech is still publicly available.
The question BJP leaders are asking privately is the same as the ones Congress leaders are asking publicly: "Devendra Fadnavis, who was leader of the Opposition then, also raised objections over the proximity between Mr Shinde and Mr Ashar. How can the Shinde-Fadnavis government appoint the same person to such a crucial office?" asked Congress leader Nana Patole.
Mr Fadnavis and his photogenic wife Amruta are in the news for other reasons also.
MLAs heard in silence his extraordinary speech in the assembly, explaining how his wife had been forced to lodge an FIR against a fashion designer whose father is a bookie and is currently underground.
Over a period of nearly two years, this young woman was allowed easy access to the Fadnavis household with the request that Mrs Fadnavis model clothes, footwear, and jewellery.
The family now claims this relationship soured, turning into extortion demands, threat, blackmail, and worse.
There are many things about this account that don't add up.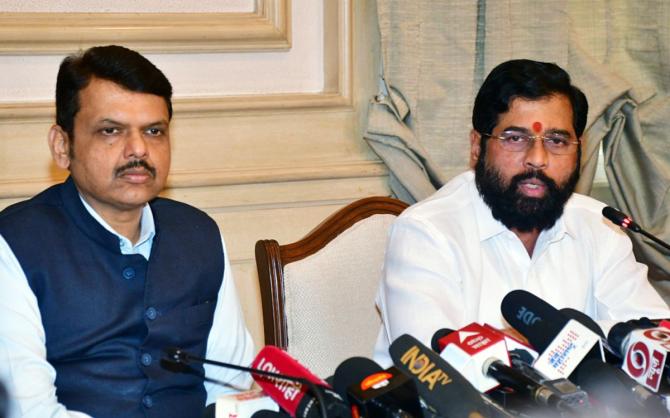 The Maharashtra local body elections were due about a year ago.
The last government trotted out a variety of excuses to postpone them.
This government shows no sign of ordering them anytime soon.
The 'defection' of the Foxconn project to neighbouring Gujarat has further damaged the Maharashtra government's reputation.
MVA partners are waiting for the Supreme Court's order on the defection of 16 MLAs, causing the split in the Shiv Sena and leading to the collapse of the Uddhav Thackeray-led government.
The Shinde government can appoint up to 43 ministers.
It has only 20 now -- because all the pressures and pulls cannot be accommodated.
The coalition can also nominate 12 people to the Legislative Council.
But there is so much infighting, with new Congress 'defectors' laying claim along with long-time RSS activists, that the decision has been deferred.
However, while the greatest gainer from this crisis has been Eknath Shinde, who could only have dreamt about getting Maharashtra's top job, the greatest loser has been Devendra Fadnavis.
He was always known as a clean-cut, wholesome, boy next door who turned down a transfer to the Centre to stay in Maharashtra.
But suddenly his adversaries are re-surfacing: Vinod Tawde, who was not given the ticket in the 2019 assembly election but has been elevated in the party and is now in charge of Bihar; and, alarmingly, Radhakrishna Vikhe Patil, a Congressman who joined the BJP a few years ago, is an important figure in the Maharashtra sugar cooperative sector, and is currently revenue minister in the state.
Mr Vikhe Patil is a Maratha and keeps a low profile but has access to important people in New Delhi.
If the court disqualifies Mr Shinde and the 16 with him, they cannot remain ministers.
The successor to Mr Shinde should automatically be Mr Fadnavis, right? Wrong. Mr Vikhe Patil's name is in circulation.
The government's record in winning elections is not exactly stellar: It lost the Kasba by-election in Pune, where the BJP has been in power for nearly three decades.
How Mr Fadnavis regains lost ground remains to be seen. But here's the thing -- he staked everything to ensure the BJP returned to power; and now that it has, he stands to lose a lot. Especially his reputation.