Defence Minister Arun Jaitley leaves for Tokyo on Sunday evening for a security dialogue with Japan, a visit that acquires huge significance after North Korea's hydrogen bomb test on Sunday morning.
Vivek Gumaste glances at the India-Japan relationship that resulted in a nuclear treaty last year.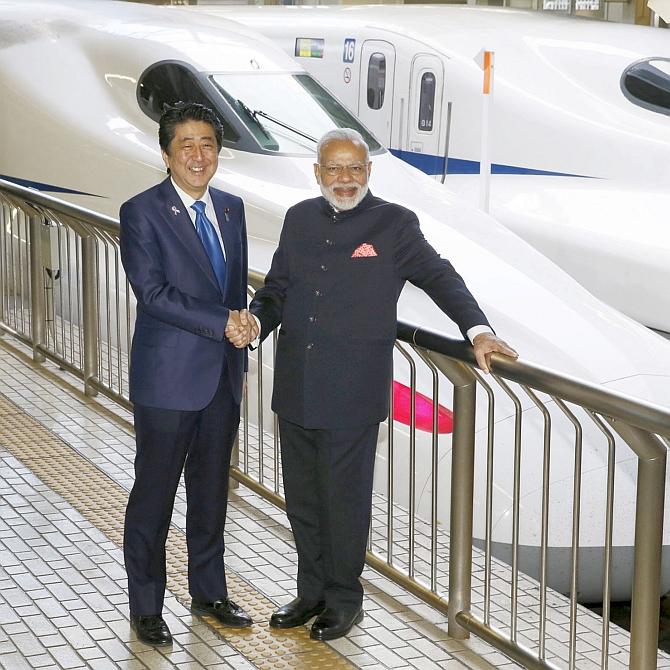 While focusing on the secular concept of energy development, it broadsides a common nemesis, China, with an unequivocal blunt message and re-choreographs the dance of geostrategic interests in the region.
China's visceral animosity towards India is a complex multi-faceted trait. Strategic interests and local boundary disputes do play a role, but are marginal to the overarching sentiment of rivalry and intense jealousy that fuels this deep-set antipathy that dates back to the early 1950s and the days of then prime minister Jawaharlal Nehru and then Chinese premier Zhou Enlai.
In the early 1950s, India and China were two fledgling States eager to make their mark on the world stage.
India with its ancient culture, exemplary democracy and the moral legacy of Mahatma Gandhi had an edge which China could neither fathom nor stomach.
Zhou, referring to India's claim of having introduced China to the non-aligned nations, once reportedly remarked that he was surprised at the 'effrontery of a third-rate power like India claiming to introduce to the world the prime minister of a first-rate power like China.'
Moreover, India's humiliating military defeat in 1962 was primarily intended to demoralise and cut India down to size rather than resolve a boundary dispute.
China's 'contain India' strategy continues to this day in the form of abetting Pakistan, blocking India's entry into elite international bodies and support for anti-India terrorists like Masood Azhar.
India's diplomatic efforts have till now remained lacklustre and listless. Consumed by perpetual second guessing, it has been unable to effectively counter China's provocative stance.
The thrust of the India-Japanese agreement, however, resonates with the changed tenor of India's revamped foreign policy under Prime Minister Narendra D Modi.
India's approach no longer subscribes to archaic, futile and esoteric principles like morality that have kept us bound irrevocably to self-destructive positions like unilateral restraint or champion high sounding but defunct doctrines like non-alignment that deliver little in terms of tangible benefits.
The Modi blitzkrieg is shaping our foreign policy with a daring that is unabashedly self-centred, but vocalised with a sophistication that is eloquent and convincing to our friends and deterring to our foes.
India will now pay back its detractors in kind.
That this new policy is having its impact is clear.
India's alignment with Japan has unnerved China.
Consternation in the Chinese ranks was evident in the run-up to the India-Japan meet last year, with the official Chinese media indulging in a bizarre exercise of sabre-rattling that was all over the place: Stridently castigating India in one editorial, sternly cautioning Japan in another and counselling India to take the path of rapprochement.
An op-ed in the Global Times (November 11, 2016) warned India that any interference in the South China imbroglio would not only be unsuccessful but counterproductive in terms of trade and bilateral relations:
'... India does not feel at ease with China... It admires China's imposing changeover, especially its economic takeoff, but it has never relaxed its wariness of China's rise. The complicated feelings could drive India to make mistakes in its China policy. Delhi is seeking support from Tokyo...'
'India lacks legitimacy and leadership in making new waves in the South China Sea. India should beware of the possibility that by becoming embroiled in the disputes, it might end up being a pawn of the US and suffer great losses, especially in terms of business and trade, from China.'
'India and China should put more efforts into resolving problems like the imbalance of their trade ties. India won't benefit much by balancing China through Japan. It will only lead to more mistrust between New Delhi and Beijing.'
Then, an editorial in the same newspaper the next day went on to caution Japan even as it attempted to cast India in more favourable light:
'... Japan wants to use the disputes between China and India to court India to help contain China. Japan seeks to urge India to meddle in the South China Sea issue, even at the cost of changing its long-held position of reducing nuclear usage to offer special benefits of civil nuclear cooperation to India.'
'India is in need of acquiring nuclear and military technology from Japan and attracting more investment for its manufacturing industries and infrastructure, like high-speed railways.'
'India will not become a pawn for Japan to contain China, as it wants to become a power on par with China and Japan and benefit from both sides. China and India have many problems between them, however, Sino-Indian relations are improving. National leaders frequently meet and are securing the right direction in bilateral ties.'
Both these articles (proxies for official Chinese positions) seem to harp on improving Sino-Indian relations overlooking the fact that the current distrust is to a great extent China's own doing.
If China is really sincere about a rapprochement, as these two articles suggest, it must walk the talk by disengaging itself from Pakistan's anti-India shenanigans, endorse India's move to declare Masood Azhar as a UN-designated terrorist and support India's entry into the NSG.
The economic history of the world indicates that India and China dominated the world economy without any mutual antagonism till the 1800s (The Atlantic. The Economic History of the Last 2,000 Years. June 19, 2012).
With both countries on the rise, a repeat performance is possible. For that China, must exhibit some good sense.
IMAGE: Prime Minister Narendra D Modi and his Japanese counterpart Shinzo Abe near the Shinkansen bullet train at Tokyo station. Photograph: Kyodo/Reuters