Should the party expand to Punjab, Bihar and other places, or should it consolidate its gains in Delhi? This was one of the questions before the party when it split sometime back. An answer is yet to emerge.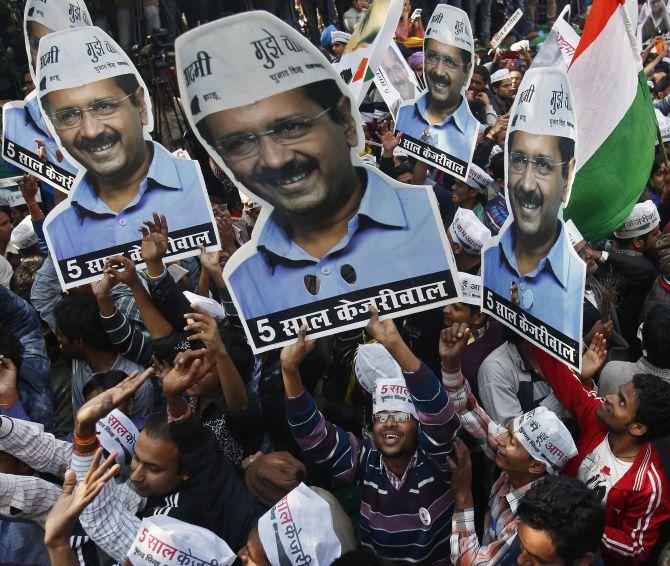 In Delhi, everywhere you look there are sniggers. The baby-faced former law minister, Somnath Bharti, is using the law to evade arrest, prompting Joint Commissioner of Police Deependra Pathak to describe his behaviour as akin to a "professional criminal".
Following a complaint by Bharti's wife Lipika, the Delhi police have registered a First Information Report against him under Indian Penal Code Sections 498A (domestic violence), 313 (causing miscarriage without a woman's consent), 324 (voluntarily causing hurt by a dangerous weapon), 506 (criminal intimidation), 307 (attempt to murder), 406 (criminal breach of trust) and 420 (cheating). Bharti first went to the Delhi high court seeking anticipatory bail, which turned it down, and had to appeal to the Supreme Court (which will hear the case on Monday). He is lying low because if he is found, he will be arrested.

Because the police can't find him, they have taken his dog Don into custody, who according to his wife, was set on her by Bharti during a difference of opinion. "On Wednesday, his (Bharti's) location was traced through our technical surveillance in north-east Delhi," a police officer said. "He changed his location on Thursday morning and was spotted in a village near Agra. But by the time our team reached there, he switched off his cell phone and fled the place. His phone has been found active once again and its location is somewhere in the bordering areas of Haryana and western Uttar Pradesh." Quite the Scarlet Pimpernel.

The Aam Aadmi Party is watching all this shamefacedly. Not a single member of the party has contested Pathak's description of Bharti with any real energy. In fact, chief minister and head AAP honcho Arvind Kejriwal has said Bharti should surrender and that his conduct was causing embarrassment to the party. How will Bharti -- who believes he should be considered innocent until declared guilty by the court -- feel about this judgement passed by the chief minister? And if the CM is right, wasn't the AAP supposed to have an extensive screening process that would have kept professional criminals out of the party's purview? How did the system slip up? And how many more of them are out there?

This is the irony. The AAP is being wooed by the most unlikely suitors -- Bihar Chief Minister Nitish Kumar has embraced it (not so Rashtriya Janata Dal chief Lalu Prasad) -- and while Kejriwal is yet to visit Bihar to campaign for the assembly elections, it is almost certain he will.
The AAP is hot commodity in Punjab. Not only do all four of its Lok Sabha seats belong to Punjab, but AAP speakers are drawing huge crowds in that state and it seems the party is getting ready to contest elections there (it has already qualified to be a state party on the strength of the 25 per cent vote share it got in the Lok Sabha elections). When AAP meetings are held, nearby locals cook food in their homes and bring it to the meetings so that those attending don't go hungry. At a recent core committee meeting of the Shiromani Akali Dal, the growing presence of the AAP was discussed threadbare, especially the threat it could pose to the group of voters between the ages of 18 and 40, who make up 54 per cent of the state's population. At a recent public meeting in Malerkotla, Chief Minister Parkash Singh Badal gave vent to his insecurities. "Several new parties have mushroomed in the state and are trying to fool the voters with hollow slogans and mimicry (referring to Bhagwant Mann, an AAP MP and actor). But only the Shiromani Akali Dal-BJP alliance has steadfastly safeguarded the interest of Punjab and Punjabis."
"People should differentiate between performers and tricksters. Some politicians can only entertain the audience with senseless speeches; but when they were handed power, they could not be trusted," he said, reminding people of Kejriwal's resignation as Delhi chief minister earlier.

The AAP is facing existential questions of its own. Of the four MPs, two have declared open differences with the party leadership. They are thought to be influenced by Yogendra Yadav and Prashant Bhushan, who were expelled from the party when they questioned Kejriwal's strategy and tactics. The people of Punjab want the AAP: the party is unable to respond to them because it can't sort out its leadership tangles.

The situation in Delhi is no different. Whether it is the safai karamcharis or the battle against dengue fever, AAP's workers are not spotted too much. Auto rickshaw drivers, earlier, the AAP's mainstay, are threatening to go on strike on account of broken promises. A recent Delhi Electricity Regulatory Commission ruling has neither pushed up the power tariff nor brought it down. The AAP said this was because 15 of its MLAs attended hearings and opposed any increase in tariff. Really?

The AAP's performance in the Delhi University Students Union (DUSU) election was unremarkable. Its youth wing could not get even one DUSU post.

What does all this mean? Should the AAP be expanding -- to Bihar, Punjab and other places? Or should it contract and consolidate its gains in Delhi instead of frittering them away? This was one of the questions on which the party split. But it is right there, staring it in the face again. And an answer is yet to come.