'The more conversations I have, the more I realise how boringly similar we are -- they love their family, crib about work, and considering the cholbe na attitude and frequent strikes, I could easily be speaking to someone in Kolkata or Kochi.' Durba Dhyani recalls her encounters with the French.
Illustration: Uttam Ghosh/Rediff.com.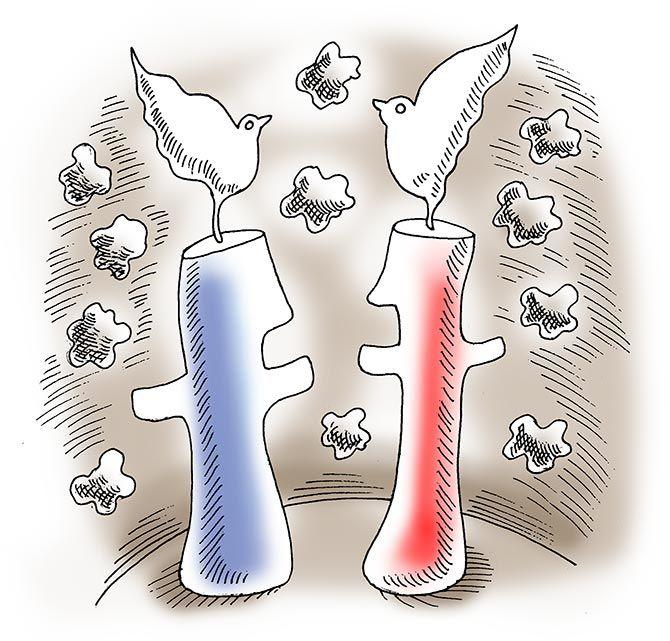 Like many others on Facebook, I too overlaid my profile picture with the French flag in solidarity with victims of the Paris terror attacks. A friend wanted to know if I was making a political statement and also supported the bombing of Syria.
To be honest, the complexities of the Syrian war make my head spin like the differential equations did back in school. My decision to drape the French flag wasn't political at all but personal. A place is all about its people and there are people I've come to know and like in Paris. A shared love of Shah Rukh Khan and Chardonnay, can cut across nationalities is what I've discovered.
My rendezvous with the French began a few years back when, as a corporate trainer, I started to teach them English. These were telephone or video lessons, and my learners were office-goers, anywhere in the age group of 25 to 60.
I remember wondering what it would be like to speak to strange people in a faraway land. I'd made my first call, not knowing what to expect.
'Good morning Jean-Michel! How's the weather in Paris?' I began uncertainly.
'Oh! Grey, cold, depressing,' came the unencouraging response.
'What about in Bangalore?' he asked back, trying to be polite.
'Bright and sunny here,' I chirped. 'Sorry!' I added, feeling apologetic for being so lucky about the weather, if not other things.
'Aha! I am ... jaloux?' he asked tentatively.
'Jealous. You are jealous of me.' I corrected him and laughed.
The ice had broken and my first lesson went smoothly enough.
After a few more conversations, I became emboldened enough to ask my learners some frank or even obnoxious questions. To my surprise, the answers were always candid.
'Thierry, is it true that the French are quite pessimistic and often depressed?'
'Yes, it's true. We like to complain a lot. We don't appreciate what we have,' was the disarming response.
'But you sound very happy and bright, then, for a French. That's not good,' I say with mock seriousness.
'Haha. It's not correct? OK. I will try to be more depressed,' and the joie de vivre comes across, despite his words to the contrary.
Over the course of time we talk about Francois Hollande being the most unpopular French president ever, the economic crisis in Europe, the gay marriage act (they cannot believe homosexuality is a criminal offence in India!), the Cannes film festival and the Rafale fighter jets deal between India and France.
The more conversations I have, the more I realise how boringly similar we are -- they love their family, crib about work, and considering the cholbe na attitude and frequent strikes, I could easily be speaking to someone in Kolkata or Kochi.
We seem to be in agreement even when it comes to the English language! At first I'd tried to sound like Colin Firth doing a 'Good God!' or 'Have a lovely weekend!' But soon I dropped all pretence as most seemed to prefer my Bong/Mumbaiyya/Kannadiga/god-knows-what accent.
'I wish that the English would speak as clearly as you. They'd be so much easier to understand,' says Stéphanie.
'The English really need to improve their English,' I concur, as we giggle conspiratorially.
While I catch a whiff of France, they get a glimpse of India, both equally exotic to the other.
'India is such a fascinating country! Please tell me more about Bangalore,' demands Aurore with stars in her eyes.
I control my urge to vent about Silk Board traffic and killer potholes and start with a 'Well, the weather is quite nice...'
Meanwhile, Nouchine wants to know if I've heard Manwa lage -- from Happy New Year. She is shocked when I say 'No' and declares that I am not as big a Shah Rukh Khan fan as she is!
Learning that I am an Indian, Nabil of Moroccan origin states: 'Oh! We are just the same!' What is my favourite biriyani but just the couscous in disguise! And is Paris a romantic city? Of course, but Bollywood is more so, he declares, breaking into an impromptu, Hum ko hum hi se chura lo...
Sometimes we also talk about the pain of divorce, the difficulty of finding true love or losing a dear friend to cancer. Life does not discriminate; neither does a terrorist's bullets.
After the attacks on 13/11 that suddenly took away 130 young lives, our conversations centre around terrorism.
Laurent, whose office is in the business district of La Defense, a prime target for terrorists, patiently describes the police raid at Saint Denis that morning, struggling to translate words like attack, bullets and firearms from French to English. I in turn, recount to him the events of 26/11 Mumbai.
Taking the local from Dadar to Lower Parel, a few days after the strikes, I remember the feeling of emptiness, the realisation that it could have been me. While journalists proudly proclaimed that Mumbai was back on its feet in minutes, I remember being worried about a city that had no time to stop and mourn.
In Paris, though, the candles are lit and the flags go up.
The chatty and irrepressible Aurore sounds unusually quiet.
'We are sad in Paris,' she says heartbreakingly, and I find myself at a loss for words too.
For Muslims there, it is even more difficult. 'We get strange looks sometimes, as if people are scared and suspicious of us,' Mohamed tries to put his feelings into words, letting out a deep sigh.
Hollande's unequivocal response to waging a merciless war against ISIS has boosted his popularity. On the other hand, the far right party of Marion Le Pen, the National Front, which used to be dismissed as ridiculous, is gaining traction too, post the attacks.
Marie-Laurence shares with me an extract from the New York Times, which has resonated with all Parisians:
'France embodies everything religious zealots hate: enjoyment of life here on earth in a myriad little ways: a fragrant cup of coffee and buttery croissant in the morning, beautiful women in short dresses smiling freely on the street, a bottle of wine shared with friends... the right not to believe in any god, not to worry about calories, to flirt and smoke and enjoy sex outside of marriage, to take vacations, to read any book you want... to leave worrying about the afterlife to the dead.'
Perhaps France is an idea and there is a bit of France in all of us.
As the historic COP 21 gets underway and nations comes together in Paris to discuss climate change, I tentatively ask Pierre-Jean about the weather.
'Cloudy but hope it does not rain,' he says.
'Yes, let's keep our fingers crossed,' I add, going on to explain what that expression means.
And so we pick up the pieces and move on, just as in Mumbai and elsewhere. But who is to say if the croissant now feels less buttery or the coffee a little less fragrant?
Durba Dhyani is a Bengaluru-based corporate trainer.