I agree he is honest, but what is the use of such honesty if he couldn't crack a whip and expel those who plundered the wealth of the country, asks Sudhir Bisht.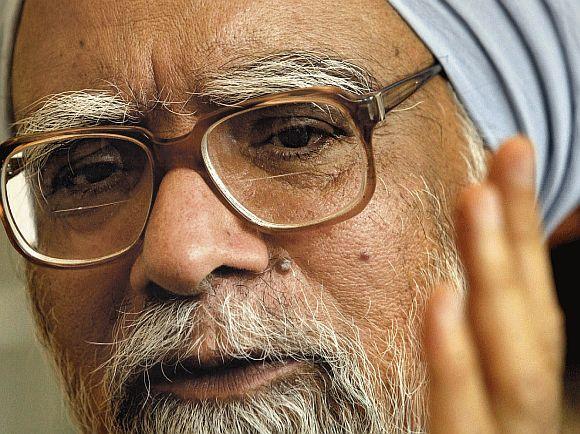 After Congress Vice-President Rahul Gandhi's 'earthquake' didn't create any tremors, his party is now riding on the coattails of Prime Minister Narendra Modi's 'raincoat' remark against his predecessor Manmohan Singh to shake Parliament up during the Budget session.
The grand old party has threatened that it will not allow the prime minister to speak in the Rajya Sabha unless he apologises for his jibe.
The Congress had been itching to stall the Budget session even before the first word was spoken by Finance Minister Arun Jaitley on February 1.
It tried to rake up the issue of the unfortunate death of the affable and endearing member of Parliament, E Ahamed, to postpone the Budget presentation by a day.
But finding itself isolated in the Lok Sabha, where it has a strength of just 45, it waited for an opportune moment to create some sensation in the Rajya Sabha where its members number 115.
Not finding anything substantive to protest against the Bharatiya Janata Party government in terms of the merits and demerits of the Budget, the Congress has now latched on to PM Modi's remarks in the Rajya Sabha on Wednesday, February 8.
Modi, on the floor of the House, had said, 'Bathroom mein raincoat pehan karke nahaana, yeh kala toh Doctor Sahab hi jaantey hain, aur koi nahi jaanta (to take bath in the bathroom while wearing a raincoat is an art which only Dr Sahab knows. Nobody else knows this art)'
Elaborating, the PM said his predecessor, Dr Singh, has been a part of the Indian political and administrative system for over 30 years.
Still, during his time as PM, many scams and financial wrongdoings were committed, but he didn't have a single charge of corruption or financial irregularity against him personally.
As someone who has been following Modi on Twitter, I know that he is generous with his praise. But in this case I am sure that he didn't utter these words with the intent of praising Dr Singh.
He definitely aimed at making the Congress party squirm and squeal and he did succeed in his intent.
What Modi said was at worst a below-the-belt jab at the Congress party's cleanest mascot and at best banter at his predecessor who in the winter session of Parliament had called the PM's demonetisation move 'a case of organised loot and legalised plunder of the common people.'
The ferocity and nastiness in the choice of Dr Singh's words were far, far greater in magnitude when compared to Modi's 'raincoat in the bathroom' analogy.
Modi was humorous even though the humour itself may have a tinge of black in it. But it wasn't an assault on Dr Singh's integrity.
It was rather a subtle mocking, a reproach that he sat quietly when some of his ministerial colleagues indulged in loot and plunder.
Such is Manmohan Singh's image that anyone mocking him or taking a swipe at his exaggerated honesty gets panned.
I call his honesty exaggerated as any honest leader who shuts his eyes when his friends and their relatives indulge in corrupt practices cannot be a saint.
Let me give an analogy here to explain my point of view.
Imagine that you hired a CEO to look after your profitably running business enterprise and gave him a free hand to manage its affairs.
The CEO was hired by you based upon the recommendation of your trusted friend to whom the manager is obviously grateful.
You leave the enterprise and immerse yourself in your other activities.
Your newly appointed CEO has a great reputation and has been a successful finance manager in the past. His integrity is impeccable and he has several academic achievements to his credit.
You discuss the top-line and the bottom-line expectations with him and agree to review his performance on a periodic basis.
After a few months your firm's suppliers start writing to you that all is not well in your company.
The procurement managers have been asking for bribes and the commercial department has been cheating on taxes.
You confront the new CEO who confesses that there have been serious lapses, but they were committed by the managers under him who too owed their jobs to the same friend of yours who recommended the hiring of the CEO.
He says he did his best to stem the rot.
He even noted on the files that procurement should be more transparent and all tax compliances must be made, but the managers didn't pay heed to him.
The CEO then affirms under oath that he personally didn't gain anything from the misdeeds of his managers.
He then says your friend who recommended him to the job protected the corrupt managers even though he had no stake in the enterprise.
What would be your feelings towards such a CEO?
Will you let him off saying that he himself has been honest at a personal level and was just a victim of loyalty to his benefactor's compulsions?
Not at all. You would sack the CEO without demur and may even accuse him of being a co-conspirator in harming your company's interests.
Under no circumstances would you have the feelings of 'Oh! But at a personal level he is a saint.'
Just replace your company with our nation and put Dr Singh in place of the CEO.
It is widely alleged and believed by many that the country lost Rs 30,984 crores in the 2G spectrum allocation scam.
Under Manmohan Singh, the country would have lost an estimated 1.86 lakh crores of rupees due to the coal scam, as per the figures of the Comptroller and Auditor General of India.
I have my straightforward views on Dr Singh's character and reputation.
His honest reputation is sky-high, but this is reflective more of the abysmal depths the collective reputation of our politicians has fallen into.
I concede that Dr Singh is a reputed economist but such economists are aplenty, teaching the theories of Keynes, Adam Smith and Amartya Sen at the Delhi School of Economics.
I agree that he is honest, but what is the use of such honesty if he couldn't crack a whip and expel those who plundered the wealth of the country?
Singh certainly didn't enrich his own coffers, but his exaggerated sense of honesty and the fig leaf of being personally incorruptible were swept away in the first squall of politics of coalition compulsions.
It is time to take the sainthood away from Dr Manmohan Singh.
Is he not the same former prime minister who claimed in writing in his election affidavit that he was ordinarily a resident of Assam when the whole world knows that his claim doesn't match up with reality?
Narendra Modi is the most followed leader in India, but we must also end our obsession with exaggerating Modi's jibes into a war cry, as if he is a trigger-happy combatant ever ready to heap indignity on his opponents.
There has to be space for lampoon and burlesque in the gory world of power politics.
I wonder why there is no uproar when the leader of the Congress party in the Lok Sabha, Mallikarjun Kharge, made an appalling dog analogy when he said that the Nehru Gandhi family made supreme sacrifices for the country whereas not even a dog from the BJP side made any sacrifice for the nation.
Was Kharge being civil in his speech?
I conclude by noting that while Congress members staged a walkout at the perceived insult of its brand ambassador of honesty, the former PM himself kept sitting.
It took another saint of the party, former defence minister A K Antony, to urge Dr Singh to join the walkout.
Sudhir Bisht, author and columnist, tweets at @sudhir_bisht