Prime Minister Narendra Modi on Wednesday targeted his predecessor Manmohan Singh for describing demonetisation as "loot" and "plunder" even as he asserted in the Rajya Sabha that the fight against black money is not a political one or against any party.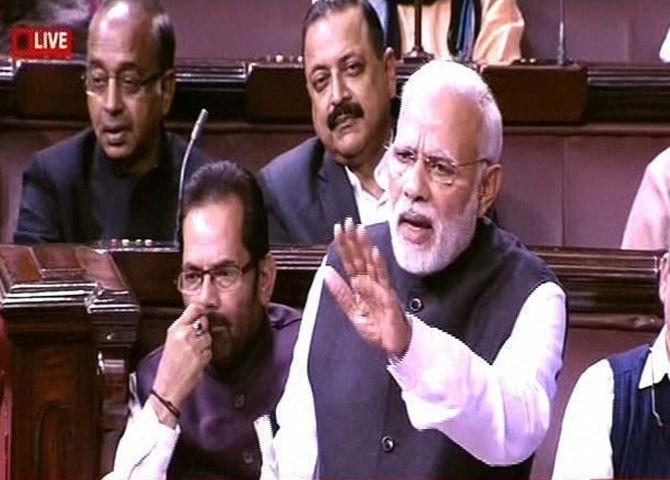 He tore into the Congress and took on Singh who had described demonetisation as "organised loot" and "legalised plunder", saying "the art of bathing in a bathroom with a raincoat on" is known only to the former prime minister as there is "no blot on him" despite "all the scams".
This provoked an angry reaction from Congress members who staged a walkout in the midst of the reply by the prime minister to a debate on Motion of Thanks to the President's address which was later adopted by the House after negation of all the 651 amendments.
Members of Left, Trinamool Congress and Janata Dal-United also staged a walkout after the reply, complaining that they were unhappy with Modi's statement and wanted to ask questions which was disallowed.
Modi, in his over one-hour speech, focussed his attack on the Congress and other opposition parties for criticising the demonetisation decision and his push for cash-less economy. He also slammed the Congress for finding faults with lack of proper infrastructure in the country, saying by doing so, they were only presenting their "report card" of 70-year rule.
Targeting Singh, he said, "in this country, perhaps there will be hardly anyone from the economic field who has had dominance on the country's financial affairs for half of the country's 70 years of independence. Out of 70 years, for 30-35 years, he has been directly associated with financial decisions.
"So many scams occurred... We politicians have a lot to learn from Dr Sahab. So much happened, there is not a single blot on him. Dr Sahab is the only person who knows the art of bathing in a bathroom with a raincoat on."
As Congress members created uproar and staged a walkout, an angry Modi said, "If you cross the limits of decorum, then you should have courage to listen to the response. We have the capacity to pay in the same coin. We do so within the limits of decorum and boundaries of the Constitution. They (Congress) don't want to accept the defeat in any form. How long will it continue?"
He went on to add, "The person who held such a high post, used the words 'loot' and 'plunder' in the House. Then they (Congress) also should have thought 50 times (before using those words)."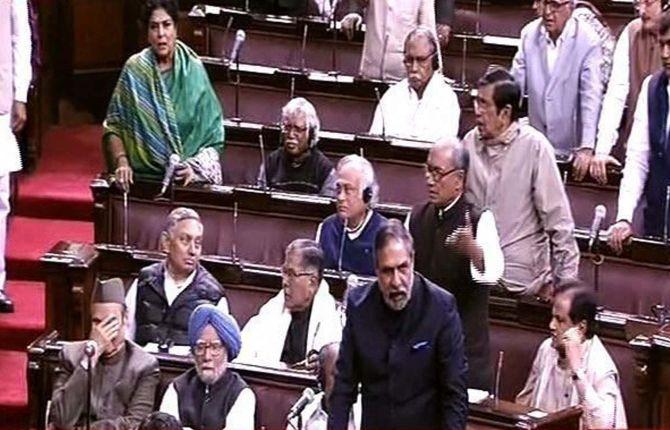 Singh, while speaking in the Rajya Sabha during the last Winter Session, had castigated the prime minister over demonetisation, saying its implementation was a "monumental management failure" and a case of "organised loot and legalised plunder."
Responding to those comments on Wednesday, Modi also took a swipe at Singh using the pretext of a book.
"Manmohan Singh ji had delivered a speech here... Recently a book was released in which Manmohan Singh ji had written the Foreword. Initially, I thought he is a renowned economist and it (the book) will have his contribution. But then I realised that the book was written by somebody else and he had only written the Foreword. In his speech also, I felt the same," the prime minister said.
This triggered an uproar from the Congress members.
To this, Modi took a dig, saying, "the word I did not even utter, that too they (Congress members) have understood."
As Congress members shouted slogans, Information and Broadcasting Minister M Venkaiah Naidu took strong objection, questioning why the opposition members were so agitated when terms like "Hitler" were used against Modi in the same House.
"I request you to go through the records. The prime minister was called Hitler and Mussolini," Naidu said.
The prime minister, whose speech was interrupted a number of times due to opposition uproar, also took on the Congress for quoting economists to denounce demonetisation.
"You are quoting economists. If you quote 10, I can quote 20. Economists have never seen such a step anywhere in the world as this has happened for the first time... In fact, this can become a case study for them," he said.
Taking on the Congress at another point, Modi quoted a book authored by former Home Secretary Madhav Godbole, which he said, contained criticism of Indira Gandhi for not undertaking demonetisation in 1971 when there was an opportunity.
This evoked an uproar from Congress benches.
At this, Modi took a dig at them, saying, "You should have shown this behaviour when the book was published. What were you doing when it was published? Were you sleeping all this while? When such allegations were levelled, why were you silent? Had I been in your place I would have filed a case against Godbole."
The prime minister said while 125 crore countrymen are making efforts to come out of "inner malaise" of black money and corruption, the Congress and other opposition parties are standing against it.
Defending his demonetisation decision announced on November 8 last year, he said, "To fight against black money and corruption is not a political fight. It is not to harass any political. It is the responsibility of everyone to fight against it... We did what our wisdom suggested."
He said the maximum impact of black money is on the poor who have been exploited.
"There is need for more efforts (to fight black money). How long will we keep it brushing under the carpet? Even if this attempt is to be taken forward, it will be taken," he said.
"We need to fight as one. Honest person will not get strengthened, till the dishonest are not dealt with strongly.... The ultimate benefit of these steps is going to be to the poor," he said.
Modi said he did not mean to say that attempts would not have been made earlier.
On contention by opposition members that people were facing hardships because of demonetistion, the prime minister said there will be "problems while finding a way out of vices".
"There is a horizontal divide in the country...The public sentiment is on one side, while the sentiments of leaders is on the other side. They are cut-off from the public sentiment," he said, attacking the opposition.
"Usually government and public are face-to-face on issues but this is such a decision where government and people are together. Some people are on the other side...You may have faced problems," Modi said.
Referring to criticism of the Reserve Bank of India and its Governor Urjit Patel on demonetisation, Modi said "I may be criticised, the government may be criticised, but there is no reason to drag the RBI and the RBI Governor. We need to preserve the dignity of (RBI)..."
Citing a book written by former RBI Governor D Subbarao, Modi suggested that the then Finance Minister P Chidambaram had interfered in the working of the Reserve Bank.
"So far no reply to this. Now he (Chidambaram) gives us sermon...When you level allegations, please look inwards," Modi said.
The prime minster said government has strengthened the RBI and amended the RBI Act to set up Monetary Policy Committee headed by the central bank Governor.
Central government has no nomination in the six-member committee, he said and added "no body had ever imagined this much autonomy would be given to the RBI".
Invoking late Jyoti Basu who had supported demonetisation way back in 1972, the prime minister sought support of Left parties on the issue. "This is my request they should come in support on this issue," Modi said.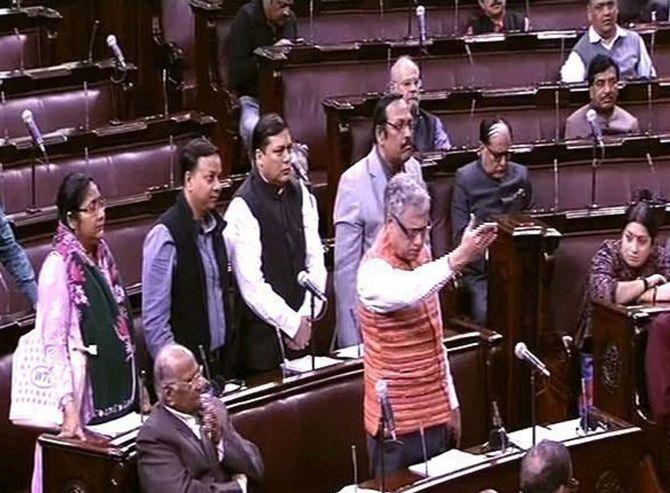 He said that governments generally take populist decisions, but "we took a tough decision (demonetisation)".
It will take time for people to comprehend the move, Modi said as he highlighted the benefits of the measure announced on November 8 last year.
Taking on the Congress and other opposition parties for criticising his push for less-cash economy on the ground that India lacks adquate infrastructure, Modi said those saying "this and that" has not happened, were actually presenting report card of 70 years. "My contribution (in the 70 years) is only two years," he said.
Underlining the need to change mindsets, Modi said "let us start with Delhi... or Kolkata". There is a need to take India gradually towards cashless transactions, he added.
To counter arguments that India has a large number of illiterate persons and digital transaction cannot take place, Modi cited the success of EVMs for voting even when advanced countries still use paper ballot.
"There will be difficulties but we have to move ahead... it may take five years. But it is wrong to say even the direction (towards digitisation) is wrong," he said.
He said post demonetisation, use of plastic money has increased and people from the lower strata of society take pride in possessing cards.
"We are taking steps to fulfill small aspirations of people," Modi said, adding the recently-launched BHIM is a good app for transactions.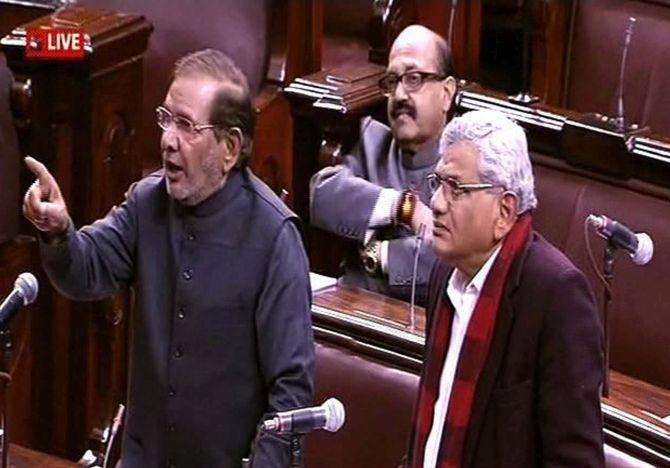 He also said Direct Benefits Transfer scheme has helped government save a huge amount of money by plugging leakages. Modi, who is often attacked by opposition for not giving credit to previous government, said "No government comes to power to sleep. Earlier governments would have made attempts (for country's development). I have said it from Red Fort also that all previous governments have contributed and that is how we reached here".
On opposition making fun of Swacch Bharat programme, he said "shall we oppose everything?...This cannot be an issue of making fun".
He said santitation was dear to Mahatma Gandhi and asked if the opposition would have acted in same way had he been around.
"Thinking should be positive. Even if difficulties, ways can be found," Modi said and added that negative thinking was causing a lot of harm to the country.
While referring to Subbarao's book "Who moved my Interest Rate', Modi said he had written that the Finance Ministry under P Chidambaram had in 2008 formed a Liquidity Management Committee even without consulting or informing the Reserve Bank.
Subbarao, the prime minister said, has written that this act set the tone for an "uneasy relation" between the RBI Governor and the then finance minister.
Modi, whom critics have attacked over issues related to autonomy of the RBI, remarked that nobody has till now responded to revelations made in Subbarao's book.
He, however. added that a response may come now as he has mentioned it.