In our Special Independence Day series, Rediff.com looks at India through the lives of her people.
Today: Kalpana Ghodawat, a brave acid attack survivor, who runs a beauty parlour. Kalpana has undergone at least 100 surgeries, but feels one must always love life. Her favourite place in the world, she says, is her beauty parlour where she loves making women look more beautiful. We salute her courage!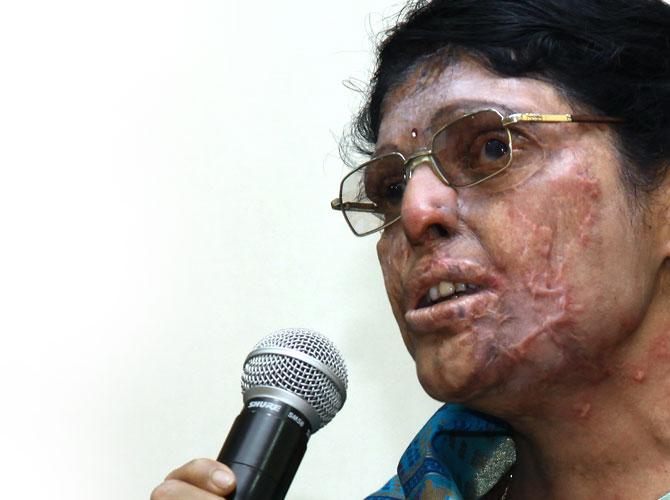 I wake up early and go to my shop by 9 am. It is a grocery shop which belongs to my son.
I am there till 9 pm. It is near my home. I also run a beauty parlour at home. When a client comes home, I leave the shop and attend to her. The parlour is only for ladies.
I had only studied up to the 10th standard when I was married. My husband was a heavy drinker and so I did a beautician's course to look after my family.
My husband did not like me working in a beauty parlour even though it was my own. He used to threaten me that he would throw acid on me. I did not believe him. I was very beautiful.
One day in the morning around 9 am I was getting ready to go to the parlour. He had kept the bottle of acid in the toilet. I had not seen it. He poured the acid over my head.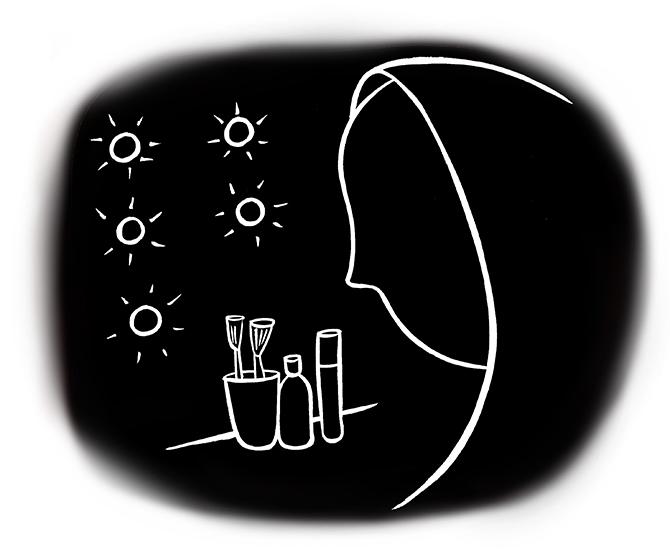 Every third day, a woman is attacked with acid in India. Illustration: Uttam Ghosh
For 4 to 5 months I could not see myself. I was kept in a dark room in a hospital in Sangli. For one year I was treated at the Sangli hospital. I could not go out. There were no mirrors in my room.
When I saw my face for the first time after the acid attack, I screamed and lost consciousness. I cried for two months after that. My friends suggested that I should go to a hospital in Mumbai.
We met plastic surgeon Dr Ashok Gupta who said he will treat me step by step.
He first re-constructed my nose, then my eyebrows, then hair was fixed on my forehead. I only had a patch of hair remaining, it was at the back of my head.
For ten years I have been undergoing plastic surgery. I must have been operated on more than 100 times. I have lost count.
My children used to get scared looking at my face. My mother would look after them at home, while my friends used to come to hospital with me. In my life, my friends have been my greatest support.
I also have the support of the Acid Survivors Foundation, India. Pranali Madam from the foundation has been a strong support to me.
My treatment got over last year. I will be meeting Dr Gupta if I need further treatment.
Now I have no pain, but I get rashes if I bathe in cold water. I also get rashes if I get wet in the rain, so I never go out in the rain.
My husband was arrested immediately after the attack. While the court case was going on, he was out on bail. He died a natural death five years back.
Now I don't feel like an acid attack victim. Earlier I never left the house. Now I go out boldly. My face is normal. Earlier people used to stare at me as if I was an animal. Now they don't. Earlier I used to think of dying. Now I don't.
I don't feel conscious about my face anymore. I keep busy the whole day. When illiterate people come to my shop, I help them fill up bank slips and government forms. All call me Akka, which means elder sister.
I am normal after my last operation that Pranali Madam arranged through the Acid Survivors Foundation, India.
I love my life. One should love life. I believe in positive thinking.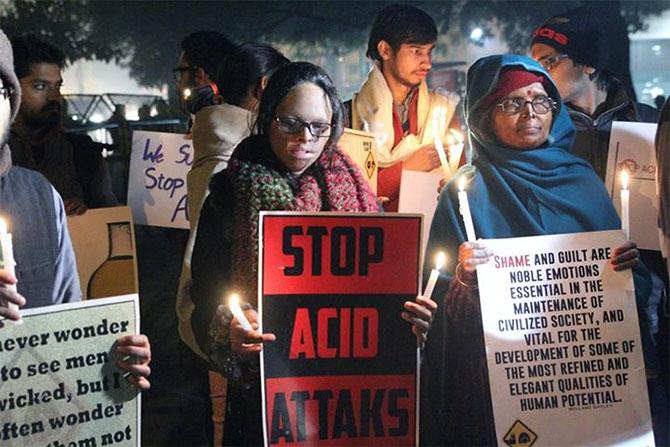 IMAGE: Laxmi, centre, a well-known fighter for NGO Stop Acid Attacks, in a campaign against the crime. Photograph: Kind courtesy Stop Acid Attacks Facebook page.
My son and me run the shop together. We don't have any other staff or helpers.
I also have hens at home. We sell the eggs. My other son is married and lives in Pune.
I had always dreamed of running a big beauty parlour. But now I have been destroyed financially.
I don't get depressed. I am happy as I am working the whole day. I want to move on in life.
I water plants to relax. My hobby is to look after my plants. I have roses in my garden.
I also listen to ghazals. I love animals. I have a dog and goats at home.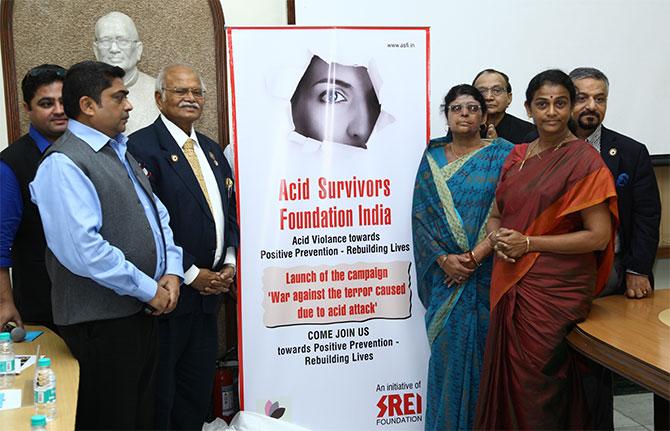 IMAGE: Kalpana with the Acid survivors foundation members
The things I would like changed in our country is that corruption should go away. The population growth should be controlled and we should have more hospitals and specialist doctors.
To stop acid attacks, shops should not sell acid in the market. Even if it must be sold, only mild acid that cannot hurt anyone, should be allowed in shops.
When acid is thrown on a person, the first thing one can do is pour cold water. People often get scared to help acid attack victims. They should be taken to hospital immediately.
Acid attack survivors should be counselled till they start thinking positively again.
My beauty parlour is the most favourite place in my life. I love making girls, women more beautiful.
According to the Union home ministry, every third day, a woman is attacked with acid in India.
Kalpana, 48, spoke to A Ganesh Nadar/Rediff.com