Paswan was a minister under six different prime ministers, hardly out of government since he was first elected to the Lok Sabha in 1977, observes Virendra Kapoor.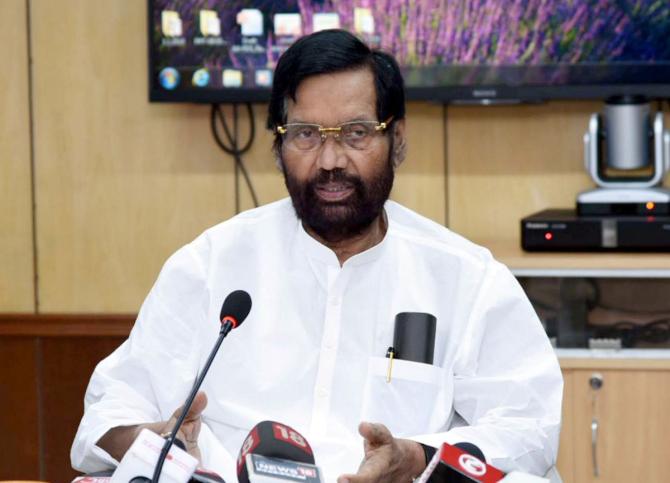 What is it with Dalit leaders?
They come riding on the shoulders of their caste brothers and sisters, but upon attaining a measure of electoral success get so dazzled by money and power politics that it does not take them long to forsake fellow Dalits.
Quite aside from Dr Ambedkar, a jewel among all Dalit leaders of his age and since, who died a forlorn man, politically battered by Nehru's Congress and electorally abandoned by his own Dalit constituents, and to an extent, Bahuan Samaj Party founder Kanshi Ram, hardly any Dalit leader in post-Independence India has resisted the temptation to leave behind his roots to embrace the decadent ways of the Brahaminical class to rise up the greasy pole of success.
Ram Vilas Paswan, who died on Thursday, October 9, in a New Delhi hospital, was probably cut from the same cloth as the famous Dalit leader Jagjivan Ram.
Biharis both, the two men also notched up longest ministerial innings at the Centre.
Jagjivan Ram joined the interim government under then prime minister Nehru and continued uninterrupted as an important minister for forty years.
Paswan was a minister under six different prime ministers, hardly out of government since he was first elected to the Lok Sabha in the 1977 election.
Indeed, young Paswan was handpicked by Jayaprakash Narayan to take on Jagjivan Ram, the minister who had piloted the infamous Bill in the Lok Sabha ratifying the Emergency.
But Jagjivan Ram, sensing the voter mood ahead of the 1977 election, jumped ship to float the Congress For Democracy and allied with the newly formed Janata Party.
So, instead of contesting against Jagjivan Ram in Sasaram, Paswan contested from Hajipur, and won by a five lakh-plus margin.
The young Paswan was soon lured by the city lights.
The son of a Dalit farmer from a village in Bihar's Khagaria district, he solemnised another marriage with a woman who worked in the Congress-O-Janata Party office at Jantar Mantar.
His village wife would surface at election time, no doubt, goaded by Paswan's political rivals, to assert her marital vows, but to no avail.
In the last two decades or so, one hasn't heard anything about her.
Not unlike Jagjivan Ram, Paswan too was fond of the good life, and the perks of power.
Insisting on only bottled filtered water on the campaign trail in the deep interiors of Bihar, living life king-size in a well-appointed ministerial bungalow -- which shares a boundary wall with 10, Janpath -- and using his political party to launch the legislative careers of his brothers and other members of the extended family, including son Chirag, spotlighted the self-centeredness of his politics.
Paswan had been sucked into the political system early on in his ministerial career.
The story goes that as labour minister in the V P Singh government in 1990, Paswan was on an official visit to Kerala.
Invited by then governor Dr Sarup Singh to join him over breakfast, the host, who had a rustic sense of humour, noticed an expensive watch on the young minister's wrist.
In his typical Haryanavi style, Dr Singh asked, 'Bhai Ram Vilas, yeh gaadi to bahut mehengi hogi. Do-teen lakh ki to hogi (The watch must be very expensive, about two, three lakhs at least).'
Feeling a little embarrassed, Paswan muttered, 'Dr Saheb, yeh mujhe to kisi ne di thi (Someone gave me this watch)'.
The incorrigible academic-turned-governor could not help remark, 'Ram Vilas, yeh asar acche nahi hain (this is not good).'
Years later, this columnist, a student of Dr Singh's at Delhi university, heard this story from Dr Singh at a morning coffee adda at a Connaught Place restaurant where some of us used to meet regularly.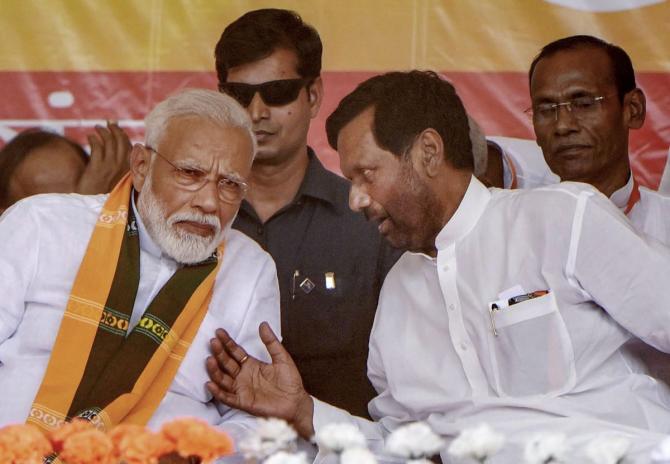 Invariably, successive generations of Dalit leaders upon becoming MLAs, MPs, ministers -- or in a rare case, even chief minister -- virtually turn their back on their community, copy the ways of swarana politicians in relentlessly going after power and pelf.
Dalit leaders upon attaining success lose the common touch, virtually seeking to erase all traces of their Dalit past, except at the time of elections.
I happened to be in Pakistan as part of a South Asian Free Media Association team, which included a dozen journalists and a few politicians, including Laloo Prasad Yadav and Paswan, accompanied by his wife.
Staying in the same hotel, each morning during breakfast, one would notice the Paswans amble in, with Mrs Paswan attired in the finest of sarees and displaying a fresh piece of jewellery.
Laloo and Paswan were hardly on talking terms then.
No doubt, Dalit leaders have often influenced governments to legislate further benefits for their community.
But governments adopt these measure with an eye on the Dalit vote than due to the pressure from the now gentrified Dalit leaders.
Jagjivan Ram, by all accounts, was known to be a competent minister.
But even his long stint in government did not help him carve for himself a pan-India Dalit constituency.
He remained by and large a leader of his Jatav caste in Sasaram, Bihar.
It may be because Jagjivan Ram was active in a period when the country, especially Dalits, was still in thrall of the Congress party of Gandhi, Patel and Nehru, the party of the freedom struggle.
Though the Congress was now a paler version of itself, Paswan failed to build a larger platform for himself outside his Dusadh caste.
Other Maha Dalits in Bihar had either been won over by Nitish Kumar or supported Jitin Ram Manjhi's Hindustani Awam Party.
The tremendous socio-economic advances made by Dalits since Independence are mainly through their own agency and due to the trickle-down effect of reservations in educational institutions and jobs.
Now amidst the campaign for the Bihar assembly, Chirag Paswan, who heads the Lok Janshakti Party, may find the going tough.
Whether he can stir up enough sympathy for his father to motivate Biharis to vote for LJP candidates remains to be seen.
Maybe the BJP will ensure that Chirag does not pay a price for his youthful recklessness against the Bihar chief minister.
Feature Presentation: Aslam Hunani/Rediff.com