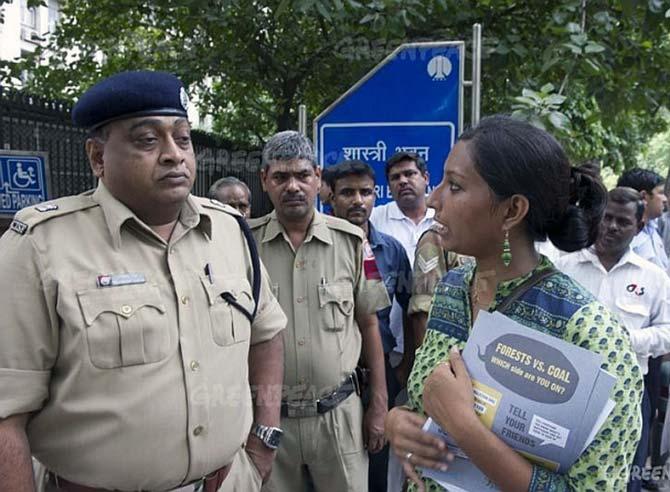 It is regrettable that the IB has tried to devalue the expertise available both within the concerned ministry and in the scientific community by its allegations. Governments and NGOs in many western nations have not been accused of being 'anti-national' when they put their foot down on questionable practices by cash rich agri-business companies, says Rashme Sehgal.
Considerable controversy has arisen around the recent Intelligence Bureau report that blames a number of NGOs for a series of sins, ranging from interference in nuclear issues to stalling mining operations in the country. In the debate that has arisen, too little attention has been paid to certain issues.
By raising the bogey of the foreign hand, has the IB tried to conveniently conceal the corporate hand that lies behind the allegations levelled against the NGO sector?
In the past too, the Intelligence Bureau has blamed organisations like the Narmada Bachao Andolan and Amnesty International for adversely impacting the country's economic growth.
What is new about this report is the IB's amazing claim that foreign-funded NGOs working in the fields of mining, nuclear energy, forests and sustainable agriculture are responsible for causing annual GDP losses amounting to almost Rs 3 lakh crore per annum. This claim has been contested even by conservative economists. Scapegoating the NGO sector for industry's lackadaisical performance in recent years is irresponsible, particularly as some of the targeted NGOs have been raising issues critical to food security and sustainable agriculture.
It is surprising that NGOs like the Alliance for Sustainable & Holistic Agriculture, comprising largely farmers' groups working to promote pesticide free agriculture, and India For Safe Food that promotes Genetically Modified Organism-free farming, have been targeted. Navdanya run by Dr Vandana Shiva and Gene Campaign run by Dr Suman Sahai are also in the line of fire for carrying out a campaign against GM crops which the IB report describes as being a 'significant threat to national economic activity'.
Kavita Kuruganti, who heads ASHA, explains, "We have been actively trying to push for people's control over agricultural resources including land, water and seed and to help create income security for farm households. This has brought them into conflict with large agri-biotech companies over issues of bio-safety and seed sovereignty."
She cites the example of how the US agri-biotech giant Monsanto has jacked up the price of its GM cotton seeds, sold under the brand name of Bollgard, to Rs 1,800 for a packet of 425 gm seeds. Out of this Rs 1,200 (two-thirds) goes as trait fees to the company.
No less than the Planning Commission in its 12th five-year document had warned against Monsanto controlling 95 per cent of the cotton seed market of India.
The question arises, why has the IB chosen to single out NGOs who have been cautioning the government against GM crops. After all, two former ministers of environment, Jairam Ramesh and Jayanti Natarajan, have publicly expressed their reservations about GMOs as have several state governments including Bihar, Karnataka, Assam and Rajasthan.
Interestingly enough the present Home Minister Rajnath Singh has in the past publicly expressed his reservations on GMOs and even demanded a stay to look into its long term effects. Panels such as the high-profile Parliamentary Standing Committee on Agriculture (which included both United Progressive Alliance and National Democratic Alliance members) and the Supreme Court's technical expert committee have also demanded caution in opening up this extremely contentious area.
In the past, hundreds of scientists had written to the former prime minister Manmohan Singh advocating a precautionary approach. Dr Pushpa Bhargava, founder and former director, Centre for Cellular and Molecular Biology, Hyderabad and a nominee of the Supreme Court of India on the Genetic Engineering Appraisal Committee has also spoken out for the need of a thorough study on the long term effects of GMOs, insisting that approval for open release should be kept in abeyance until such a study is completed.
In fact, the BJP manifesto of both the 2014 and 2009 national elections stated that, "No genetically modified seed will be allowed for cultivation without full scientific data on long-term effects on soil, production and biological impact on consumers. All food and food products produced with genetically modified seeds will be branded as GM Food." The promise has been repeated by BJP in its 2014 election manifesto again.
Funding to NGOs under the Foreign Contribution (Regulation) Act 2010 was being investigated during Manmohan Singh's prime ministership. But that the report should be 'leaked' so early into Modi's tenure has raised eyebrows. Has this been done at the behest of some MNCs or is this an attempt to discredit organisations that question the 'development' model being projected by this government?
Kuruganti points out, "In the GMO debate in India, more foreign funds are being spent by foreign MNCs than any NGO. It is reported that just one American biotech major has recruited the services of at least eight PR agencies in Delhi alone for its pro-GM work. If this is about foreign forces influencing domestic decisions in India, why is it that the IB does not think that it is objectionable that the biotech industry led by these foreign MNCs is into heavy lobbying, PR and influence peddling?"
Scientists question IB's credentials for dealing with such a technical issue. "What expertise do they have on this subject?" asks Dr Vandana Shiva.
But there is no doubt that the UPA-government was veering around to end the moratorium at the earliest. Former minister of science and technology Jaipal Reddy told reporters last year, "This is a subject (GM crops) that we cannot afford to abandon. Nor can we neglect international developments on this subject... we are making all efforts to arrive at a consensus on this subject.'
Former environment minister Veerappa Moily went one step further and green-signaled the holding of field trials which had been banned by several states. During his tenure the environment ministry had submitted an affidavit in the Supreme Court okaying conditional field trials of GM crops. Moily did so with the backing of the PMO and former agriculture minister Sharad Pawar.
Dr Suman Sahai, director of the NGO Gene Campaign, pointed out that, "No green signal can be given until the issues raised by TEC are addressed. We must have proper technically competent transparent regulations in place. We must also have bio-safety testing of the highest order so consumers are protected."
While the debate goes back and forth there is no doubt that the question needs to be asked on behest did the IB prepare this report. Already, INSAF and ASHA have filed a petition in the Supreme Court against the home ministry revoking permission for them to receive funds.
The foreign hand bogey is not new, having been used during the Indira Gandhi regime as an intimidation tactic. The issue is why a scientific debate on a crucial subject like GMOs should not have been handled by IB officials, the majority of whom have a police background and no expertise in the bio-sciences.
It is regrettable that the country's premier intelligence agency has tried to devalue the expertise available both within the concerned ministry and in the scientific community by its allegations. The fact remains that even in the western world, European countries and Canada have banned GM foods and GM agriculture. So have many countries across the globe. Governments and NGOs there have not been accused of being 'anti-national' when they put their foot down on questionable practices by cash rich agri-business companies.