If Ramdev weren't a Baba, but a mere salesman, what would he make of a medicine or a herb named Putrajeevak Beej, asks Jyoti Mukul.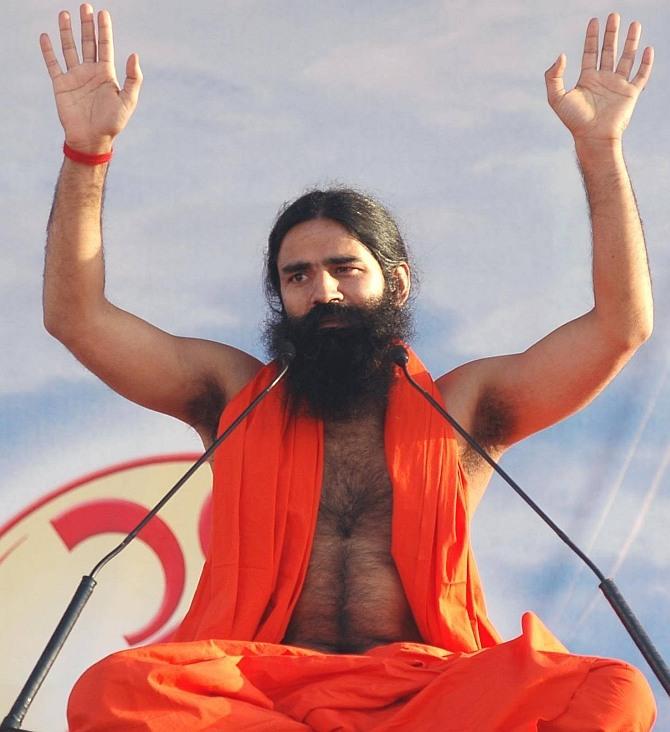 Baba Ramdev has millions of followers, some of whom I know. What he says carries weight even though he himself maybe a lightweight yogi, literally, who can give both earthquake and police clampdown a miss with matching agility and deceptive guise, something that not many are capable of doing.

The Haryana brand ambassador, who has a pharmacy of his own, says his packaged medicine 'Putrajeevak Beej' does nothing like guaranteeing a son.
It is named after a herb called 'Putranjiva roxburghii Wall'. He may have a point; a perfect defence. He will add a disclaimer, too, he says.
But, how about some more explanation from the Baba and those who would want to defend him?
If he were not a Baba or an Ayurveda specialist, and if he was a mere salesman at his Patanjali outlet or one of the many customers who throng his pharmacy daily, what would he make of a medicine or a booti (herb) named Putrajeevak Beej (seed for bringing alive a son)?

In a country where almost everyone swears by some form of herbal medication, whether a mere Tulsi in tea for curing cold or a clove for soothing toothache, and where just about everyone is an expert on herbs and herbal medication, Ayurveda is a belief.
Almost to the same degree, but maybe less than what it used to be a decade ago, the desire for a son is also all pervasive in our society, and, therefore, the chances of a customer picking up Baba's medicine for choosing the sex of an unborn foetus is quiet high.
It may not be female foeticide or not even sex determination test, both banned by law in India, but it certainly is selective annihilation of girls that are yet to conceived or born, if not in reality but in belief and in intention.
And, intentions and belief systems, that perpetuate age old social ills, are precisely what brand ambassadors are required to dispel.

Age-old stories about numerous babas and rishis (saints) also tell us that an angry Baba can be more dangerous than probably a Bofors gun for their wrath can turn you into a stone, howsoever unjustified or silly the provocation.
"MPs who have no clue about Ayurveda should be ashamed and should apologise to the nation," thundered the Baba at a press conference a day after the Putrajeevak Beej was brought to life on the floor of Indian Parliament by a member who had bought the packets to hammer the point about sex selection practices in India.

Samajwadi Party MP Jaya Bachchan also became the target of Baba's ire, saying she was demanding a ban on his pharmacy products as she was "not getting any opportunity to act in movies these days".
Going by this logic, would someone care to ask the Baba, why did he jump into anti-corruption agitation with his yogic antics since his core competency lies somewhere else, and as a "yogi" and "fakir" in any case he is suppose to rise above the worldly to the ethereal and be there for the larger good of the people.
Why shouldn't the Baba be issued a privilege notice when any such disparaging comment on an MP by any ordinary person could invite the wrath of parliament.
What if Ms Bachchan was a member of the Maharashtra assembly? After all, writer Shobha De was served a privilege notice just for twitting about snacks during movie shows when a diktat on Marathi movies was announced by the Maharashtra government.

Calling himself a "fakir" (ascetic), the Baba said the real target of attack was Prime Minister Narendra Modi, whom the Patanjali promoter had supported during the BJP campaign for the Lok Sabha elections last year.
But, how about asking the Baba whether the "fakir" label is being used just like the deceptive naming of the herbal product or is it a guise by the Baba who is essentially minting, probably, millions out of his pharmacy and yoga practice.

In defence of the Baba, one can argue that why blame him when I know of people who have used such herbs in pre-Patanjali days to have a second child as son since the first one was a daughter?
But, the Baba and his ilk can be excused, only if Patanjali also offers a cure for the incurable minds, no disclaimer needed.