'Priyanka Gandhi, it was obvious to everyone but the inner circle, would have only served as a sacrificial lamb in this high-octane contest, the Modi juggernaut would have simply trundled over her and whatever ill-hatched plans the Congress had in mind,' says Saisuresh Sivaswamy.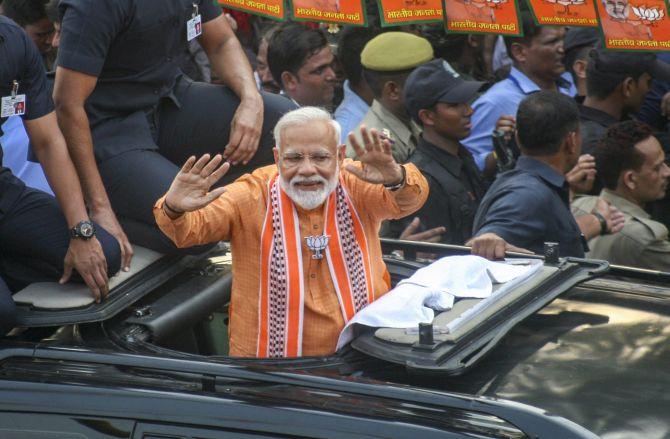 It was billed as the juiciest election battle of all time, and a news-hungry media had already decided that it was of David versus Goliath proportions with similar outcome where the unfancied will bring down the giant.
The Congress party, we know, fed this perception with titbits and hints of a coming epic battle, but when the time came to file nominations the rival was nowhere to be seen.
Priyanka Gandhi-Vadra's non-foray into electoral politics is the sum and substance of what is wrong with the Congress since years.
Where was the need to build up a contest in Varanasi, where Prime Minister Narendra Damodardas Modi towers large, larger than anything the holy city has seen, when all along you did not have either the heart or the brain for it?
Rahul Gandhi is a political bumbler, that much we know even if we won't acknowledge it in public. But what about his senior advisors who ought to have known better?
Didn't they warn him of the perils of losing the perception battle where you throw punches at the prime minister but decide to sit it out when it is time to enter the ring?
What about the vastly astute Sonia Gandhi whose sagacity, alas, doesn't seem to have been passed on to her children?
Why do they still believe as if all they have to do in an election is turn up with their pretty smiles and a fawning media still drunk on democracy will ensure the votes are cast in their favour?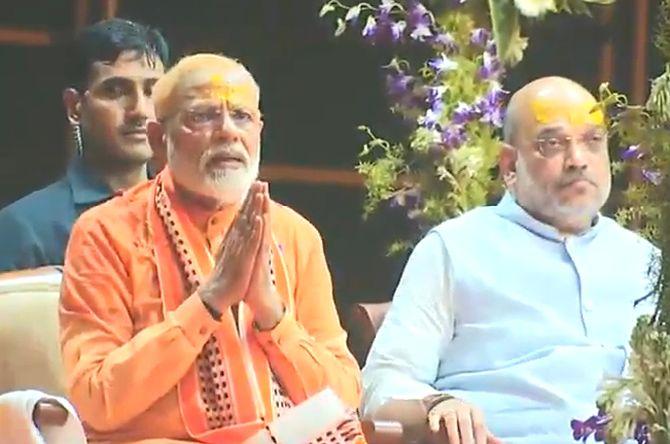 If they still harboured any delusions about Modi and BJP national President Amit Anilchandra Shah being pushovers in a close election, Thursday's road show in Varanasi and the theatrics that followed must have come as a good antidote.
Thankfully, wiser counsel had already prevailed. Priyanka Gandhi, it was obvious to everyone but the inner circle, would have only served as a sacrificial lamb in this high-octane contest, the Modi juggernaut would have simply trundled over her and whatever ill-hatched plans the Congress had in mind.
Better to sacrifice a pawn than the queen, and the ever-willing Ajai Rai was once again offered up to the gods.
But the alarm, or glee, in newsrooms (depending on which channels you watched) a simple election had set off was to be seen to be believed.
On NDTV there was a sense of betrayal, having been let down by the Congress after promising a fight to the finish. What kind of signal did this send out, Nidhi Razdan wanted to know from the Congress's Muhammed Khan.
Smriti Irani took on Rahul in 2014 and lost, but she has stayed the course and is back to challenge him in Amethi, she pointed out.
The suave Khan, it seemed, had come fully prepared for just such a line of questioning. We are not here to share our strategy on TV studios, he said, but to fight elections, and we believe in effective deployment of our resources. And he managed to say it with a straight face, too.
Fair enough, but why did your party leadership, including Priyanka and Rahul, then keep hinting at her nomination from Varanasi, if there was no intention of fielding her? A moot point, but one that the Congress really cannot own up to.
The reason was, panic.
There is no other way to put it. After three rounds of elections, with more than half the constituencies having voted, the Congress has realised it is fighting a losing battle. And the remaining four phases are going to pile on further misery for the party.
Not just Varanasi, the Congress also dropped plans to hold a Rahul Gandhi road show in Mumbai ahead of the polling on Monday.
The BJP, meanwhile, is recalibrating its electoral strategy as the polling progresses. Having started off with Pulwama-Balakot, it veered off to rope in Hindu terror, and now, with Modi leading a massive roadshow in the holy city, the message is out in the open.
'There have been no terror attacks on holy places in five years', 'new India will not tolerate terrorism', 'Kumbh Mela was conducted peacefully', and finally, 'It's not about how I have changed Kashi, but how Kashi has changed me.'
Welcome to the last and final leg of the BJP's election message: Hindu consolidation.
Ashutosh, the journalist and former AAP leader, can tell Rajdeep Sardesai on India Today TV that it won't work, that Dalits won't back such a consolidation, but the results on May 23 may surprise him.
For this is not a janeudari who is leading a Hindu mobilisation for the Dalits to stay away from, but one who wears his OBC heart on his sleeve.
While all this drama was playing out, there was also a bit of depressing news, of adverse unemployment figures, with a report pegging job losses in the last two years at 7.5 million.
Elections, ordinarily, would be time to discuss these and other issues, but not when the TV screens are filled with ecstatic anchors watching the Ganga aarti. Faye D'Souza on Mirror Now alone chose to buck the trend, keeping the focus firmly on the issue that matters, while all other had succumbed to the charms of Varanasi to various degrees.
While NewsX and Republic TV beamed live the prime minister's address from Varanasi, other English channels went with their scheduled programming. The Hindi channels naturally preferred the prime minister in Varanasi, with the notable exception of -- yes! -- DD News.
NDTV India had reporters on the ground showing us the kind of preparations that went into making Modi's entry into Varanasi and the subsequent road show such a grand event, which at once showed why the Congress, stretched thin on the ground in UP, could never have mounted an operation of this scale.
But the show of the evening as always was Bhupendra Chaubey's on CNN-News18, with him reporting live from Varanasi's hot spots. One clip had him talking to doodhwalas, who were unhappy at the low price paid for their output that is sold at a higher price in the marketplace, but who were clear that their vote nevertheless went with the champion of 'Shaktishaali desh'.
Ditto result from a daily job market where there were complaints galore about various benefit schemes not reaching them, but no doubt about who got their vote.
So Priyanka was right in running away, after all.