'The astronaut's suit is already done by a Baroda company and has been tested.'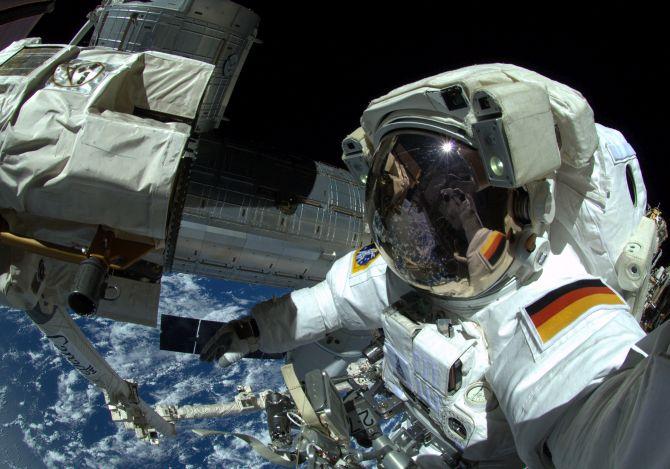 As Indian Space Research Organisation Chairman Dr A S Kiran Kumar retires today, January 14,, he tells Shivanand Kanavi about India's upcoming missions to the sun, moon and Venus.
What is happening with India's navigation systems like Gagan and NAVIC ?
Gagan (GPS Aided Geo Augmented Navigation) has been certified by the director general of civil aviation. All aircraft registered beyond January 2019 must carry satellite assisted systems like Gagan so that the hole in our airspace can be filled.
Many are already using it for en route planning. Gagan is fully operational and three transponders in three separate satellites with redundancy.
As for NAVIC (Navigation with Indian Constellation) earlier known as IRNSS (Indian Regional Navigational Satellite System) we have a constellation in orbit.
Using a small dongle attached to a mobile phone a fisherman can navigate. Trials have been done of this system and it will be rolled out this year.
The coast guard will also get information about boats within a 20 metre resolution.
The American GPS has been around for decades. For our system to become popular, we need entrepreneurs who will provide services based on our signal in a cost-effective manner while developing a sustainable business.
We are also starting a competition where participating companies will develop cost-effective solution for say 10,000 users.
The best solution will get an award and the development costs will be subsidised by ISRO.
The entire technical information of such solutions will be available in the public domain.
We are also developing digital chip sets for use. We are basically building the ecosystem.
What went wrong with the clocks (of IRNSS-1A)?
Clock stability is crucial in navigation satellites. We have built in triple redundancy.
Both the US GPS and the EU's Galileo have faced failures of clocks. In our case, all three clocks stopped functioning.
Where do you procure them from?
From France. But we are now building our own, which is undergoing tests and a team is working at the Satellite Applications Centre, Ahmedabad, so that from now onwards we will have our own atomic clocks on board.
What about electric propulsion?
We are working on it. GSat 19 is already carrying an experimental 30 milli Newton electric propulsion system which is being used for station keeping activities.
In the next flight we are sending 80 milli Newton system. We are also establishing a lab for developing 300 milli Newton.
The resultant advantage will be in higher payload capacity. Currently, we are developing 4 tonne launchers.
But if we use electric propulsion of Ion Thrusters, then we can boost the launch capacity to 6 tonnes.
It will lead to slower transition from elliptical GTO (geostationary transfer orbit) to circular GSO (geosynchronous orbits).
It might take 3 to 4 months instead of a few days achieved with gas propulsion, but the gain in payload makes up for it.
We have also given contract to a startup (Bellatrix Aerospace) from IISc Bengaluru which is developing a microwave electro-thermal thruster, which they have patented.
We still seem to be using Dubai-based Thuraya satellite phones. Is there any plan to launch our own sat phone system?
Yes, the innovation we have done is to create a sleeve which is as big as a normal mobile phone and when you put your mobile phone in it, it becomes a sat phone.
It is handheld.
We have a 6-metre diameter antenna on the satellite and we are building a new one with 12-metre antenna on the satellite so that a low power hand held mobile phone can be used as sat phone.
That's brilliant!
It is not for commercial use. It is used only for strategic purposes. Even the frequency has been released only for strategic use.
Tell us about Chandrayaan-2. Do we also have a plan for another Mangalyaan?
The Chandrayaan-2 configuration is frozen. It will have a moon orbiter and a lander and rover. It will be launched on GSLV Mark 2.
The flight model is getting integrated.
As for the lander we need the new technology of engines which can be throttled. So that we can vary the thrust levels for smooth descent and landing including hovering etc.
Trials are going on. The rover will come out of the lander and move around on the surface of the moon for one Lunar Day which is equal to 14 earth days.
Is the rover being made by a startup?
That is a different thing which is a part of Google's competition whose launch contract is with ISRO.
It is going through various ups and downs. It should have happened by now, but the development is still going on.
Our own rover is being tested already. It will move around and fire a laser into the lunar soil and whatever material gets kicked up will be analysed.
The result will be communicated from rover to lander and lander to orbiter and orbiter to earth.
As for other missions, right now we are looking at Venus, another Mars mission, an asteroid mission, Aditya, our solar mission etc.
Our approved missions are Chandrayaan-2 and Aditya.
Aditya will do solar coronagraphy and other measurements regarding the magnetic field, solar flare etc.
Within a year or so we will firm up. Venus feasibility has been established and we have announced opportunity for payloads.
Has any time table been set up for putting an Indian into space?
It is still not an approved thing. We are only developing critical technologies.
Crew module recovery, emergency recovery, environmentally controlled chamber for crew use in space, life support systems etc.
The astronaut's suit is already done by a Baroda company and has been tested.
But as far as priorities we still have a huge gap between supply and demand for various satellites in communication, earth observation etc, which we need to address. We have about 42 and we need 80 to 100.
In the meantime, GSLV Mark 3 will get stabilised and with higher capacity for low earth orbits of about 10 to 12 tonnes.
How is the unique Indian Institute of Space Technology evolving?
We are absorbing about 100 graduates every year. Now we have three disciplines in BTech and 18 disciplines for MTech and a PhD programme also.
We have started a Satish Dhawan endowments at Caltech (California Institute of Technology) and we are sending our toppers to study there.
They are all topping their batches there too. They will also do some internship in the industry there.
We are charging no tuition fee at IIST for all students, they have to pay only for hostel and food etc.
Do you have a training school for recruits in ISRO like the DAE (Department of Atomic Energy)?
We don't have a training school like the DAE.
Those who are recruited are trained in orientation programmes and mid-course programmes etc.
It is fairly systematic activity of 3 to 6 months and also encourages inter-disciplinary work.
What is the current level of attrition in ISRO?
Very small at this time.
After the 6th and 7th Pay Commission and additional incentives the packages are quite attractive.
More over many people like job security as well as the opportunity to do nationally important challenging projects.
Kindly note: The Getty Images photograph has been published only for representational purposes.