Home > India > News > First Look


Discuss |
Email |
Print | Get latest news on your desktop


Sri Sri Ravi Shankar visits Iraq

December 22, 2008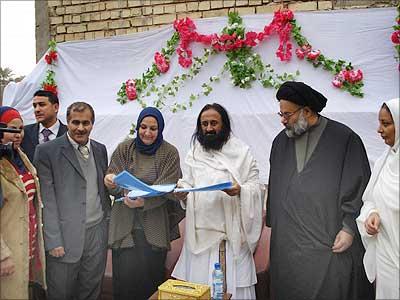 Founder of the Art of Living Foundation, Sri Sri Ravi Shankar, visited Iraq to meet with Iraqi political and religious leaders and to oversee AOL's initiatives in the strife-torn country. 
The Indian spiritual leader arrived in Baghdad on Sunday, where he met Hussain Al Musawi, President of the Shia Political Council.  Musawi requested Sri Sri to bring in more doctors from India since the country faced an acute shortage of trained medical personnel.

Sri Sri later visited AOL's women's empowerment centre and inspected the facilities.
The AOL founder met Ahmed Chalabi, Chairman of the Iraqi National Congress and former deputy prime minister of Iraq and discussed ways to help the youth in Iraq. Sri Sri had visited Iraq in May 2007.
Image: Sri Sri Ravi Shankar inspects Art of Living's women empowerment centre in Baghdad along with Sayed Abdallah Al-Musawi.