Home > India > News > First Look


Discuss |
Email |
Print | Get latest news on your desktop


Madhya Pradesh: Chouhan does it for BJP

December 09, 2008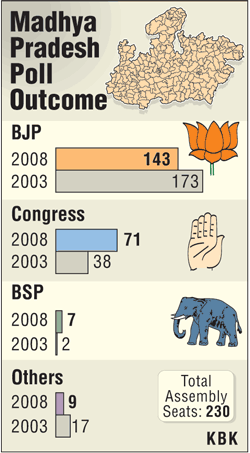 Consigning anti-incumbency to dust, the ruling BJP, led by Chief Minister Shivraj Singh Chouhan, today retained power in Madhya Pradesh [Images] though with a reduced majority in the Assembly elections which saw the defeat of firebrand expelled BJP leader Uma Bharti.
The BJP bagged 142 of the 228 seats with results for two seats yet to be declared.
According to unofficial reports, the two seats have gone to the ruling party. The BJP and the Congress are leading in one seat each. The BJP had over two-thirds majority in the existing Assembly with a strength of 173 seats.
With this victory, the BJP earned the distinction of becoming the first non-Congress government in Madhya Pradesh to be elected for a second term in succession.
The Opposition Congress' plan to regain power faltered despite a better showing compared to the 2003 elections.
The Congress bagged 70 seats, 32 more than the existing tally. The Mayawati-led BSP bagged seven seats.
Though Bharti lost in her home turf in Tikamgarh, her Bharatiya Janashakti made a debut in the state Assembly winning five seats after having fielded candidattes in 213 of the 230 constituencies.
Independents won three seats while the Samajwadi Party amanged one.
"This is the victory of the BJP and its government's policies specially the welfare measures taken by the ruling party for the people of the state. It is a victory of 6.5 crore people of the state," said a jubilant Chouhan who is tipped to become the chief minister for the second time.
See also: All about Madhya Pradesh election results, 2008
Images: Celebrations in Madhya Pradesh