Home > India > News > First Look


Discuss |
Email |
Print | Get latest news on your desktop


Security, intelligence failed, says Chidambaram

December 05, 2008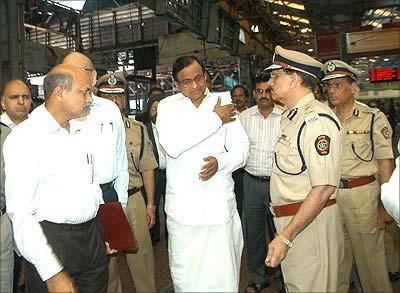 Union Home Minister P Chidambaram conceded that there was "security and intelligence failure" in connection with the Mumbai terror attacks [Images].
"I agree that security and intelligence failed," Chidambaram told reporters after visiting the Chhatrapati Shivaji Terminus [Images] (CST) railway station, one of the locations hit by terrorists last week.
There is ample evidence to link terror attacks to organisations or entities who have in the past been responsible for terror, he said.
There is a proposal to set up an intelligence agency at the national level similar to the US Federal Bureau of Investigation, he said.
There were some lapses in security, coastal or otherwise which need to be rectified, he said.
Image: Chidambaram at the  CST Railway station in Mumbai.
Photograph: Sandeep Mahankal.