Home > News > First Look


Look what the IAF's shopping for!

June 01, 2006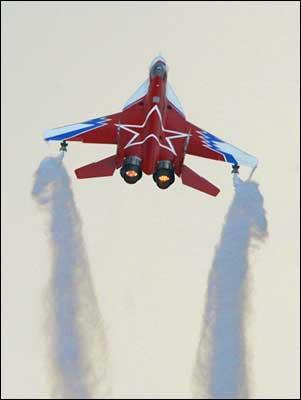 It is shopping time again for the Indian Air Force.
While the United States has offered to sell F-16s and P-3 Orion recon planes to India, it seems the IAF is also setting its eyes on the Russian MiG-35s (left).
Air chief S P Tyagi, in Russia on an official visit, was witness to a demonstration of the Mig-35s and came back impressed.
Soon after, he said the IAF has asked Russia's MiG Aircraft Corporation to send a proposal for the acquisition of 126 fighters by India.
Photograph: Michael Urban/AFP/Getty Images


What do you think about the story?








Read what others have to say:





Number of User Comments: 9








Sub: Re: Look what the IAF's shopping for

Did this aircraft MiG29OVT(MiG35) MFI complete all the necessary tests? Last year it was yet to complete the test of few add-ons. Moreover after adding ...


Posted by Sanjay









Sub: MIG -35s

Realy it is a Very Good choice over F-18 S Hornet and others. One of the best attack fighter now in the world.


Posted by Pratip Bhattacharyya









Sub: Go for the Typhoon.

The Eurofighter Typhoon though a bit costlier is the best of all the Jets offered in the lot. it has got all the potential to ...


Posted by Atul Sabnis









Sub: IAF's shopping list

Most superficial coverage and totally bereft of facts. India has signed no deal yet with the US for supply of F-16s(for the IAF) or P3Cs ...


Posted by S B









Sub: IAF Shopping

So Finally the Govenrnment has wokenup & has made up its mind to get a meaningful replacement to the Long Serving & aging MIG21 Fleet. ...


Posted by Atul Sabnis






Disclaimer