Home > News > PTI

Sri Sri Ravi Shankar nominated for Nobel Peace Prize

January 12, 2006 16:49 IST
Last Updated: January 12, 2006 17:06 IST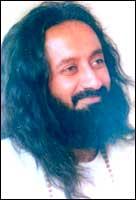 United States Congressman Joseph Crowley has nominated India's Sri Sri Ravi Shankar for the Nobel Peace Prize saying that the godman had helped bring peace to thousands of people through his Art of Living Foundation.
"I had the opportunity to meet him last Congress when I was co-chair of the Congressional Caucus on India and Indian Americans. Sri Sri Ravi Shankar and the work of the Art of Living Foundation are an example of communal conflict resolution, nourishment of the soul and infinite possibilities of the human spirit, which typifies the Nobel Peace Prize," the New York lawmaker said in a statement.
According to Crowley, Shankar had brought peace to thousands worldwide, even to people in New York in the aftermath of the 9/11 terror attacks.
"His message of compassion, inclusiveness, cooperation and peace of mind as the foundations of happiness and prosperity is a message that resonates with people from all corners of the world. He has said that the sign of success is freedom, a tendency to help and cooperate," Crowley said.
"We need to ask ourselves: Do we see these values increasing in our society? Working together, we can see that these values increase in our community and across the globe," the Congressman added.
© Copyright 2005 PTI. All rights reserved. Republication or redistribution of PTI content, including by framing or similar means, is expressly prohibited without the prior written consent.



What do you think about the story?








Read what others have to say:





Number of User Comments: 41








Sub: srisri nbbel prize

yes he deserves it if any one is choosen frm india it shld be he. pujya gurudev is a god for many he has changed ...


Posted by nanda kishore.h









Sub: Secret Behind Bhagwatgeetha

who is Geetha ka Bhagwan ? i felt strongly that Geetha ka bhagwan is not Krishna, it is Shiv Shankar Bhole nath. What is ur ...


Posted by k.v.RAMANAN









Sub: Sri Sri Ravi Shankar nominated for Nobel Peace Prize

It shows the good heart of the person who recommended Guruji's name. But for Guruji, these worldly awards means nothing. He is over and above ...


Posted by Ramachandran Pillai









Sub: my comments

yes, gurudev deserves it. it will be an honour for all those who have been awarded before too because, dear gurudev is amongst those people. ...


Posted by sirish mahajan









Sub: noble prize to sri,sri ji

pranam guru ji he is able for noble prize because his feeling and emotions are same for everyone lives in earth. this is a great ...


Posted by Ramesh






Disclaimer