April 14, 2006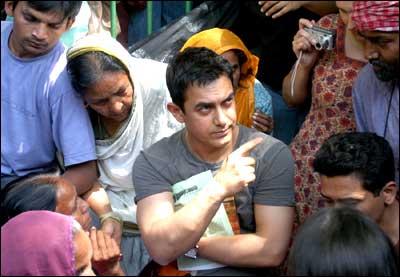 Anti-Narmada dam agitators, sitting on Dharna and hunger strike at the Jantar Mantar Road in New Delhi for past 20 days demanding that the height of the dam not be raised, got a shot in the arm when leading film actor Aamir Khan [Images] paid them a visit on Friday.

Actor Kunal Kapoor [Images] and some other film industry-related persons accompanied Aamir Khan.

Aamir listened to the grievances of the agitators with patience but did not utter a word. Clad in black T-shirt and jeans, the film actor also visited the 1984 Bhopal gas victims who have been demonstrating for release of relief fund.
Narmada protests: A quick guide
"Last week when I was in Delhi, I passed by Jantar Mantar and was told about the two campaigns. I decided to come back and learn more about their problems," he later told reporters.
Khan said he was pained upon learning of the sufferings of the dam displacees. "I do not know about the technicalities involved in raising the height of the dam. What I do know is that farmers have been displaced from their land and they have lost their livelihood. Till the people who have already been displaced by the dam are not rehabilitated, the height of the dam should not be raised."
About the Bhopal gas tragedy victims, he said the government should give them an audience as soon as possible.
He appealed to Prime Minister Manmohan Singh [Images] to give immediate attention to these two issues. "If need be, I will even meet the Prime Minister. But I want the people who are at the receiving end and who know the problems first-hand to talk to him," Khan said.
Khan's visit to Jantar Mantar, along with the cast of the film as well as its director Rakeysh Om Prakash Mehra ensured that the activists got the best media attention they have received so far, with an army of mediapersons descending on the spot to cover the event.
With PTI inputs
Photograph: Ranjan Basu/Saab Press