'This is a film that speaks to the spirit of women who have been cast into the bottom of India's social hierarchy, and how they have navigated their way to redefine the meaning of power.'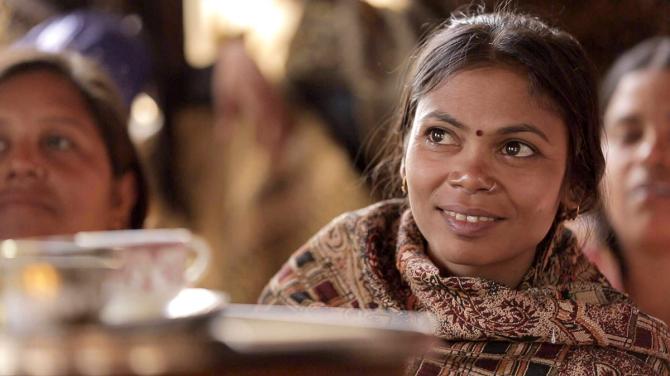 When Sushmit Ghosh and Rintu Thomas attended a team meeting at Khabar Lahariya's office in Chitrakoot district in Uttar Pradesh in 2016, they witnessed an important editorial discussion.
It was a global conversation that all big newsrooms were having at that time: How to move from print to digital, figuring out ways they could adapt to the changing demands of the news consumer.
Here the conversation was happening in Bundeli and Hindi among a small team.
All of them were Dalit women.
"The collective mood that day was -- this is a huge leap of faith but we will make this jump. And our interest was in exploring the spirit of these women, who they are and how they negotiate structures of power in their personal and professional lives. We wanted to amplify their journey through our lens," says Ghosh, who co-directed and produced the film, Writing With Fire, with Thomas.
The film, which trails journalists of Khabar Lahariya, a newspaper run entirely by Dalit women that covers parts of Uttar Pradesh and Madhya Pradesh, has just been nominated for an Oscar for Best Documentary Feature and will compete against four others (please see box).
Since its release at Sundance last year, where the film won two awards, Writing With Fire has received critical acclaim globally and bagged 28 international awards.
It was at this meeting that the film-makers were convinced that this was the story they wanted to tell -- of the unique newspaper's journey from the print to the digital medium.
"Their wit, their intellect, their sense of purpose drew us in," says Ghosh.
Khabar Lahariya was launched by the Nirantar Trust, a New Delhi-based NGO, in 2002 and was produced and distributed entirely by a small team of six women.
Initially, Khabar Lahariya mostly focused on women's issues but soon expanded its coverage of local politics, crime, social issues and entertainment.
As of now, the YouTube channel of the Khabar Lahariya site has over 500,000 subscribers.
But back in 2016, the idea came to the filmmakers quite by chance.
Ghosh came to know of Khabar Lahariya from a photo feature that popped up on his Facebook timeline.
"It was a gorgeously done photo story," recalls Ghosh.
"But what drew us in was the fact that the newspaper had already existed for 14 years and this was not a flash-in-the-pan social experiment. We decided to reach out and soon after were invited into their world."
In the Indian popular culture one hardly sees Dalit women in positions of power.
The storytelling about the Dalit community is also often about poverty and helplessness. Writing With Fire challenges that mould.
In one sequence, we see a reporter arguing with the police for information about a crime that they are not revealing; in another scene a reporter confronts the people who doubt that she is a news correspondent because she does not travel in a car.
"We found a powerful anchor for this story in Meera, a senior journalist who led the transition from print to digital," says Ghosh.
"But the two others we chose to follow also brought unique perspectives to this narrative. All three women were in very different stages of their personal lives and professional experience, united in their purpose as journalists to speak truth to power."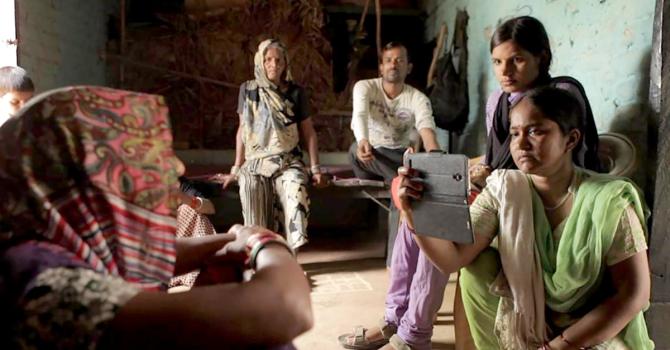 The characters in this documentary are all trying to adjust to the transition that technology has hastened upon them.
Shyamkali is a reporter, who is extremely nervous about making the shift from print to digital.
Till halfway into the film, she is still trying to figure out what this tech shift is all about.
"But as we come to a climax in Shyamkali's narrative in the film, we witness how she uses this very technology to crack a case in a very sophisticated manner, just like any other investigative journalist would," says Ghosh.
Accessing the spaces these journalists inhabit and portraying them with a sense of accuracy could have been a challenge but Thomas and Ghosh were a few steps ahead as they had been focusing on such stories for a while.
"Rintu (Thomas) and I started our production company, Black Ticket Films, in 2009 and over the course of the last decade our short documentaries have focused on people who have been bringing about systemic change and transforming their communities," says Ghosh.
But the challenge was something else. "For the five years we worked on this film, things have only gotten more challenging for journalists, both in India and globally," says Ghosh.
"Despite the cracks we see in democracies across the world and the dog-whistling in mainstream media, we wanted to craft a story that mirrored our own experience -- of being infused with hope by these women journalists."
And that's what the film does.
"This is a film that speaks to the spirit of women who have been cast into the bottom of India's social hierarchy, and how they have navigated their way to redefine the meaning of power," Ghosh says. They're fighting the good fight and that is exactly what Writing With Fire is all about."
The competitors
Other films shortlisted in the documentary feature category
Ascension (Chinese): This film is about the modern Chinese society where productivity is valued above all else
Attica (US): The film revisits a riot in the Attica Correctional facility in the United States in 1971 and how the media reporting of the time made it worse
Flee (Denmark): This Danish animated docudrama is about the story of a man who confronts a secret from his childhood as a refugee before his marriage
Summer of Soul (...or, When The Revolution Could Not Be Televised) (US): This feature is about the Harlem Cultural Festival of 1969 in New York, which was a landmark in American cultural history as a celebration of African-American music and culture
Feature Presentation: Aslam Hunani/Rediff.com