At 82, The Legend has lost neither his charm nor his wit.
Want proof? Watch these videos
Videos: Rajesh Karkera and Hitesh Harisinghani/Rediff.com
Photographs: Rajesh Karkera/Rediff.com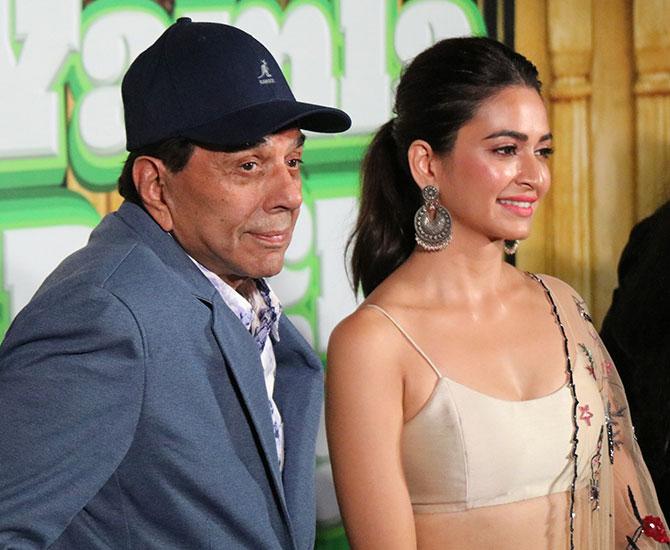 "Hum Jat hain," Dharmendra announces proudly. "Peeche hatne walon mein se nahi hai. (We are Jats. We don't run away from a challenge)."
The challenge, in this case, is Yamla Pagla Deewana Phir Se, which bring the three Deols -- Dharmendra, Sunny and Bobby -- together on the big screen once again.
This is YPD's third outing -- the first, as Dharam paaji says, was a "hit", the second was a flop and the third is meant to redeem.
But the way the much loved actor says this is sure to bring a smile to your face.
Dharam Paaji also has a secret or two to reveal about Salman Khan who makes a special appearance in Yamla Pagla Deewana Phir Se as well as two lovely ladies who drop into the film for a few jatkas and matkas -- one, he refers to as his daughter and the other as the "girl" he romanced in the Jat Yamla Pagla Deewana song from the movie Pratigya.
That bit had Bobby blushing.
And onwards the discussion moved to Sunny's dhai kilo ka haath -- and Bobby reveals a few secrets here -- and why every woman want to be a Dharampatni.
This time, both sons go red with embarrassment. It's cute :)
Guess where Bobby spends his time these days?
If he thought he could keep it a secret, he had to have a second thought coming, for Dharam Paaji reveals all.
Did Kriti Kharbanda think she would be spared? Nope, Dharam Paaji's charm and wit were ready at hand to make her go pink.
With the trailer well-received, the Deols and Kriti pose for pix.