Tim Pigott-Smith hated the natives in The Jewel in the Crown, but went back a lover of India at the end of the four-month shoot.
India not only gave him a career-defining role but touched him in many different ways.
Documentary filmmaker Siddharth Kak -- who acted with the classy actor in the beloved television series -- shares his memories with Rediff.com's Archana Masih.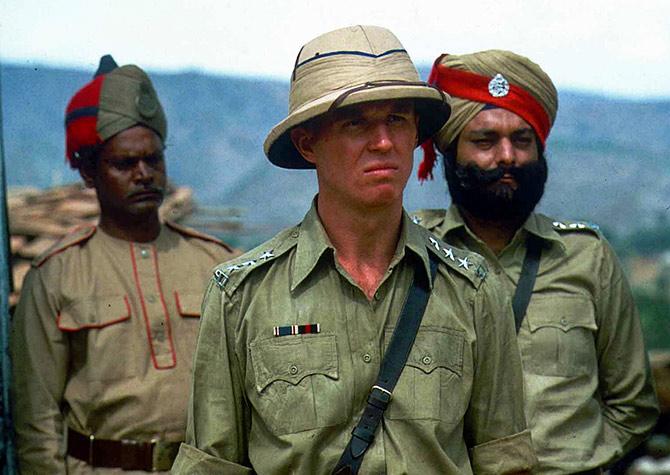 IMAGE: Tim Pigott-Smith as the racist British policeman Ronald Merrick in The Jewel in the Crown. Siddharth Kak, right, played one of his Indian subordinates.
It was easy to despise Ronald Merrick. He was cruel and sadistic.
His face had a starched sternness, even before it became scarred and sported an eye patch.
But more than his sinister physical appearance, it was his malevolent persecution of Hari Kumar that made Merrick one of television drama's most hated characters -- and formed the basis of the classic British television series, The Jewel in the Crown.
Set in the last days of the British Raj, the 1984 series went on to define Tim Pigott-Smith's journey as an actor.
Last weekend, when he passed away at 70 in England, his performance as the British superintendent of police in the drama featured at the top of his accomplishments in newspaper tributes.
Pigott-Smith travelled to India with the impressive cast of the film, shooting in Udaipur, Bangalore and Mysore.
"Tim was quite unlike the character he played. He was gentle and loving. He was deeply in love with India," remembers documentary filmmaker (Surabhi) Siddharth Kak who played Merrick's Indian subordinates in the police force.
"I was one of the people who would implement his tough regime in India," remembers Kak, then a young man just starting out in theatre and cinema, more than a decade before his cultural television show Surabhi co-hosted with Renuka Shahane became a national phenomenon.
Pigott-Smith's career spanned 45 years playing character roles. He etched each role with his silken voice and an acting prowess honed on the British stage -- but Jewel in the Crown remained his crowning glory.
The role won him a cherished BAFTA award. And a month before he passed away suddenly, he was honoured with the Order of the British Empire, OBE, in March.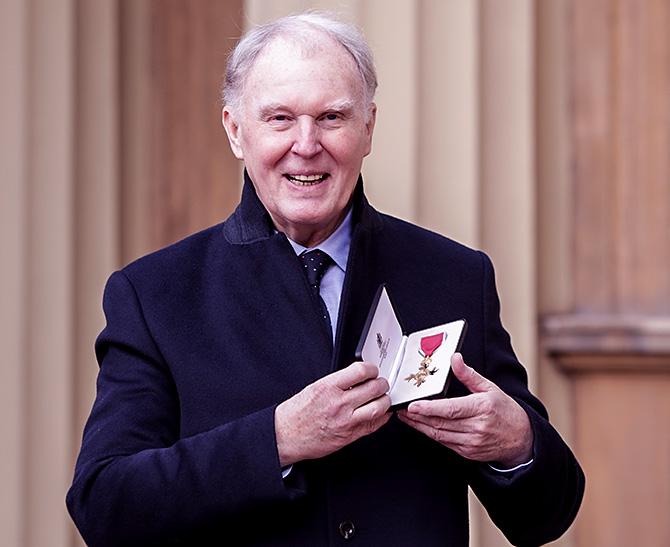 IMAGE: At Buckingham Palace in London after receiving his OBE from the Duke of Cambridge, March 2, 2017. Photograph: Yui Mok/Getty Images
The series featured a large cast with actors like Peggy Ashcroft (Passage to India which won her an Oscar), Rachel Kempson, Art Malik (the charming and doomed Hari Kumar, who featured in True Lies and Bhaag Milkha Bhaag), Geraldine James (Gandhi), Charles Dance (Rebecca, Game of Thrones), Zohra Sehgal, Kamini Kaushal among many others.
"We would go to the location and do a dry rehearsal. I had not done anything more than some news reading on TV, but there was deep respect for human endeavour on the set," recalls Kak, who read the English news on Doordarshan in Mumbai at that time.
"In films, there is a caste list, the higher you are, the more attention you get -- but a lead actor like Tim and a sidekick like me were on equal footing for the director and crew."
"I have never forgotten that."
Pigott-Smith never tried to dominate or steal the scene from an actor in a smaller role, says Kak.
"He was tall and slim. Friendly, with a self deprecating sense of humour. Most of the jokes were on him which was a sign of his humility -- and he loved India."
"He was very accommodating of the India that he was in -- whether the weather, the flies. He was happy to be here."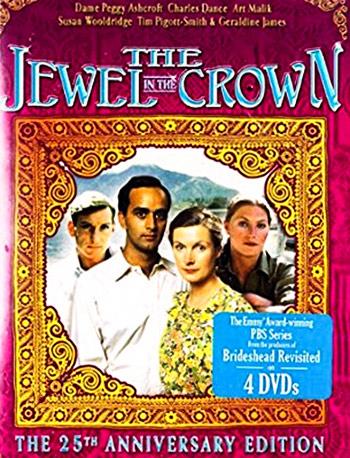 Pigott-Smith made several trips to India, says Kak, and was drawn to its spirituality.
A New York Times report in 1985 mentioned that he had read a lot about India before arriving here for the four-month shoot and it was love at first sight.
One of the legacies he carried back with him was yoga.
'Everyone who worked on The Jewel in the Crown seems to have been changed by it. And in Mr Pigott-Smith's case his obsessions with things Indian has taken a very practical form,' wrote Michael Billington in The New York Times.
'He and a Stratford friend, Roger Pringle, have devised a theatrical anthology, Passages to India culled from literature about the subcontinent, which Mr Pigott-Smith, his wife and the actor Zia Mohyeddin have presented a number of times.'
Pigott-Smith also wrote a diary of his days of filming in India, Out of India.
"Tim had India in his heart," says Kak and remembers a meeting he had with him in a London suburb almost ten years after The Jewel in the Crown.
Kak was then developing a television series on British writer H R F Keating's Inspector Ghote novels. Keating published about 30 detective novels featuring the Bombay police inspector as the hero.
Kak had bought the rights to one of the books, Inspector Ghote Breaks an Egg and had spoken to Pigott-Smith if he would be interested in acting in the detective drama.
"It's a funny sort of title for the murder mystery, but the whites of an egg are the antidote for poison," explains Kak. "Tim was keen, but it didn't go through for various reasons which are too far in the past."
One Inspector Ghote novel The Perfect Murder was subsequently made into a film by Ismail Merchant as producer, Zafar Hai as director and Naseeruddin Shah playing Ghote.
"We had a cup of tea," says Kak, looking back at that meeting many years ago.
"He was an extremely capable and disciplined actor who perhaps did not actively promote himself. He was very particular that he did good work, but wasn't in the rat race at all."