Postcards from Panaji: Radhika Sharma/PTI catches up with the stars at the international film festival in Goa.
Please click on the photo postcard to reveal more...
'Our family is now united, so that is very big thing for me'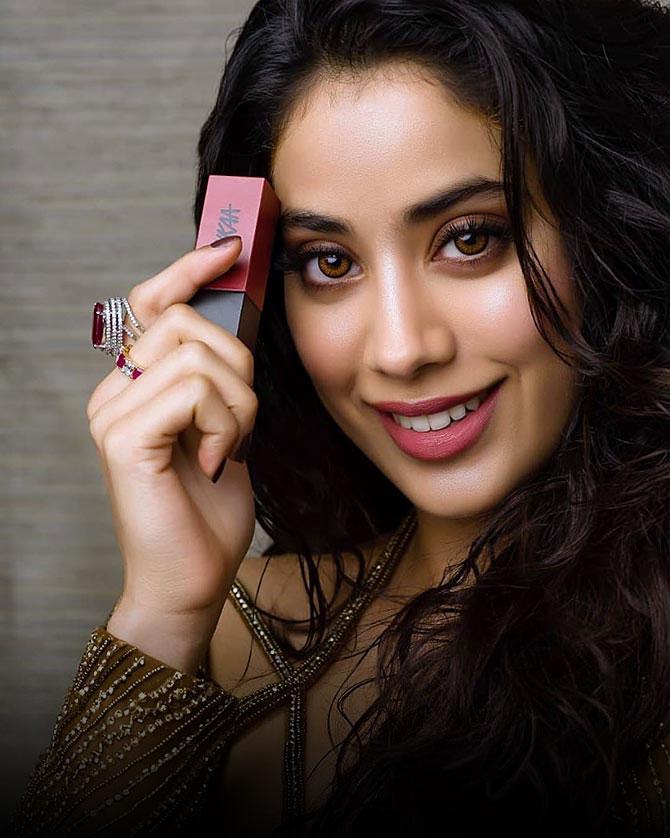 Janhvi Kapoor says the year has been a mixed bag for her, as she had the 'worst and 'best experience' of her life.
The young actor's mother, Sridevi, passed away in February, when she was still filming her debut film, Dhadak.
Jahnvi said her personal growth has been 'tremendous' and that she has emerged stronger through the trying times.
"When I say 'growth', I mean personal growth. I don't know about artistic," Janhvi says.
"This year brought me the worst and the best experience of my life. It's a little strange... Our family is now united, so that is very big thing for me," she adds.
"Whatever happened was a very heavy (tragedy). We are still in shock; we haven't been able to process it properly."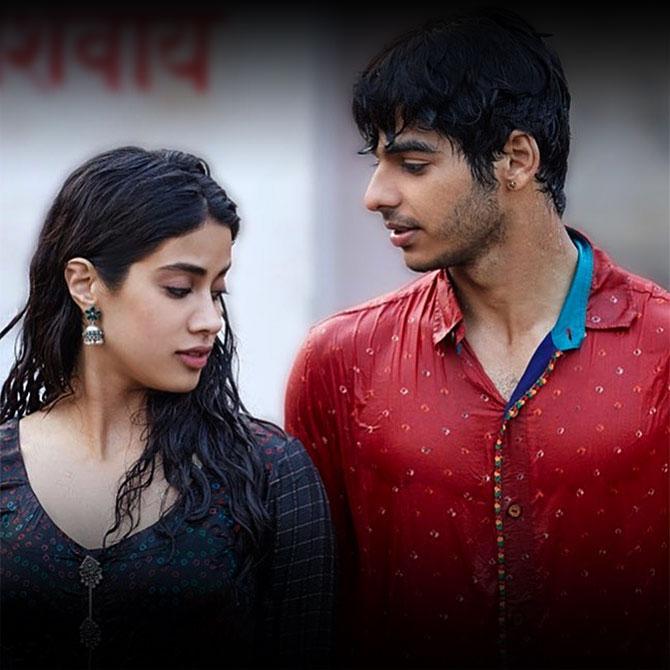 "I'm really thankful for all the love we have received and that I got a chance to work, which is a big thing for me. I got a chance to make my parents proud," Jahnavi says during a session at the International Film Festival of India.
She was in conversation with Rumi Jaffery and her father, Producer Boney Kapoor.
Janhvi says the films her father called the 'golden era' of Hindi cinema were ahead of time.
"I think they are way ahead of even our time. I feel we have got tangled into a trap, a commercial one. There was more freedom to tell a story earlier," she adds.
She lists films like Mr and Mrs 55 as an example, which celebrated the essence of feminism back in the day.
"Madhubalaji has done such a beautiful job in the film. But more than that, the concept that the film raised. It dealt with feminism. Madhubalaji's character was so forward thinking," Jahnvi explains.
"Her aunt was also in the film, whose character was more (conservative about) how girls should behave in a society. They did not present it as an issue, they slipped it in beautifully in the story."
"Today, we tag films about a girl, 'female-oriented' films. They make it a big deal that it does not have a hero. There have been so many films -- Mother India, Sujata, Bandini, Seeta Aur Geeta, Chaalbaaz etc. The girl was a hero in all these films, but they weren't tagged 'female-oriented'," Jahnvi says.
Calling Madhubala her favourite actress, she adds, "I think she is not given much credit for her acting talent because she was so beautiful. But the work that she has done, so spontaneous... I don't think anybody else could have done the way she did Mughal-e-Azam."
She named Dilip Kumar and Guru Dutt as her favourite actors.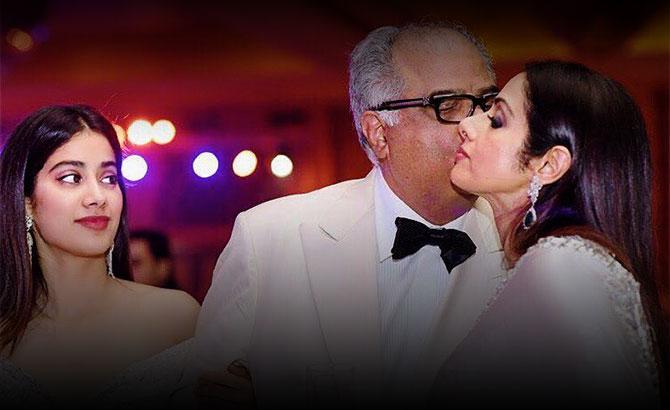 Boney Kapoor reveals he had a short stint in theatre before he chose to stay behind the camera as among the two brothers -- younger sibling Anil and himself -- someone had to shoulder the responsibility.
"I thought if both of us set out to struggle as actors, who will handle the house?" he recalls.
Boney, who has been an assistant editor and assisted veteran director Shakti Samanta, says he plans to direct a film in the future.
"I was assisting on our own production, Phool Khile Hain Gulshan Gulshan, and the director passed away halfway through the filming. So I had to leave Shaktida and come into this side (production). Around the same time, my father (the late producer Surinder Kapoor) had a heart issue. So direction was left on the back burner and I had to run the show. But there is still an obsession to direct."
"One day, I will definitely direct a film... Maybe in the future we will take the plunge and the family -- Janhvi, Arjun, maybe even Khushi, Anil chachu, and Sanjay chachu is also in full form," he says, referring to his younger brothers Anil and Sanjay Kapoor, his son Arjun Kapoor and his youngest child Khushi.
When talking about Sridevi, Boney gets emotional and says his daughter has watched her mother doing what she did 'best'.
"Janhvi already has an idol in front of her," says Boney. "No actor is as complete as her."
To that, Janhvi replies, "I can't emulate her even if I wanted to."
Will Pankaj Tripathi take centrestage in Sacred Games Season 2?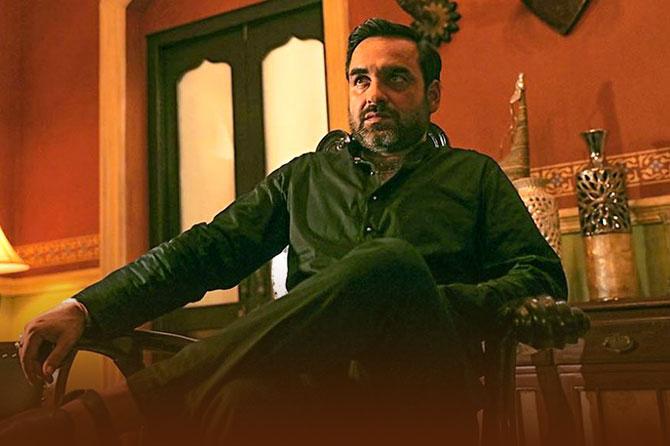 After a tantalising glimpse as the mysterious Guruji in the first season of Netflix's India Original Sacred Games, Pankaj Tripathi's fans hope his character comes to prominence in the second season.
But Pankaj says he is yet to have clarity about Guruji's fate.
"I don't know if my character will be the main one in the next season. I got a call last night that I have to meet (writer) Varun Grover, so the team is trying to get our busy schedules matched. We may be clear about the role by next week, hopefully," Pankaj says on the sidelines of IFFI.
Guruji's character was the cliffhanger on which the first part ended.
When asked about the curiosity surrounding his character, Pankaj says Guruji was supposed to be kept a secret initially.
"My character was kind of kept hidden. I shot for the series for just one day after the main shooting was over. They thought, 'Let's bring this character into the light'," he reveals.
"Initially, that was not the plan. It was a small role in the beginning, so we did not promote it in the first season," he adds.
The actor, who has his latest Web series Mirzapur streaming on Amazon Prime, says he has realised the importance of the digital platforms in the last six months.
"I don't watch Netflix or even films for that matter," Pankaj, a native of Gopalganj in Bihar, says. "After Mirzapur started streaming, I received more messages than I got for my films till now!"
"The digital audience is huge. This platform saved two of my ships that sank at the box office -- (the television series) Powder and Gurgaon."
Is the second season of Sacred Games in jeopardy after show-runners Anurag Kashyap and Vikramaditya Motwane got accused of inaction in a sexual harassment case against their former producing partner, Vikas Bahl?
Pankaj says nothing of this sort came to mind. Varun was also accused of sexual harassment by an anonymous account, but he has successfully defended himself.
Pankaj says he did not know about the allegations until he read Grover's open letter.
"I was shooting for Kaagaz in Sitapur then. I know Varun personally, he is progressive and sensitive, both as a person and writer. After I read about the allegations and his letter, I wondered if there was any truth to it," he says.
"I am with women in that they should use the #MeToo movement to raise their voice against injustice. Not just women, every person should get justice," he adds. "But in Varun's case, I thought maybe the movement was misused somewhere."
'The greatest apartheid on the planet is not towards blacks or Dalits, but towards women'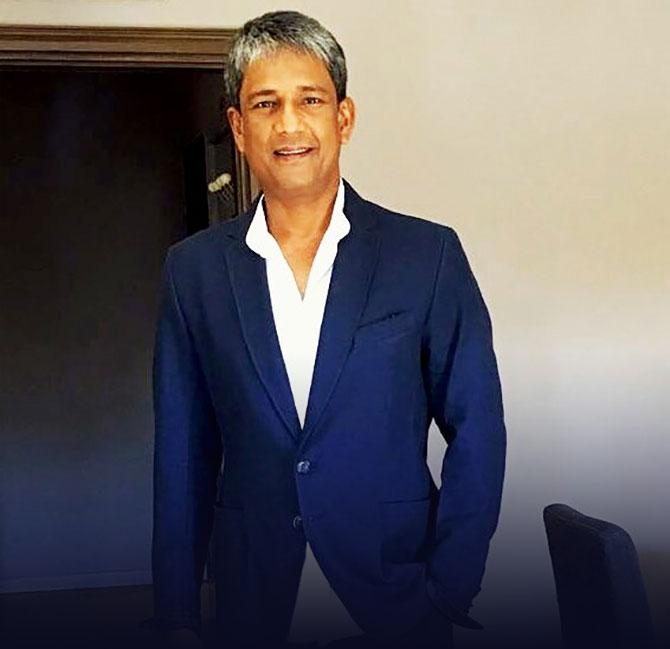 Adil Hussain feels patriarchy is "the greatest apartheid" as it alienates half of the population in the world.
Lending his support to #MeToo movement, the actor said it is appalling how people are putting women down when they are naming and shaming their abusers.
"How do we get rid of the patriarchal mindset that has been drilled into men that they are superior to women? I think that is the greatest apartheid on the planet," Adil says.
"Not towards blacks, not towards Dalits, but towards women. Half the population on the planet is being done injustice at any given time through words, actions, in society, in politics, everywhere," he adds.
"And we don't even recognise it when they come out in public and say 'You have done this to me'. And we try to put her down?" Adil asks.
The actor says a fear has crept into the minds of the oppressors.
"I thought at least out of the fear of being exposed, people will stop. But is that a good thing? At least out of the fear of justice, most people don't go out to kill people. The justice system is one of the lowest mechanisms to keep law and order -- to keep the balance so that we don't fall into chaos."
"Ideally, we should be harmonious, respect each other, have compassion and all these glorified words. But we don't, so we have a system."
Adil says there will be a few cases whose real intent lies in vendetta or maligning someone, but the movement is too important for the times to be diluted.
"Yes, some people will take advantage. I think it is like those times when the law is misused sometimes. But that doesn't mean we get rid of the justice system. This (#MeToo) is way more important than the amount of misuse which is happening, if at all it is happening," the actor says.
#MeToo is a starting point, he feels, and society will slowly go into introspection.
"Some males would be like 'Have I done something like that?' I am thinking about it. 'Have I ever forced myself on anybody, even in my teenage days?' The silent introspection is also happening in the industry and in families. It is an important step in recognising women as equal," adds the actor, who will be seen next in the paranormal thriller Nirvana Inn, with Rajshri Deshpande and Sandhya Mridul.
Asked about his journey to Nirvana Inn from the critically acclaimed Mukti Bhawan, which had the theme of salvation at its core, he says it is funny how these stories find him.
"Mukti Bhawan was about how you can unburden yourself when you die, whereas Nirvana Inn is about when you're burdened with something and you go deeper into the garbage that you believe in," he explains.
Adil also stars in Gautam Ghosh's Hindi film tentatively titled One Day in the Rains with Neeraj Kabi and Tillotama Shome.
Then, there's Lorny (loosely translates to someone who pokes his nose everywhere) and Ek Betuke Aadmi Ki Afra Raatein (Joyous Nights of a Ridiculous Man) based on Dostoevsky and Premchand stories.
Design: Ashish Narsale/Rediff.com