The four southern languages and the Marathi regional industry have found success, but regional cinema, in general, still grapples with basic issues.
Urvi Malvania reports.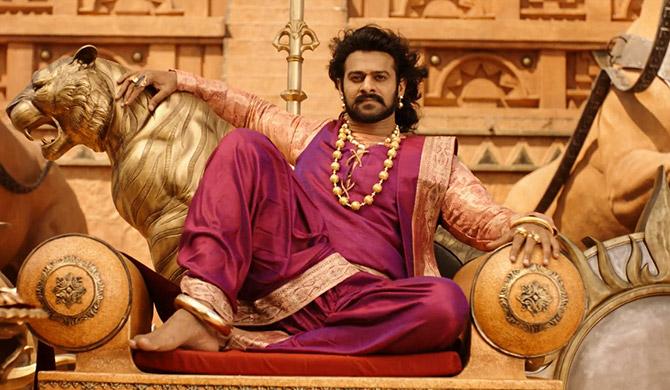 IMAGE: Prabhas in Baahubali: The Conclusion.
With films such as Sairat (Marathi, 2016) and Baahubali: The Conclusion making a mark at the box office, the regional film industry has got a boost over the past few years.
According to a report from FICCI on media and entertainment, most regional film industries clocked double-digit growth in 2017.
This is expected to continue.
However, due to the fragmented nature of regional cinema, all languages might not be able to grow at the same pace.
According to experts, the four southern languages and the Marathi regional industry have found success, but regional cinema, in general, still grapples with basic issues.
"Distribution is an important issue," says Aniruddha Roy Chowdhury, director of Bengali films like Antaheen and 2016's PINK.
"Markets like Telugu have an upper hand, since Andhra (Andhra Pradesh and Telangana) has more than a thousand screens. Maharashtra also has a large number of screens and so for Marathi films, distribution becomes easier. These languages will get a fillip."
The content might be appreciated, says Roy Chowdhury, but the distribution model is not established. He gives the example of Bangladesh. It has a huge market for Bengali films, but has not tapped the full potential.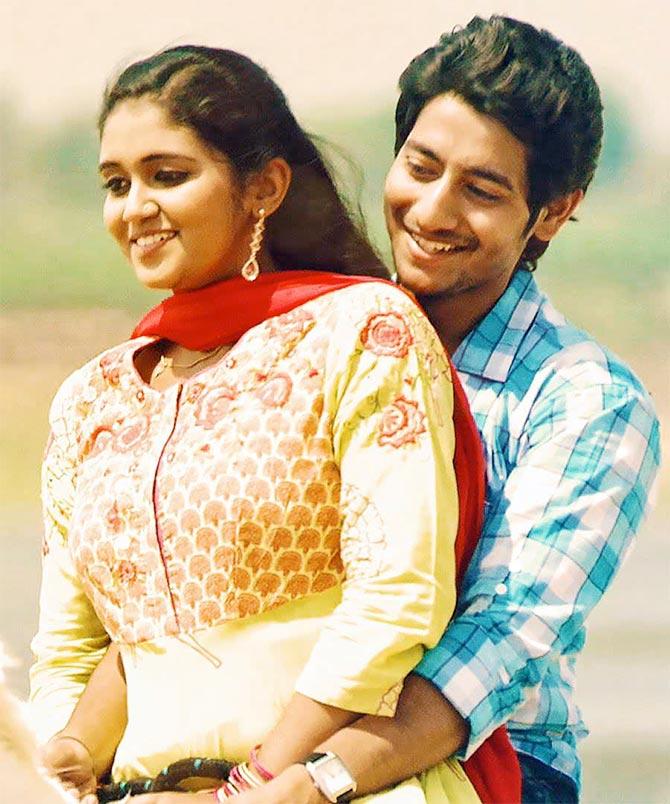 IMAGE: Rinku Rajguru and Akash Thosar in Sairat.
Experts believe that distribution is also hindered by various policies and ease of doing business in a state.
Apart from the distribution factor, markets as in the case of Gujarat, are stifled due to lack of revenue streams.
"For Gujarati films," says Ishaan Randeria -- the director of the hit Gujarati comedy Gujjubhai the Great -- "the box office is the main revenue stream. There is no satellite component as there is only one channel that buys content."
"And in a monopoly, it is not always in the producers' interest (to sell a film to the one channel)."
Hence, many of these regional industries lack the investments to improve on quality of production and, in some instances, to even efficiently market films.
While tying up with a Bollywood studio is an option, many regional film-makers feel this might not always be a good idea.
"It depends on the script. Some films have universal appeal and dubbing or subtitling in Hindi for mass reach makes sense. Others might not have an appeal beyond the region and you have to consider that," Randeria adds.
Tamil director Vijay says some aspects of the script might need to be changed in this case and, content to be adapted according to the market it travels to.
"However, there are different forces at play, one being getting actors to sign on. It's not always easy for a movie to travel across languages," he adds.
While the challenges are many, film-makers across the board are optimistic that with the emergence of over-the-top (OTT) -- a service that provides a product over the Internet via streaming media -- platforms and their interest in acquiring a diverse library, revenues will start to flow in.
The availability of content through legal means could also help curb piracy, in India and abroad, over the long run.
However, as of now, producers hope to overcome challenges in distribution to make the next Sairat or Baahubali.