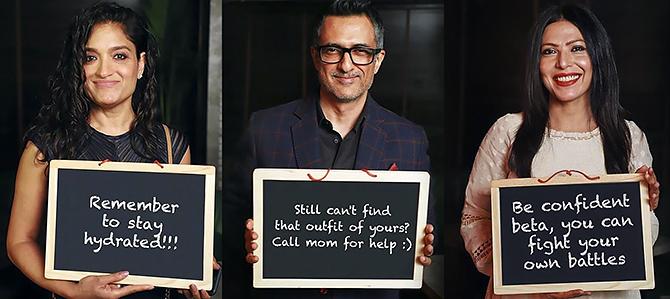 Ekta Kapoor's new Web series Mentalhood takes parenting to a whole new level.
Starring actors like Sandhya Mridul, Sanjay Suri, Shilpa Shukla, Dino Morea, Shruti Seth, Tillotama Shome and, of course, Karisma Kapoor, in her comeback role, the series features all kinds of moms -- tiger mom, hot single dad, single mom, helicopter mom, working mom, soccer mom...
"It's a crazy, modern world full of unnecessary gadgets and stresses and that has made parenting more of a race," says Sandhya Mridul, who plays a neurotic perfection freak named AJo.
"I feel it is this idea of image-making that has caused most of the turmoil or Mentalhood that we go through. There is a division between what is and what should be, so rather than looking at what is, we want to get at how it should be. But that's not living in the moment; it's trying to create the perfect picture. And so that is conflict," adds Shilpa Shukla.
"Ajo Is everything I'm telling you not to be," Sandhya says in this video:
Why parents face a Mentalhood today? Sandhya, Shilpa and Sanjay explain:
Sandhya goes beyond her role in the Web series to address the #MeToo movement, saying we need to stop asking women about it.
She says why, in this video: