Mentalhood is far from an ideal comeback, but it's nice to be reminded of Karisma Kapoor's radiant and lively screen presence again, says Sukanya Verma.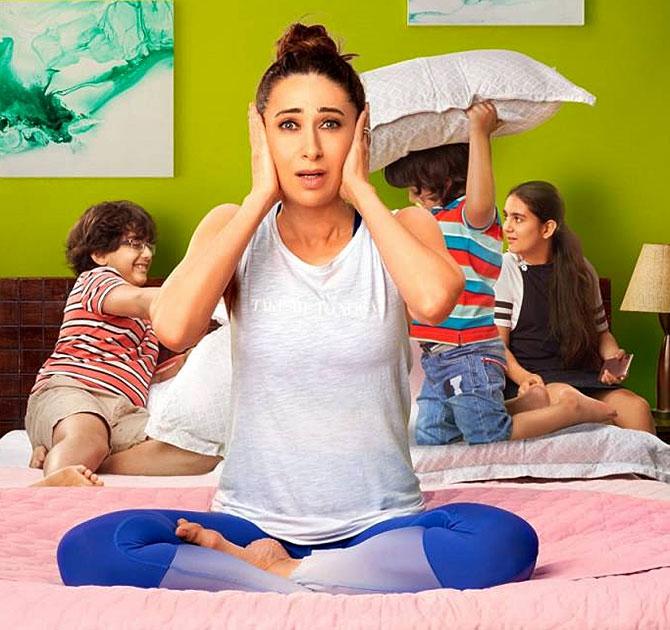 Being a mom is a full-time job and no matter how thankless it may seem, she is always rewarded with light at the end of the tunnel and a halo above her head. It's sure how things pan out for make-believe mums of screen, big or small.
Mentalhood -- Ekta Kapoor's new Web series streaming on Alt Balaji and Zee5 -- is supposedly a look into the maddening lives of modern day, urban chic, rolling in it Nirupa Roys. But the overload of gyaan it dispenses, episode after episode (I can vouch for three), shows it is far too calculated to draw a real, relatable, picture of the one who juggles it all.
Neither the characters nor the crisis coming their way exhibit the tiniest bit of spontaneity or nuance.
Stereotypical to the core, it's like everybody is instructed to stay inside their one-sentence description of how they are supposed to be -- tiger mom, hot single dad, single mom, helicopter mom, working mom, soccer mom... you get the drift.
What follows is an odd blend of Madhur Bhandarkar meets Modern Family wherein Mentalhood cannot find a steady tone and struggles to balance deception and feel-good.
Despite Karishma Kohli's heavy-handed execution of Ritu Bhatia's well-intended but worn-out script, Mentalhood is surprisingly watchable thanks to its terrific ensemble of ladies headlined by Karisma Kapoor.
The blue-eyed girl of the '90s returns to acting after more than half a decade but it feels much longer if like me, Zubeidaa is your last good memory of her talent.
Mentalhood is far from an ideal comeback, but it's still nice to be reminded of her radiant and lively screen presence again.
There's an obvious joy in her performance, a delightful mellowness and that makes you root for her to succeed.
Kapoor is all charm and chills in her portrayal of Meira, a content housewife and mother of three. Being a Kanpur native recently shifted to Mumbai to escape her stifling mum and mum-in-law allows her an outsider perspective and us a ringside view into a group of SoBo mommies she hangs out with.
A real-life mom of a teen daughter and 10 year old, Karisma in great shape fits the part like a glove but doesn't look like she has lived in Kanpur all her life. In absence of authenticity, the small-town, star-struck mom trying to fit in in big bad city of Mumbai barely registers.
Truth be told, Bollywood's world begins with Lokhandwala and ends in Bandra and so does their understanding of everything between Kanpur and Kerala.
If Preity (Tillotama Shome), an eager-to-please nouveau riche married into wealth and misogyny, dodges confrontation yet yearns for respectability, Dikha (Shruti Seth) is a new-age yoga instructor separated from husband and gluten.
That she has named her kid Niraakar (formless) will tell you about her extent of cool.
There is AJo (Sandhya Mridul) aka Momzilla, a hoity-toity control freak calling the shots on everything and her arch rival Namrata (Shilpa Shukla), a hotshot businesswoman with whom she has a long-running history of love-hate.
Throw in handsome single dad Akash (Dino Morea) to the mix and ingredients like eye candy and envy are instantly ticked off.
Quite early in the show, an exasperated Meira cries out, 'Motherhood is a blessing, *insert expletive*', but her experiences are quite run-of-the-mill and easily resolved when compared to the women she graciously humours.
As it always happens, wonder moms have their share of bad days too and all that's on Instagram is seldom happiness.
Each one is fighting a personal demon -- bad marriage, ugly divorce, dark secrets and growing distrust.
But it's the light-hearted adventures of this moneyed moms in relation to their children's school activities that strike as wee more interesting.
Issues like chole bhature versus healthy snacks, gender defined gifts and big kids bullying younger ones play out like how-to columns teeming with precooked wisdom.
And while these ladies -- Karisma, Sandhya, Tillotama, Shruti, Shilpa as well as Krutika Desai as AJo's mean mom -- are all first rate within their sharply outlined characterisations, the writing is staggeringly amateurish.
Be it the unoriginal pearls of parenting Meira shares on her blog and becomes an overnight hit or the cliched responses of its characters -- Meira's proximity to Akash turns on her otherwise cool spouse's (an awkward Sanjay Suri) insecurity.
But it's inanities like, 'Unke centrifugal force mein apna wajood ko khoti hui' mothers or 'estrogen ke samundar mein he's a much-needed testosterone' that truly take the cake.
Of the three 25-minutes episodes I watched out of a total 10, Mentalhood makes a big show of a parent's patience and power.
But for all the progress it harps on, its ideas remain rooted in the same-old thought process that views parenting as an exclusively mommy thing.
Meira might believe 'a child gives birth to a mother and father', but the daddies save for one 'hot, single' exception remain on the sidelines of Mentalhood.
Rediff Rating: