'Sanjay Dutt was a very stylish person. He created his own style; he did not follow trends.'
'He wasn't a tapori, he was grand.'
'Also, whatever he wore, reflected what was going on in his life.'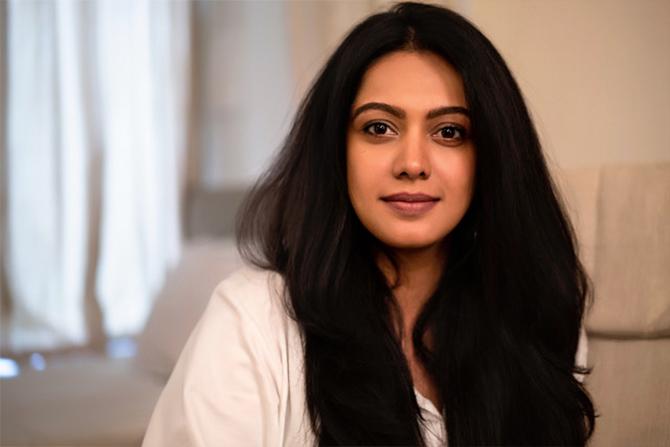 Making an actor look like a totally new person is all in a day's work for Eka Lakhani.
The 30-year-old designer has worked with some of Bollywood's talented brigade and completely transformed them in their movies.
And that's how Anil Kapoor became Fanney Khan, Ranbir Kapoor became Sanjay Dutt, Shraddha Kapoor became Haseena Parkar, and Diljit Dosanjh became Sandeep Singh.
Eka, whose father worked in the textile industry for 40 years, started her career by assisting Mani Ratnam on his beautiful film Raavan, when she was only 21.
Fresh from completing fashion designing courses in New York, Eka was ready to take on a career of high fashion when she got a call from Sabyasachi Mukherjee's office.
He was doing the costumes for Raavan, and Eka was thrilled to take it up.
The Raavan shoot took her to Chalakudy in Kerala.
"I was in high fashion, little did I know that the shoot would be a jungle, and there would be leeches, and I would have to work in muck!" she remembers, with a laugh.
"I remember calling my mom and crying, saying I cannot wear the clothes I had brought. I asked her to send my old pajamas; I couldn't be a New Yorker here!"
By the time Raavan was complete, a year later, Eka discovered the earthy side to her.
And while Eka was making that discovery, two prominent film personalities were making another.
"Two people really discovered me in that film -- Art Director Samir Chanda, who is no more with us, and Cinematographer Santosh Sivan. Samir sir noticed that I was very good in colours and fabrics, and he encouraged me," she says.
Santosh Sivan went further, and gave Eka her first film as a solo designer.
Urmi was a period costume drama, featuring Prabhudeva, Prithviraj, Genelia, Tabu and Vidya Balan.
"I was only 23, and I got my first break," Eka says.
She went on to become a regular on Mani Ratnam and Santosh Sivan's crews.
With time, Eka bagged Bollywood projects like Gulaab Gang and NH10... "And that's where my Bollywood career took off," she says, grinning.
She takes Rediff.com's Ronjita Kulkarni through some of her best outfits in the movies.
Anil Kapoor, Fanney Khan
There are two worlds in Fanney Khan. In one, you deal with real people, and in the other, you deal with rockstars.
Manish Malhotra is the best in that world, so he designed Aishwarya Rai Bachchan.
I did the realistic world.
During our meetings with Anil Kapoor, I asked him if we could use second hand costumes, and he immediately suggested Chor Bazaar.
He had no problem wearing those clothes.
The only said he said was: "Dhulvake dena (wash them and give it to me)."
We had some 30, 40 clothes for him, but we decided to use only use seven shirts, and kept repeating them.
Since he plays a taxi driver, someone who lives in a chawl, he wouldn' have new clothes to wear every day.
He has an old school connection in the film. He loves Mohammed Rafi, and he idolises a lot of actors from the 1970s.
So we have given him bigger collars and bright colours.
Those bright colours don't make him look like a tapori, they make him look child-like, youthful and innocent.
We didn't want to make him look garish.
His shirts cost Rs 200. We must have spent more on the laundry.
The Badan Pe Sitare song is a performance in his mohalla (neightbourhood).
So we got him a gold jacket and white shoes. We had to make it thoda tacky thoda likable.
Anil Kapoor loved the jacket so much, he asked me to keep it aside for him.
Every time I design for Anil Kapoor -- I have also styled him for Total Dhamaal -- I fall asleep at work the next day! It's too difficult to match his energy!
He works so many hours.
Rajkummar Rao, Fanney Khan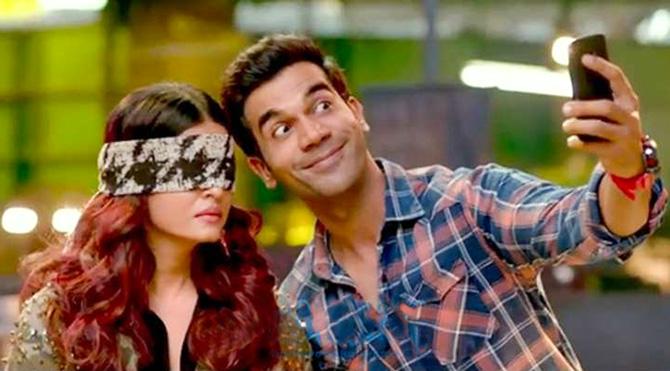 Rajkummar plays Anil Kapoor's best friend.
He lives in a building, though he's not well off either. He's educated.
We had to show that age gap and that difference.
So while Anil Kapoor wears shirts and trousers, Rajkummar wears cargoes and jeans. He carries a backpack.
Pihu Sand, Fanney Khan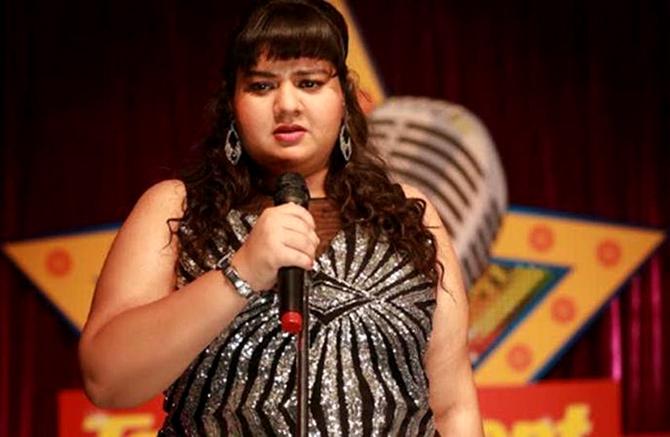 Pihu was a plump girl, but we asked her to put on even more weight.
We tend to think that people who live in a chawl are very poor, but that's not the case. They also go to school or college, and they also shop.
So we took her shopping with us to Linking Road and Hill Road (in Bandra, north west Mumbai) and Colaba Causeway (south Mumbai).
She's a typical college going girl.
She idoloses Baby Singh (Aishwarya's character), so we wanted to show that she wants glamour, but can afford only a certain space. So we bought accordingly.
We gave her tight clothes so that she looks bigger, fatter.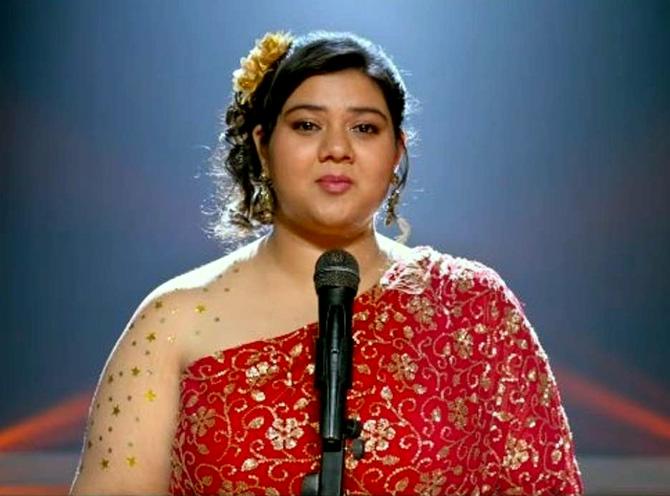 There are three performances in the film.
In the first, she's singing Sheila Ki Jawani, so we gave her the exact clothes that Katrina (Kaif) wore in the song -- white shirt and black shorts. We made them a bit ill-fitted, so that she looks a little ajeeb.
In the second performance, she wears a black and silver dress. She feels it's a dress Baby Singh would have worn and she buys it on EMI.
She feels that if I wear this, everyone will like my song. Of course, it doesn't work and she looks hideous in that.
In the last performance, a stylist is shown to be dressing her up. So while the red dress is sexy and glamorous, and you see some skin, it also suits her body.
Ranbir Kapoor, Sanju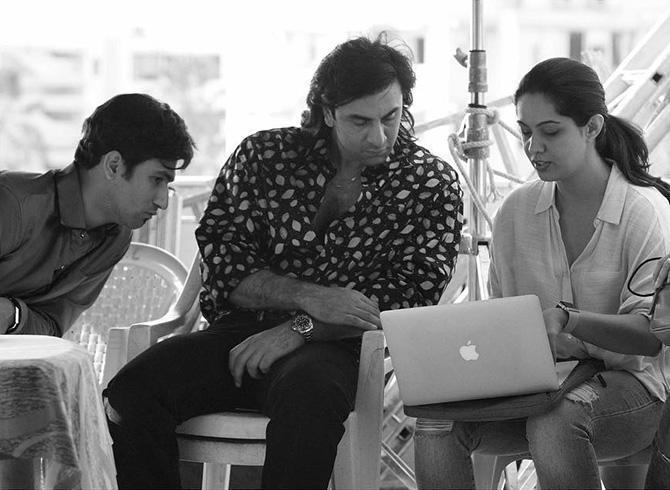 Sanju was very challenging because not only did it deal with different eras, it also dealt with Bollywood of different eras.
The audience has always known Sanjay Dutt -- even before he joined films -- because of his famous parents.
They already had an image of him.
In a way, it was helpful because I just had to recreate that.
But it was also challenging because if I failed at my job, the audience would not connect with Ranbir Kapoor.
At every given point, the point was to make the audience forget that they were watching Ranbir; they should believe that they are seeing Sanjay Dutt.
We had to recreate moments of Sanjay Dutt's life, and make them as real as possible on Ranbir.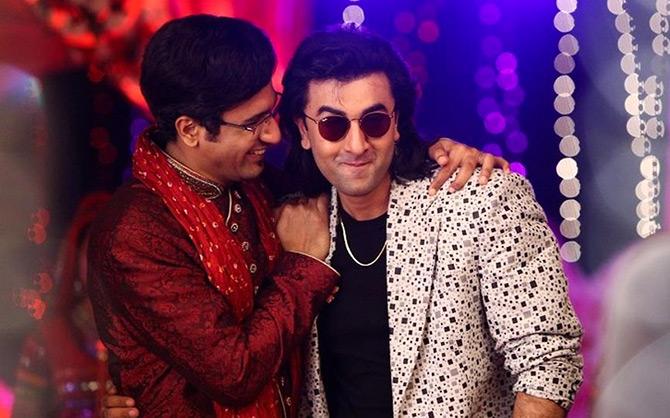 Before he became an actor, he did not have a distinct style yet.
In the photographs, you will see him standing behind his parents because he was not the main person in public attention then. It's not like today, when star kids are known for themselves.
After Rocky, we took iconic looks from his films.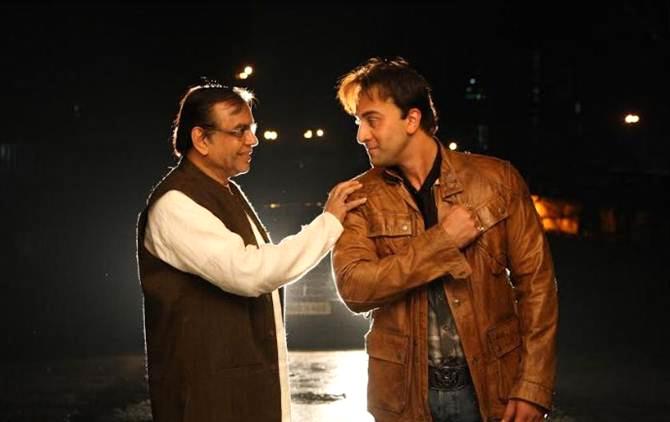 Sanjay Dutt was a very stylish person. He created his own style; he did not follow trends.
He was one of the first to wear leather jackets, and have that rocker Harley Davidson biker look.
He wore his boots in a certain way, keeping his collars in a certain way...
He wasn't a tapori, he was grand.
We followed all of that.
Also, whatever he wore, reflected what was going on in his life.
During his drug phase, he wore loose clothes. It could be because he was very thin due to his drug usage. He would wear oversized clothes.
When he started body building, he started wearing a lot of muscle tees and fitted clothes.
He was confident about his body, and that came out through the clothes he wore.
As he grew older, he grew bigger in size.
During the Munnabhai phase, he wore loose shirts with a ganji inside because it shows your body in a certain way.
Raju sir (Rajkumar Hirani, director) and Ranbir had already seen the film in their heads. They already knew what to do, so they were very helpful.
Ranbir had done his homework so well, he had studied Sanjay Dutt so well, that he would make suggestions.
There was a lot of trial and error.
Our look tests would go on for hours. For example, if the 1980s era needed 15 costumes, we had 45!
We have matched his watches and rings, whether he's wearing a kaala dhaaga (black threads) or laal (red).
Every day, Ranbir would walk into his vanity van as Ranbir, and walk out as Sanjay Dutt.
Sonam Kapoor, Sanju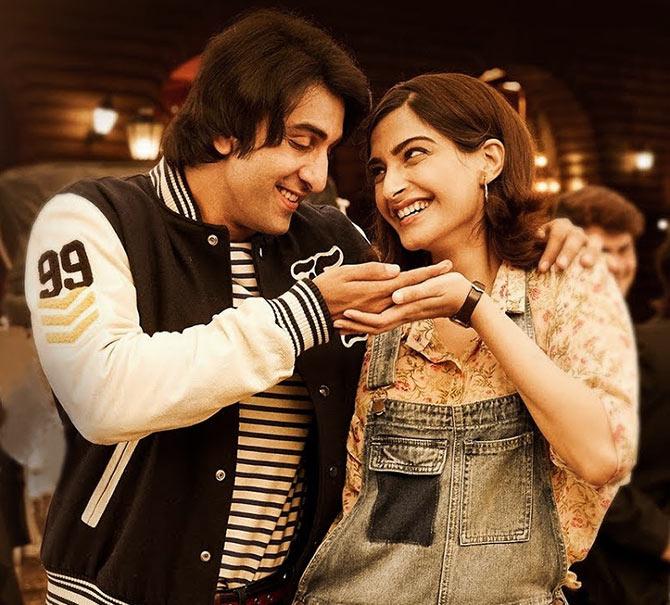 Sonam personifies style in India, so I was nervous when I was going to work with her.
But when I met her, we jammed on certain ideas.
We did some look tests and it all fell into place.
It's a girl-next-door look, and we had to keep it simple.
We gave her soft colours, gentle embroidery, malmal fabric, a Parsi vibe.
Anushka Sharma, NH10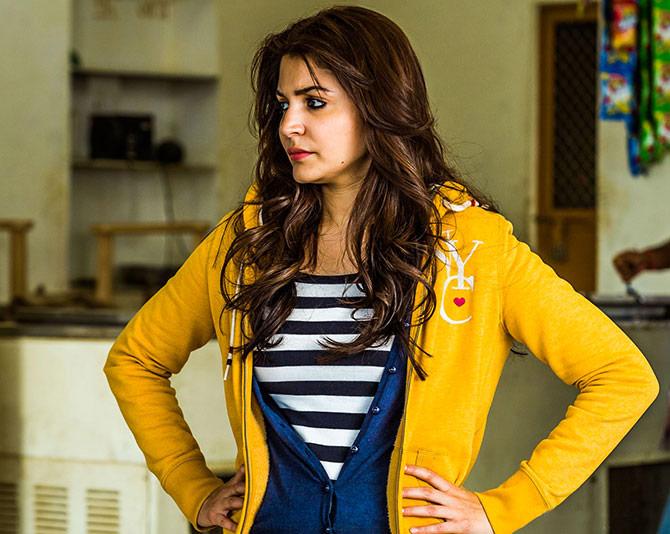 People think if there is only one outfit in the film, it would be easy, but that's exactly what makes it tougher.
It's a very simple outfit, but it is the only one in the film.
We had to make sure it doesn't get boring.
Also, the film has been shot in the night, she is running through a jungle... It should not get lost.
We carefully selected the outfit after doing a lot of look tests.
We gave her a mustard hoodie with a stripped t-shirt, so that if she removes a layer, it will still catch your attention.
Anushka is such a happy person; she shares that happiness with everyone around.
We shared a great rapport and it was really nice to work with her in Sanju again.
Tabu, Urmi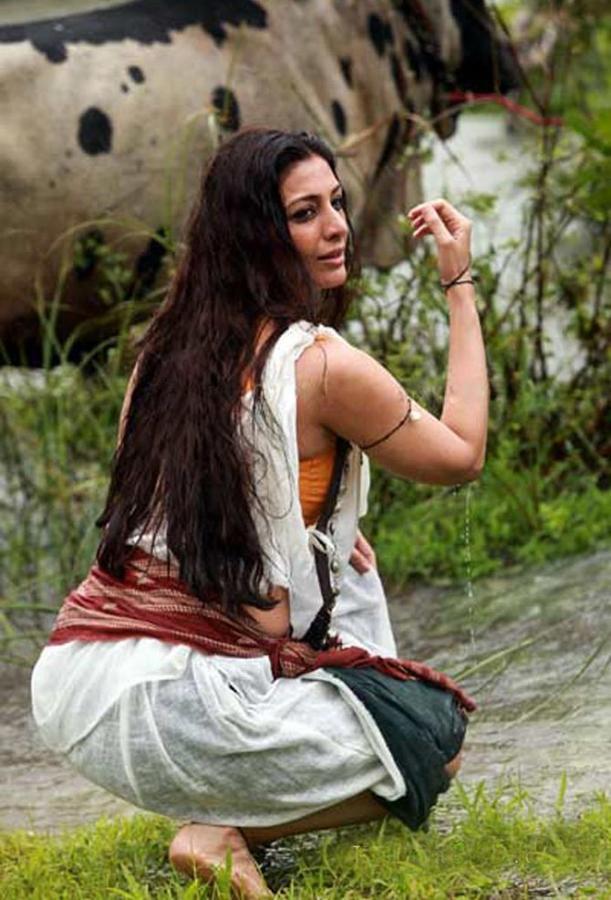 Tabu was travelling from Mumbai to Malshej Ghat, where the shoot was taking place.
Halfway to the venue, Tabu wanted to know what her outfit would be, and called to find out.
It was my first film, and the first day of the shoot.
I hadn't planned her outfit, as she wasn't expected to shoot that day.
So I started describing the outfit over the phone, making it all up, and when I hung up, my assistant was staring at me.
"How will we do that?" she asked, at my description of the outfit.
And I said, "Do you remember what I just said?"
I gave her different colours of malmals -- green, blue, mustard and white, and stitched it in two hours.
Shraddha, OK Jaanu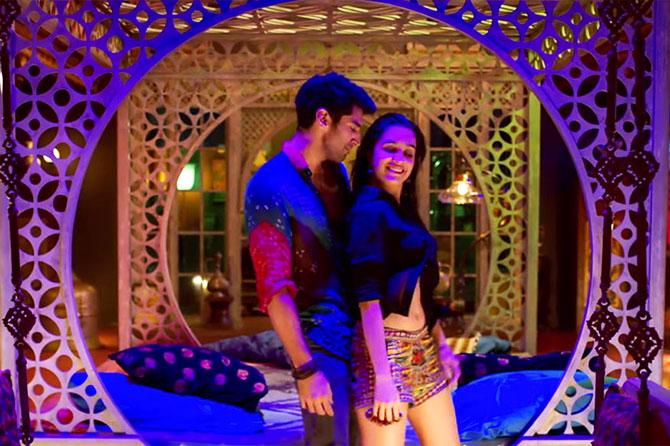 OK Jaanu is the freshest and happiest looking film I have done.
It's also a lucky film for me because after that I got some really great projects.
We have giving Shraddha an Indie look.
We mixed Indian and Western silhouettes, used Indian accessories and jhumkies on Western clothes.
We gave her suspenders with fitted pants in one scene, dungarees in another.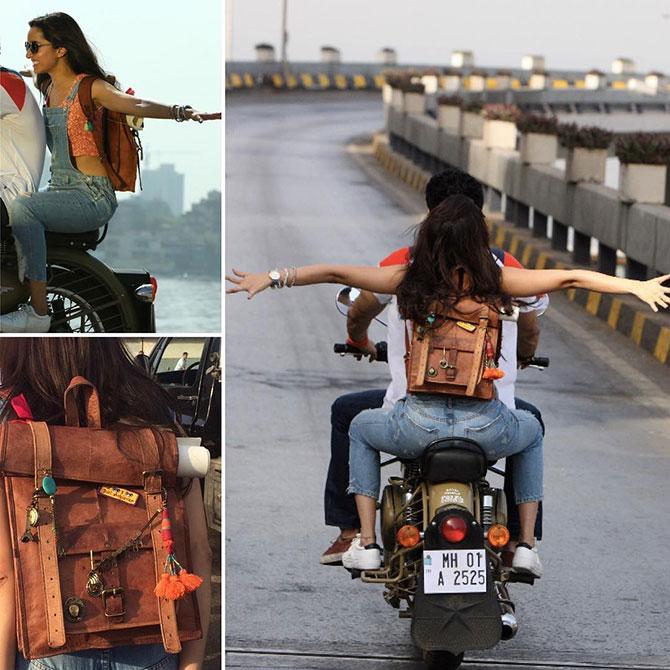 We made a backpack for her, for which I got a lot of orders. Since she's studying architecture, she needs to carry a lot of paper rolls, and she keeps them on top of her backpack.
(Cinematographer) Ravi K Chandran, (Director) Shaad Ali and I worked on this.
We shot the Humma Humma song much later, and we wanted to continue her character's edginess into the song.
Earlier, we were going to use a red lehenga with kathiyawadi embroidery with mirror work. But I felt we should do something else.
Overnight, I thought about it and pitched it to Shaad.
I felt we should give her shorts.
But Shaad thought shorts would be too normal, so I said I would make them interesting.
I told him I would give them to him the next day.
I had these lovely cushion covers from Ahmedabad at home. So that night, I called my tailor home and we cut them up into shorts!
There was a paranda (braid tassels) at home, and I made a belt out of that.
Shraddha, Vaibhavi (Merchant, choreographer) and Shaad really liked it.
Till date, my dad jokes that I made an outfit out of his cushion covers!
For the bandini shirt for Aditya (Roy Kapur), we cut out two dupattas and made a shirt for him.
Aditi Rao Hydari, Kaatru Veliyidai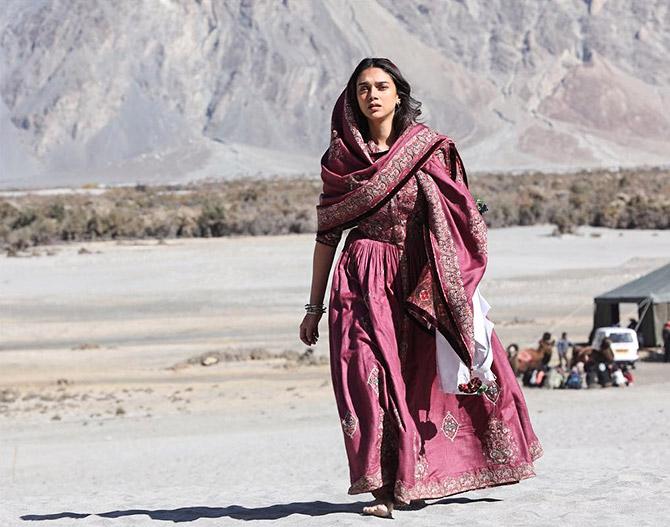 The landscape was like Leh-Ladakh -- white sands and clear skies, with mountains in the backdrop.
It's that part of the film when you see her after many years. She has a daughter and has aged.
But she still has to look beautiful, magical and untouched.
I didn't want the outfit to scream aloud, it had to blend in and at the same time, the colours had to look magical.
I had gone for (designers) Rahul and Shikha's Fashion Week in Mumbai and I fell in love with this outfit.
So I called them up, and told them that I did not have the budget for their outfit, but I wanted it for a scene. They were very happy to lend it to me. It cost around Rs 3 lakh to Rs 3.5 lakh (Rs 300,000 to Rs 350,000).
It had Kashmiri work hand embroidery. The colour was mauve with a rustic stint.
Kiara Advani, Lust Stories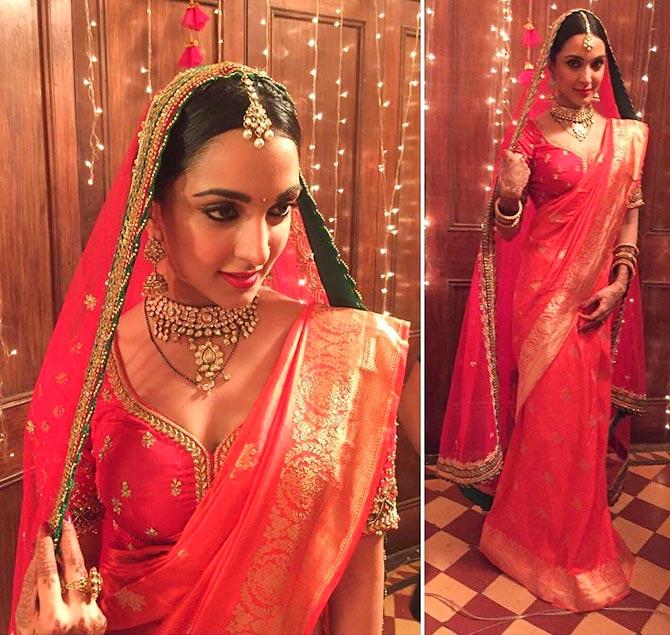 Kiara played a teacher in Lust Stories.
We wanted to go against the normal thought process that people have with teachers, and have a cotton sari with a sexier look. So we gave her low neck blouses.
It was a soft, malmal sari, pre-washed a couple of times, so that it sat on the body effortlessly.
We used fresh colour combinations, like lime green with a parrot pink, purple with maroon...
We used beautiful kadas and bangles, tiny earrings.
Shraddha Kapoor, Haseena Parkar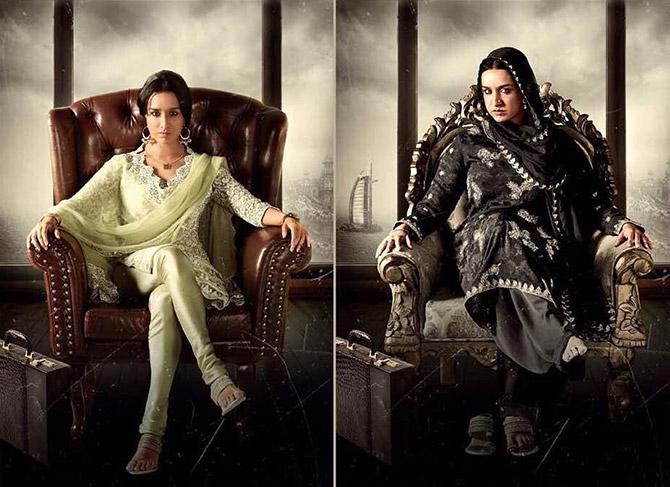 We went to the family, and got information about how Haseena Parkar would dress up.
She used to buy clothes from Amarsons and Premsons, so we went to the same shops.
We tried to understand her.
She would always have a dupatta on her head because her father was very strict.
When she was a child, he used to say that the dupatta should be nailed to the head, and we used that as a dialogue in the film.
After marriage, she started wearing a burkha.
When her husband died and she became Appa, she stopped wearing the burkha.
Diljit Dosanjh, Soorma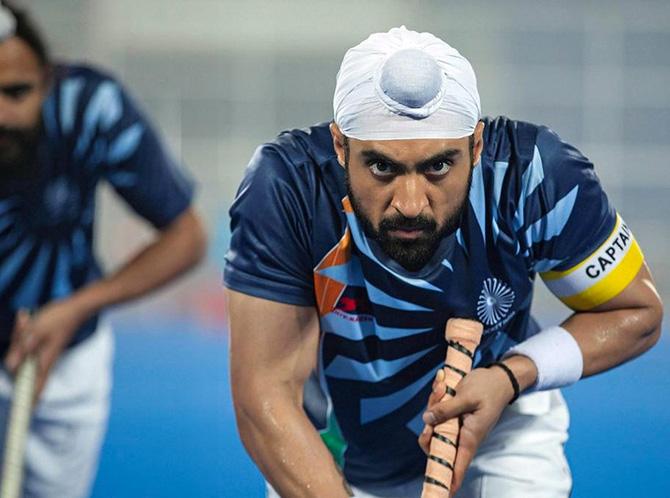 Soorma is based in Shahabad (Haryana) and is about a real life hockey player.
We had to show how this small town player became a player for India and how his appearance and style changed after he started playing for India.
Then, he gets shot and becomes paralysed waist down.
We used muted colours for that phase.
We played around with emotions and colours.
Taapsee, Soorma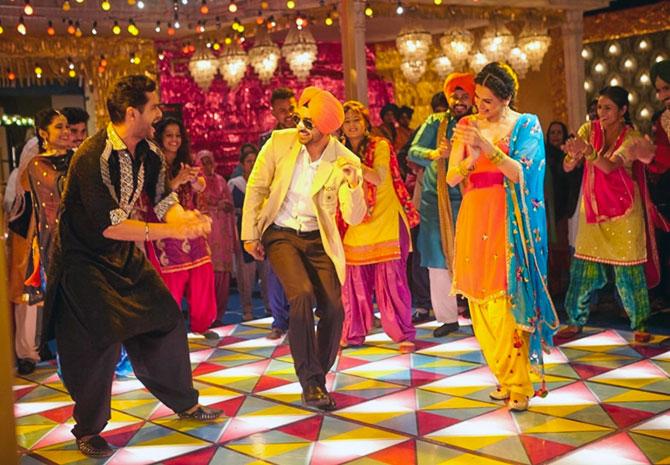 Taapsee is a sports person in a village, so we have kept that village flavour, but given her a sporty attitude.
So if she is wearing a salwar kameez, she will wear a zipper or a hoodie, or a sports jacket or the India jersey.
Angad Bedi, Soorma
In the Good Man Di Laaltein song, we gave Angad (Bedi) a black kurta pajama.
We put a design of a sher on his back because of the lyrics.
Taapsee wears typical colours with typical embroidery, phulkari, mirrors, what a small town girl would actually love to wear.
More Bollywood outfits from Eka