'When Kamal Haasan came into the room, I was shivering.'
'I am just an ordinary head load worker and there, I was standing next to a legend like him.'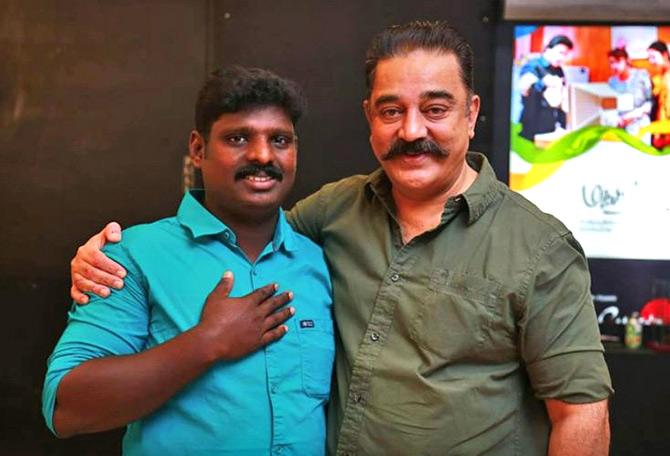 Rakesh Unni's story can easily be described as a dream that rarely comes true.
In fact, he still pinches himself to see if he's dreaming.
But, of course, it's all very real.
It all happened on a day when he sat under a rubber tree to rest after carrying many loads of tree trunks.
Like always, he sang.
But this time, a friend took a video of Unni singing, on his phone. The friend's sister uploaded it on her Facebook page.
The song Unnai Kaanadhu Naan, composed by Shankar Mahadevan, was from Kamal Haasan's film Viswaroppam.
On seeing the video, Shankar tweeted, 'This is called fruit of labour! When we hear this, it just makes me feel so so proud of our country that produces so much talent and is so rich in culture. Who is this guy??? How can I trace him? Need help & would like to work with him.'
Thus began his dream.
But there is a prologue to Rakesh Unni's story, and he narrates it to Rediff.com's Shobha Warrier.
If anyone were to ask me to look back at my childhood, I can only remember one thing -- listening to the radio and singing.
Music was the only thing that gave me happiness.
I was not the only one who sang at home; I grew up listening to my elder brother and cousins sing.
I come from a very poor family. My life was a struggle and I had to do all sorts of menial work.
But where you come from and what you do makes you who you are and I have no shame in talking about my past.
This is who I am.
As we were poor, there was no TV at home when I was young. I could quench my thirst for music by listening to Chitrageetham on radio.
There are so many songs that remain with me. One of the songs I could never stop singing was Kanneer Poovinte Kavilil Thalodi from Mohanlal's Kireedam.
After winning prizes in music competitions in school, I had this dream to be a singer. But I knew it would remain a dream.
Still, I dreamed.
After I failed in Standard 10, I stopped studying and started working.
Today, I regret having stopped studying and now, I have this dream to continue my education as much as I can.
Along with music, I also used to play the chenda (drum) at many chenda melam in temples. I learnt the chenda from my father's elder brother.
When I was a child, I had no chance to study music.
Today, I want to fulfill that dream; I have already started learning classical music.
I took the decision to learn music much before these events happened in my life, much before God decided to change the course of my life.
Once I started working, music lost its place in my life.
Except singing for my own pleasure, I did not get any opportunity to sing at public places.
I forgot that I was a singer, who had won prizes in school.
Then, I sang an Ilayaraja song at my brother's wedding.
When everybody appreciated my singing, I wondered how I could forget music.
That was a turning point in my life.
Those words of appreciation made me take the decision to learn music from a guru.
I did not decide to learn because I wanted to achieve something. I wanted to learn for my pleasure.
They say music is like an ocean and I wanted to swim in the ocean of music and enjoy the process.
The video that changed his life
I have to thank my cousin immensely for helping me get the job.
The job was to carry logs of wood from the rubber plantation and load in trucks.
I used to sing loudly when I carried the logs and the manager used to reprimand me for doing so. But that did not stop me.
I did not get jobs earlier as many found my singing (while I worked) offensive.
I worked sincerely but I sang while working. I did not work at places where people forbade me from singing.
That day when we had a break to drink water, a chettan from Tamil Nadu who had heard me sing Tamil songs, asked me to sing the song Nilaave Vaa by Ilayaraja.
I told him I would also sing my favourite song Unnai Kaanadhe from Viswaroopam, written by Kamal Haasan and composed by Shankar Mahadevan.
Shameer, the truck driver, took a video while I sang this song.
I did not know that he had sent this video to his sister and she had uploaded it on her Facebook page.
I will be indebted to them for what they have done to me.
If not for them, my life would not have changed.
I believe in God and I am sure what happened later on was what God had planned for me. It was his blessing.
One morning, three days after I sang the song, a relative, who works as a nurse in Palakkad, called me and said that my song had become a sensation on the Internet.
I did not understand her.
It was then I learnt that Shameer's sister had uploaded it on the Internet.
I had sung the song like I had done many times before and had forgotten about it.
Two hours after she called, I started getting calls, from people known to me and strangers.
Some of the calls were from far away countries. I was flabbergasted.
One of the persons who called me was singer Pandalam Balan sir who shared the video on his Facebook page.
His magnanimous gesture changed my life forever. I have no words to express my gratitude to him.
After that, well known violinist Bala Bhasker sir and music composer Gopi Sundar sir called me.
When Gopi Sundar sir said he would give me a song to sing, I didn't know what to say.
I didn't know whether to believe what was happening in my life.
A call from Shankar Mahadevan
It was when Gopi Sundar sir shared the video that Shankar Mahadevan sir saw it.
Finally, I got a call from the man I truly admire.
Shankar Mahadevan sir had been my idol from the time he started singing and composing music.
He is like my guru, a guru whom I have never met.
I honed my skills as a singer singing his songs.
I don't think there is anybody in the world who admires him like I do. I am his biggest fan.
I get goose bumps when I listen to his songs.
So, you can imagine how I might have felt when I got a call from London, from the man whom I consider my guru.
When I heard, 'Naan Shankar Mahadevan pesiren.' I was stumped.
When I gained courage to say, 'Sir, I want to meet you once...', he said, 'Why only meet? Aadalam, paadalam...'
He told me when he returned to Mumbai, I could meet him at his studio and then we would sing.
He wanted me to send him another video of me singing and I did so immediately.
I consider it my blessing that he uploaded my song on his Twitter page.
What more can I ask for in my life?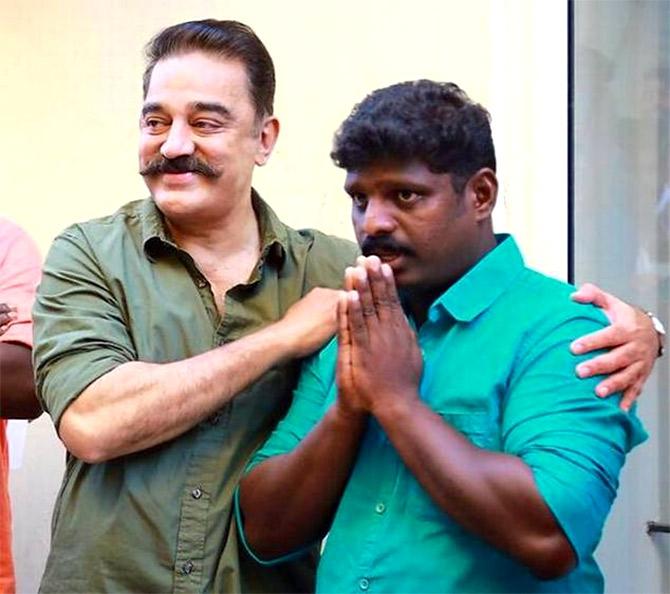 Meeting Kamal Haasan
Even before I recovered from the call from Shankar Mahadevan sir, another unexpected event happened in my life.
I got a call from Kamal Haasan sir's office.
I was asked to go to Chennai and meet him.
Not even in my dreams did I think of meeting Kamal sir or talking to Shankar Mahadevan sir. I was living a dream.
There I was in Kamal sir's office the next day.
When he came into the room, I was literally shivering.
I am just an ordinary head load worker and there, I was standing next to a legend like him.
I didn't know what to do. I touched his feet.
I was relieved that I could talk to him in Malayalam.
He first asked me whether I was learning music and I told him that I started just two months ago.
Then he asked me to sing a song and I sang Unnai Kaanadhe.
As I sang, I noticed him turning emotional and wiping his eyes. I don't know why he felt emotional.
I do not know how to describe him. He is a great man who had time for an ordinary human being like me.
He had time to listen to me sing. I don't know what punyam I had done to deserve all this.
Kamal sir said, 'Super' after I finished the song and he told someone, 'We should give Unni a song in our next film.'
If not for Kamal sir and Shankar Mahadevan sir, if not for their selfless love, nobody would have known me.
I have also to thank each and every person who listened to my song and appreciated it.
Now, I am waiting for the day I will meet my guru, the guru I have not met in real life yet, the great Shankar Mahadevan sir.