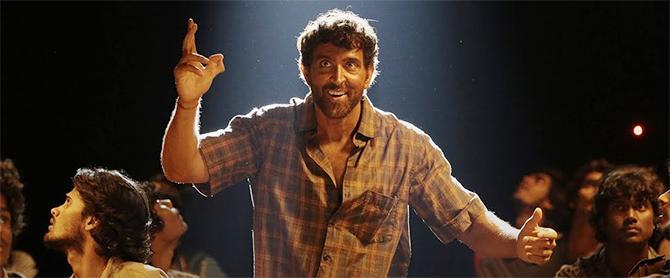 Gore rang pe na itna gumaan kar...
Dhoop mein nikla na karo roop ki rani gora rang kaala na pad jaaye...
Gori hain kalaaiyan tu laade mujhe hari hari chooriyan...
Gore gore chehre pe kaala kaala chashma...
Goriya re goriya meri neend uda ke leja...
Churake dil mera goriya chali...
The Gora playlist goes on and so does Bollywood's obsession with light skin and perpetuating racist stereotypes.
It's only when a character is to be shown in a negative, disadvantageous, impoverished or exotic light, do our makers go out of their way to coat these actors in a few extra shades of tan.
Aishwarya Rai Bachchan's bronzer surplus in Dhoom 2 is one of those rare occasions where dusky is sexy is highlighted.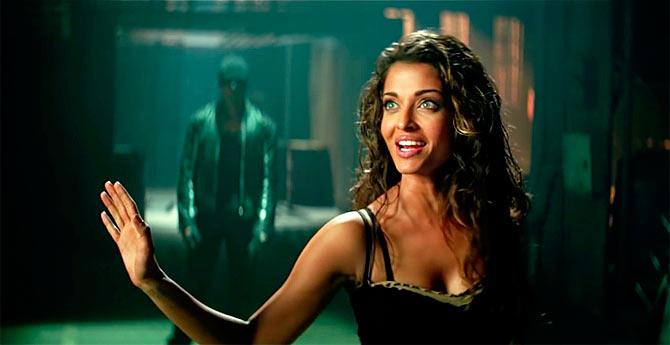 Hrithik Roshan's labored Bihari accent isn't the only peculiar thing about his portrayal of real-life mathematics teacher, Anand Kumar.
His extra dark complexion stands out too.
To be fair, he sported a sunburned look in Dhoom 2 and Mohenjo Daro as well but the intent in Super 30 clearly screams underprivileged.
There are many, many instances of this 'dark' approach. Sukanya Verma looks at a few.
Gully Boy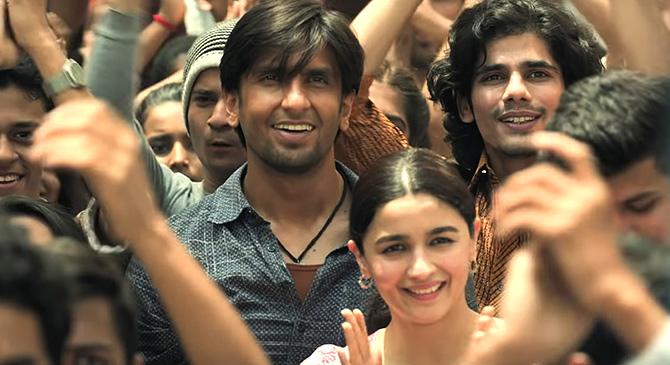 Ranveer Singh's Dharavi boy nursing rapper dreams has won a lot of acclaim, but his conspicuously dark skin irked a section just as much.
Director Zoya Akhtar confirmed to a publication that it wasn't intentional.
Ranveer began shooting right after returning from a holiday and already had a suntan. His slightly browner look was just to maintain uniformity.
Pataakha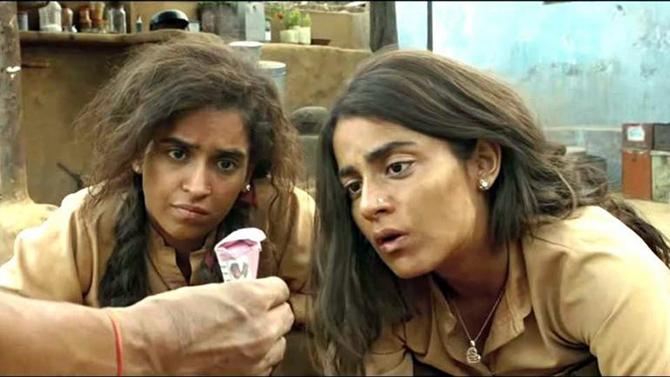 Vishal Bhardwaj's adaptation of Charan Singh Pathik's short story Do Behnein takes place in a tiny village of Rajasthan.
Sanya Malhotra and Radhika Madan's sooty skinned sisters stick out like a sore thumb.
Udta Punjab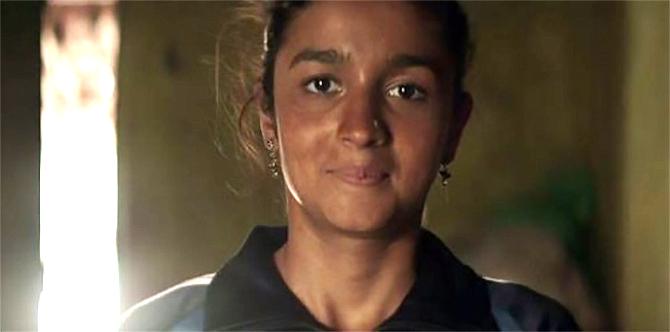 Alia Bhatt's abused Bihari migrant worker in Udta Punjab ranks among her best works but also a far cry from her fresh-faced imagery.
Though Director Abhishek Chaubey admits he wasn't sure if she was apt for the part, he defends her grubby complexion as the consequence of someone who spends the entire day toiling in the fields.
Beyond The Clouds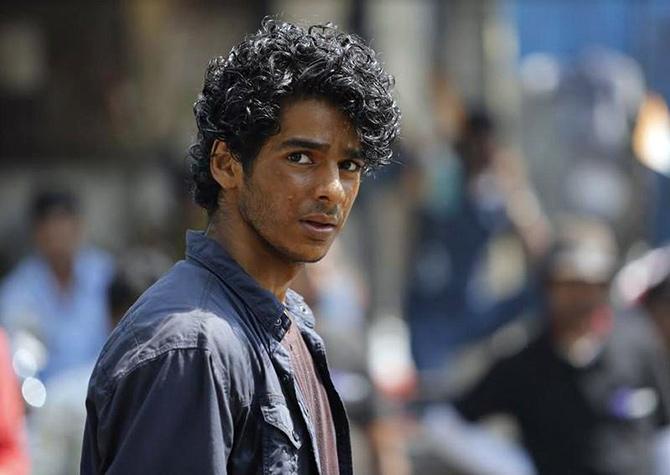 Ishaan Khattar makes a decent first impression in his debut, Majid Majidi's Beyond the Clouds.
The layers of tan he plasters to stress on his slum boy roots become all the more prominent on seeing his actual skin tone in subsequent release, Dhadak.
Revolver Rani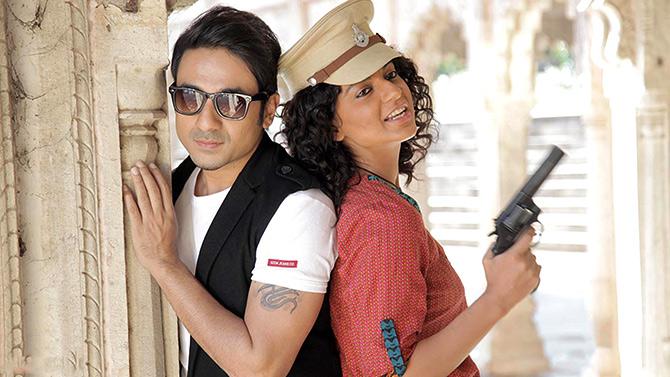 Kangana Ranaut's light skin is doused in heaps bronzer to look like a glamorous outlaw in Revolver Rani. This is what Bollywood does when it wants Phoolan Devi and Padma Lakshmi in one.
Kambakth Ishq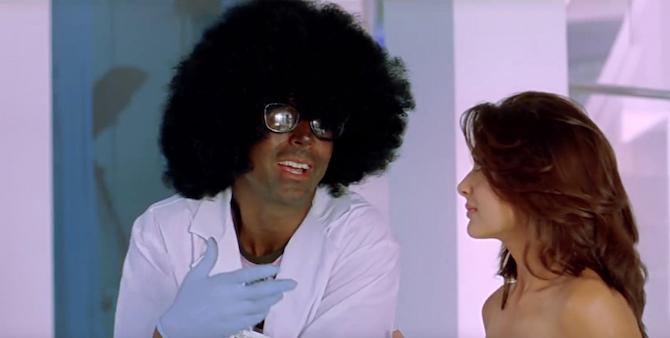 Perpetuating racist stereotypes since time immemorial, Akshay Kumar's African caricature in Kambakth Ishq is a classic and cringe worthy example of Bollywood's sense of humour.
Omkara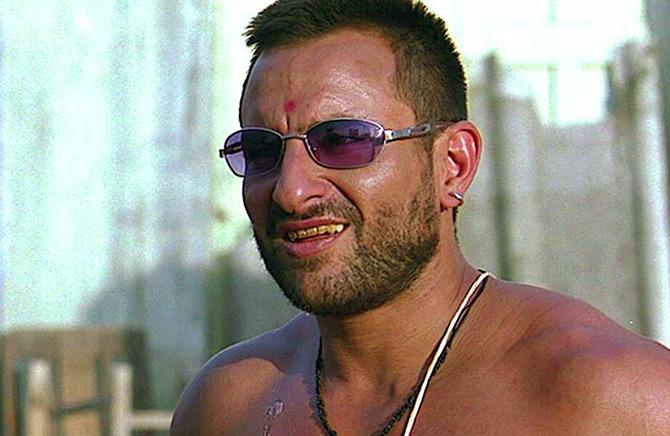 Saif Ali Khan's astonishing transformation from urban cool to rural henchman in Omkara is so authentic -- buzz cut, yellowed teeth, darkened skin -- nobody complained.
Rudaali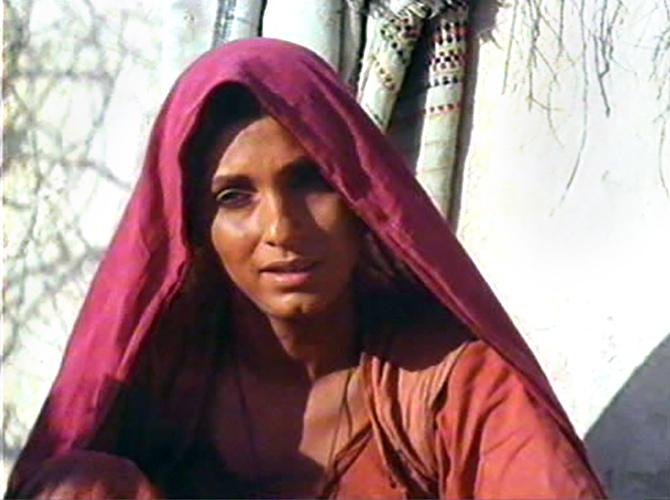 Ditto for Dimple Kapadia's Rajasthani belle and professional mourner in Rudaali. The makeup is subtle and the camera's gaze revels in her sunburned beauty.
Jaanbaaz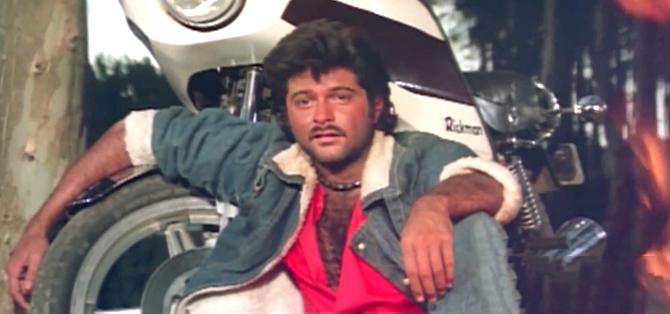 Notice how wealthy folks tan differently from poor ones in our movies?
Anil Kapoor's reddish brown tan in Feroz Khan's Jaanbaaz is aiming for a macho, cowboy vibe to emphasise he has spent more time around horses than at home.
Kamla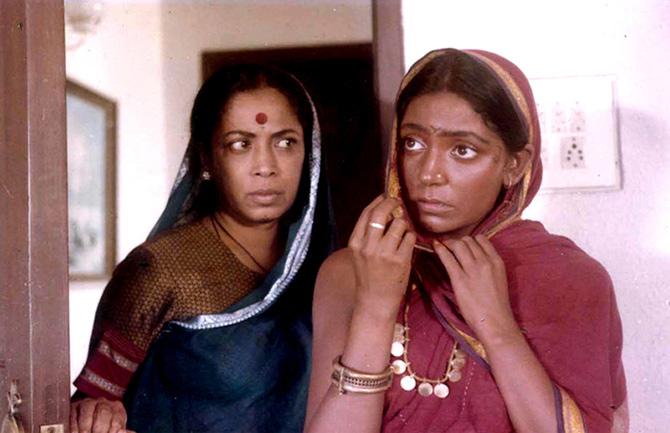 Deepti Naval gets under the skin of an exploited adivasi in Kamla where her darkened appearance is as striking as her performance.
Razia Sultan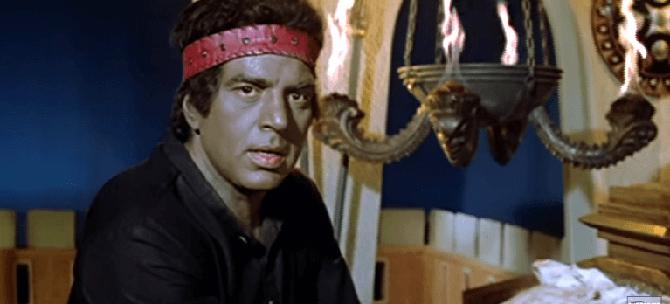 Kamal Amrohi's take on empress Razia Sultan's life and love features a ridiculously painted Dharmendra as Abyssinian slave Yakut. Embarrassing, offensive, you get the drift.
Desh Premee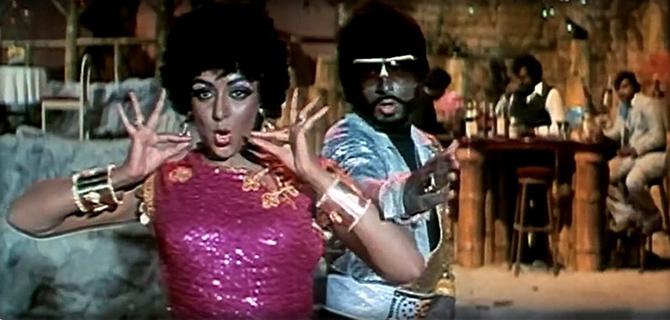 Once again, Bollywood jumps in to mock black skin tone as standard disguise trope and remain unidentifiable before whomsoever it may concern in Amitabh Bachchan, Hema Malini and Prem Chopra's African musical troupe gig in Desh Premee.
If that's not enough, the lyrics rub it in, Gore nahi hum kaale sahi.
Imman Dharam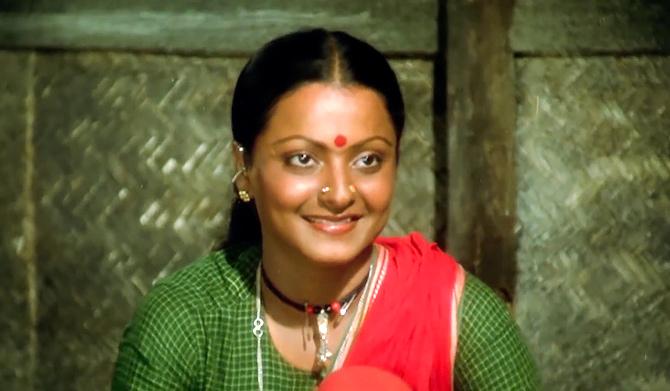 Light skinned North Indian, dark-skinned South Indian, Bollywood's steady supply of colour-based discrimination is nauseating.
In 1977's Imman Dharam, Rekha's browned Tamilian girl falls for a fair Shashi Kapoor.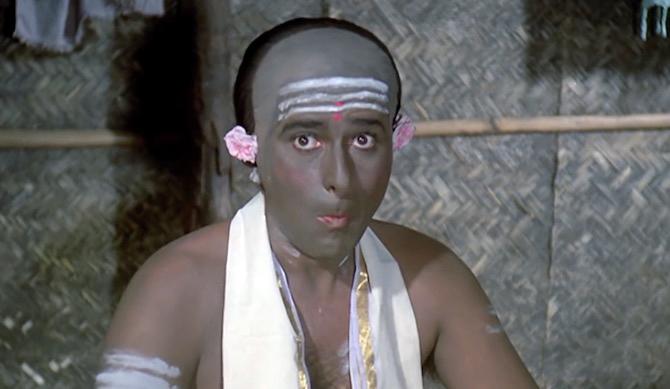 In one scene that plays for laughs, she day dreams about him in a traditional South Indian attire sporting even darker skin and going one step further in propagating racist stereotypes.
Gora Aur Kala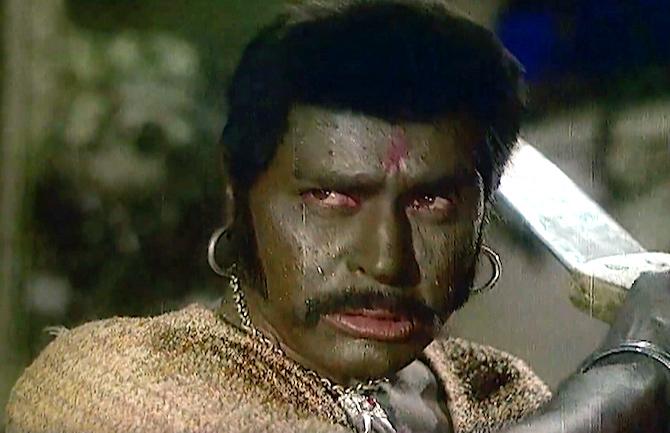 It would be foolhardy to expect better from a movie that's actually called Gora Aur Kala.
Rajendra Kumar plays a pair of twins separated at birth. One is fair and noble; another has a blood condition that turns him a weird shade of dark. Needless to say, he's not very nice.
Gumnaam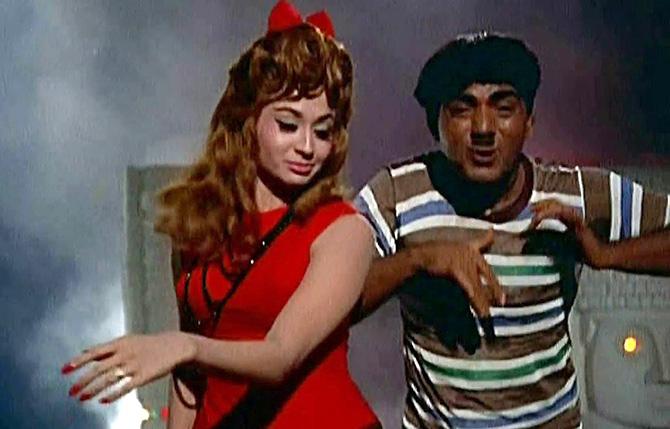 'Kaale se darr gayi kya?' Mehmood's dark-skinned Hyderabadi spewing character contributes to the myths that make Bollywood humour so problematic till today.
Mother India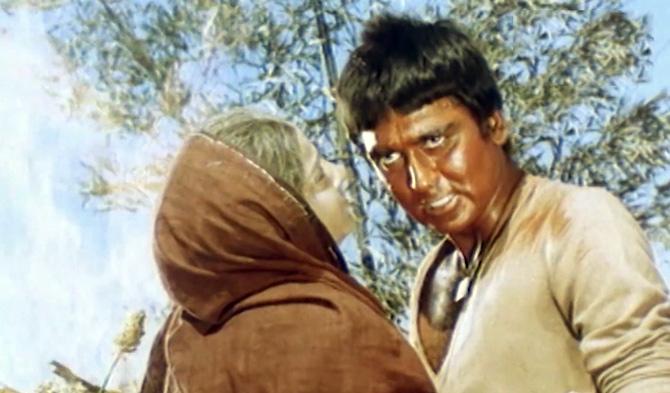 Sunil Dutt's rebellious son of a virtuous mother in Mother India is a classic case of black sheep of the family. Could it be more visible?
Meri Surat Teri Aankhen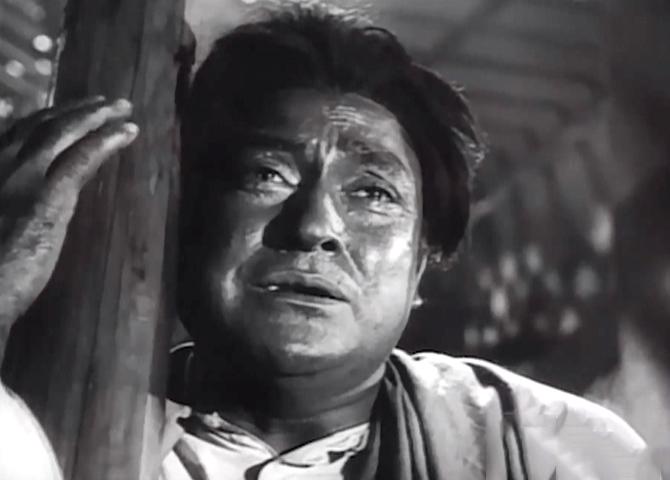 To make its point on 'beauty is only skin deep', Meri Surat Teri Aankhen ropes in Ashok Kumar to play a hideous looking, forsaken son of a rich man. It's the same Ashok Kumar only painted ten shades darker.
The only point it really makes is he is perceived ugly because he is dark-skinned?