Lata Mangeshkar considers him her favourite co-singer.
Asha Bhosle recalls her experience of singing with him as both challenging and positive.
Amitabh Bachchan calls him an 'irreplaceable voice' in the film industry, while radio anchor Ameen Sayani hails him as its most 'bahurangeen' hero and singer.
Superlatives simply flow when talking about Khandwa-born Abhas Kumar Ganguly aka Kishore Kumar, one of India's most adored actors and singers.
Though he never learned music professionally, his unmatched exuberance and exceptionally melodious voice moulded itself into any tune, form or emotion.
It's been over six decades since he 'rum pum poshed' his way into our hearts and fashioned new styles of singing, yet his legacy and love continues to prosper generation after generation.
On his 90th birthday, Sukanya Verma highlights a fraction of the legend's marvellous versatility in this curated list of his 25 unique moods.
PS: This is not a best-of list but a celebration of his eclectic range.
Song: Eena meena deeka
Movie: Aasha
Music: C Ramchandra
Lyrics: Rajendra Krishan
Mood: Rock 'n' roll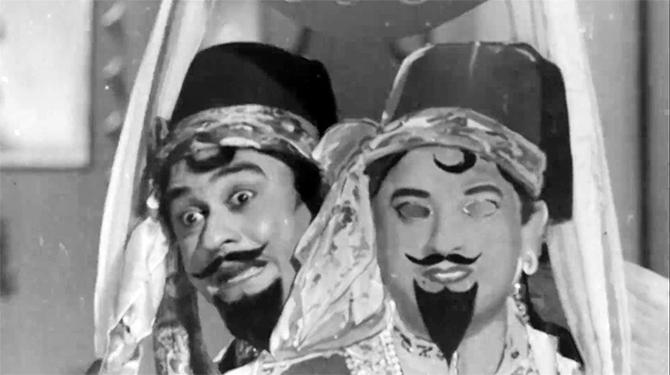 Years before he'd charge up Jaaved Jaaffrei's rock and roll demands in Meri Jung, Kishoreda channels his vocal energy at breakneck speed to spew delightful gibberish and bubbling cheer in this irrepressible C Ramchandra classic.
Yehi toh hai woh... indeed!
Song: Hum thi woh thi aur sama rangeen
Movie: Chalti Ka Naam Gaadi
Music: Sachin Dev Burman
Lyrics: Majrooh Sultanpuri
Mood: Love-struck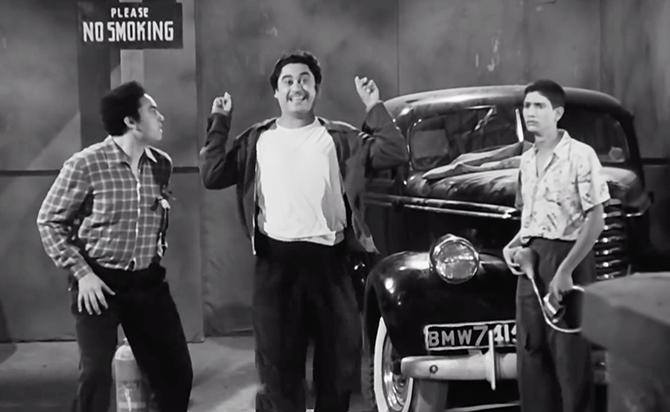 Its 'The Watermelon Song' inspiration may not get points for originality and yet the sheer exuberance of Kishore Kumar's rendition, as he shares his 'smitten kitten' state with sibling Anoop Kumar, is stuff that'll transport anyone from Japan to Cheen. Samajh gaye, na?
Song: Aa chal ke tujhe main leke chaloon
Movie: Door Gagan Ki Chhaon Mein
Music: Kishore Kumar
Lyrics: Kishore Kumar
Mood: Utopian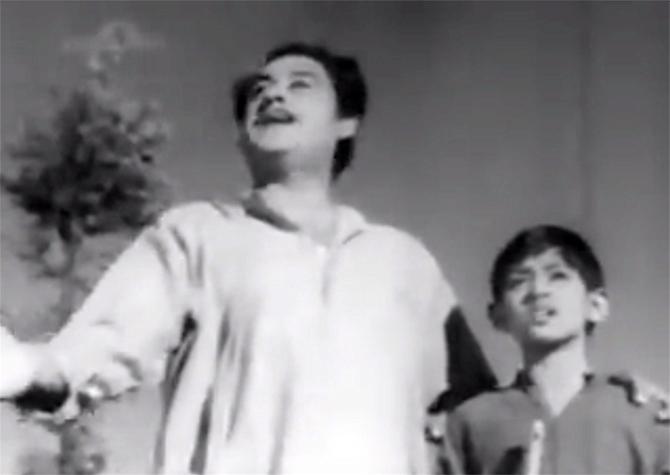 When Kishore Kumar's serene voice invites you to a place 'jahan gham bhi na ho, aansoon bhi na ho,' you follow, no questions asked.
Song: Nakhrewali
Movie: New Delhi
Music: Shankar-Jaikishen
Lyrics: Shailendra
Mood: Diddle-ae-ee, Doodle-oh-oo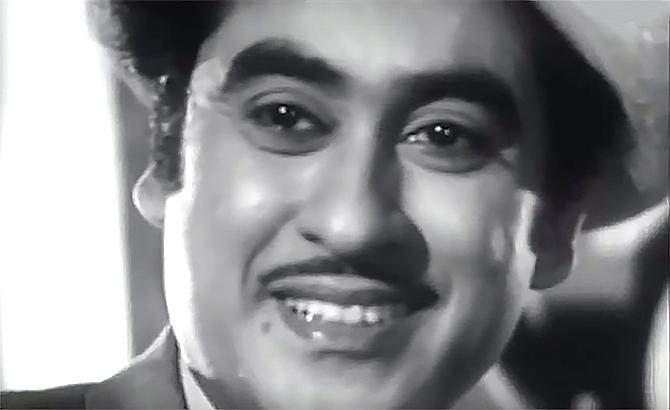 One cannot thank Kishoreda enough for introducing us to the art of yodelling. And, just like that, his mocking words and whimsical rhythm in Nakhrewali diddle-ae-oo away to glory.
Song: Aake seedhi lagi
Movie: Half Ticket
Music: Salil Chaudhary
Lyrics: Majrooh Sultanpuri
Mood: Humorous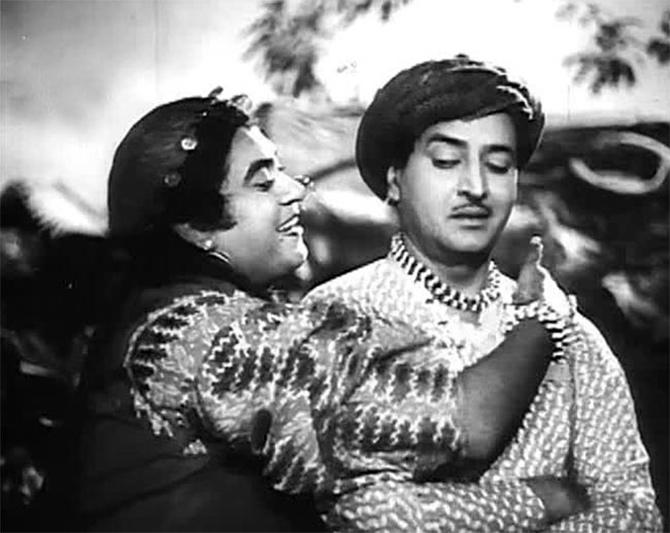 Ever the entertainer, Kishore Kumar's wit shines in every second of the rib-tickling Half Ticket.
The virtuoso brings the house down as both the male and female voices off-screen, while Pran and he face off in the hysterical Aake seedhi lagi dil pe jaisi katariya.
Song: Woh shaam kuch ajeeb thi
Movie: Khamoshi
Music: Hemant Kumar
Lyrics: Gulzar
Mood: Nostalgic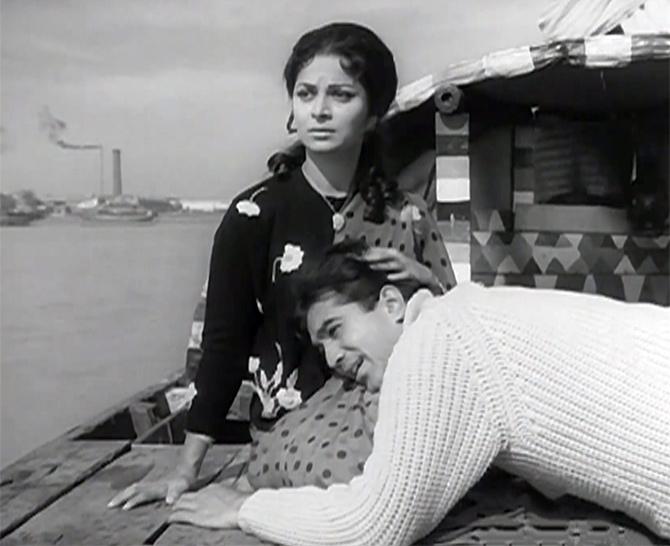 The senses unfailingly surrender to the depth of Gulzar's poetry and Hemant Kumar's melancholy in Kishore Kumar's restrained yearning.
Song: Hum hain rahi pyaar ke
Movie: Nau Do Gyaarah
Music: S D Burman
Lyrics: Majrooh Sultanpuri
Mood: Happy-go-lucky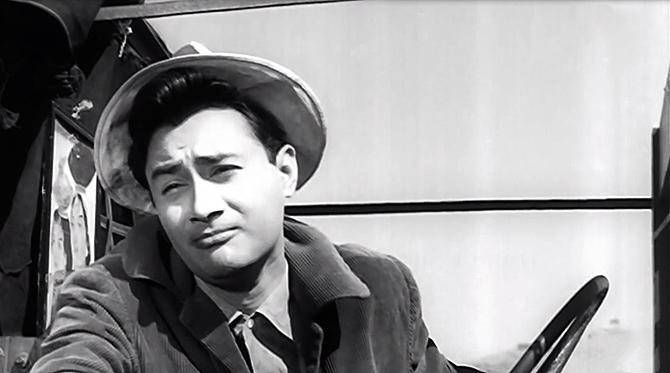 The whistling and wandering mood of the popular Dev Anand ditty, its brilliant attitude and breathtaking melody wouldn't be the same sans the Kishore touch.
Song: Badi sooni sooni hai zindagi
Movie: Mili
Music: S D Burman
Lyrics: Yogesh
Mood: Lonely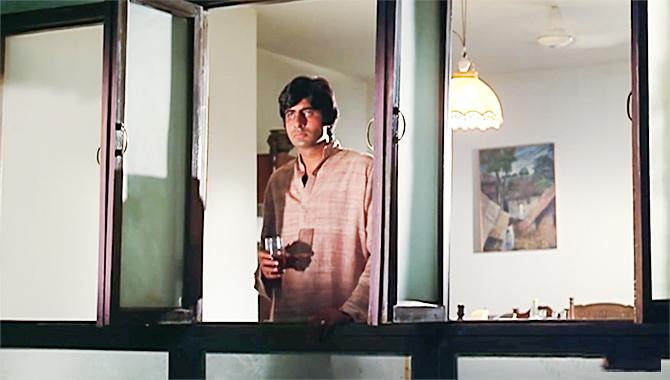 You don't have to watch Amitabh Bachchan's melancholy on screen to feel the pain of unwanted solitude in Kishoreda's heart-rending despair.
Song: Vaada tera vaada
Movie: Dushman
Music: Laxmikant-Pyarelal
Lyrics: Anand Bakshi
Mood: Banter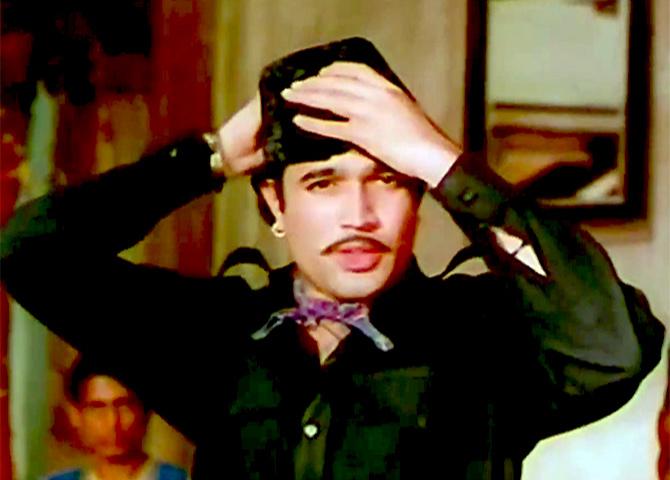 Actors were lucky to have someone like Kishore Kumar express the scene's sentiment in his discerning voice.
Song: Pal pal dil ke paas
Movie: Blackmail
Music: Kalyanji-Anandji
Lyrics: Rajendra Krishnan
Mood: Romantic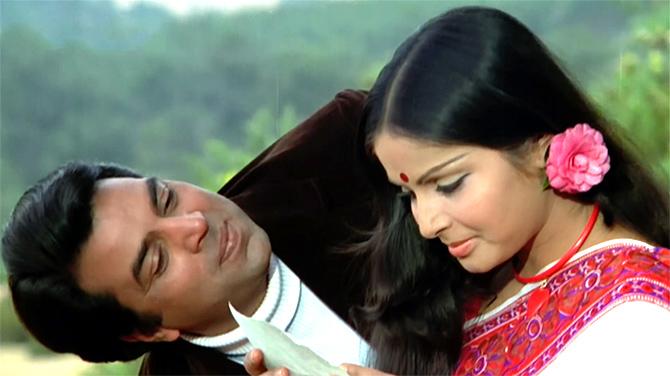 Pal pal's insane repeat value over four decades, and on every February 14, owes significantly to Kishore Kumar's honeyed crooning.
Song: Ek chatur naar
Movie: Padosan
Music: Rahul Dev Burman
Lyrics: Rajendra Krishan
Mood: Cut-throat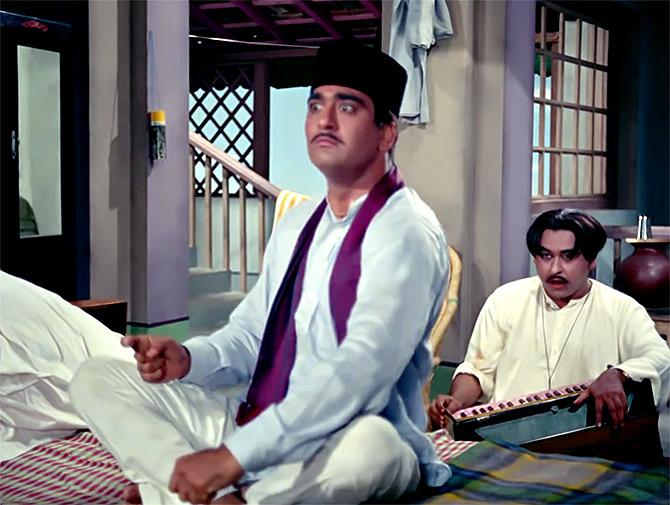 We would give anything to have been at the recording studio when Rahul Dev Burman was taping Kishore Kumar and Manna De's animated singing face-off. 'Ka-kha-ga ka shor' never felt more epic.
Song: Pal bhar ke liye
Movie: Johnny Mera Naam
Music: Kalyanji-Anandji
Lyrics: Indeevar
Mood: Serenading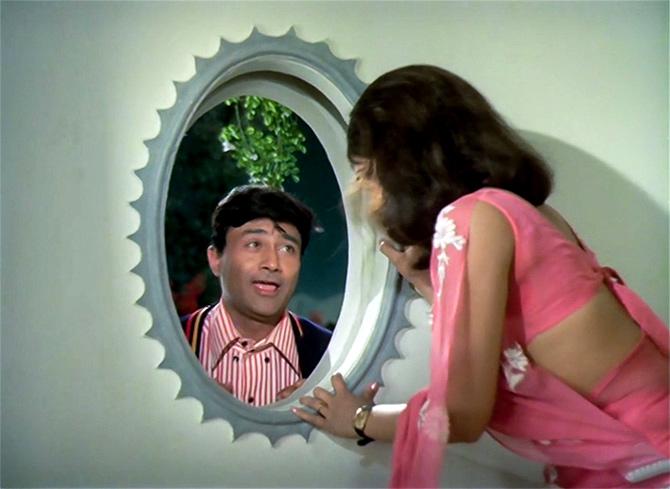 From imploring for 'jhootha hi sahi' pyaar to quipping 'Ram mein ke kyon tune Ravan ko dekha,' trust Kishoreda to make Dev Anand's onscreen courtships super-duper irresistible.
Song: Geet gaata hoon main
Movie: Lal Patthar
Music: Shankar-Jaikishen
Lyrics: Dev Kohli
Mood: Musical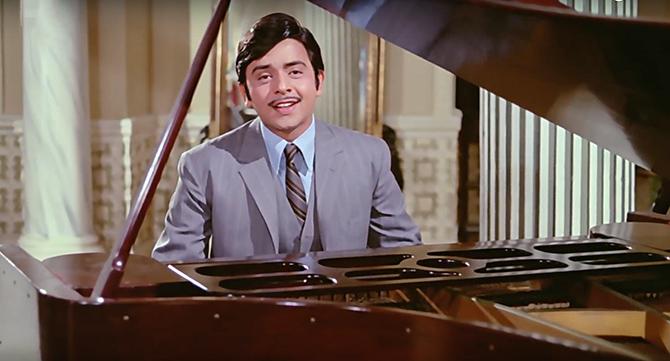 That unmistakable mithaas in his voice as he reiterates his promise to sing for a lifetime in Lal Patthar hits home and how.
Song: Raah pe rehte hain
Movie: Namkeen
Music: Rahul Dev Burman
Lyrics: Gulzar
Mood: Philosophical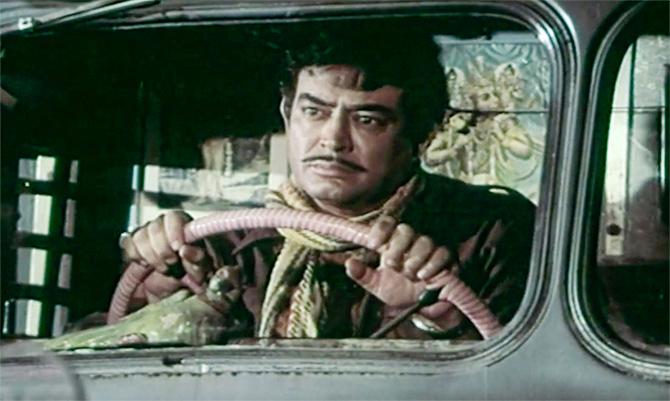 Kishoreda has a spate of meaningful Zindagi songs to his credit, every single one deserving all of our love and attention.
But the sensitivity he lends to his prolific RD-Gulzar collaborations is rewarding in more ways than one.
Song: Roop tera mastana
Movie: Aradhana
Music: S D Burman
Lyrics: Anand Bakshi
Mood: Amorous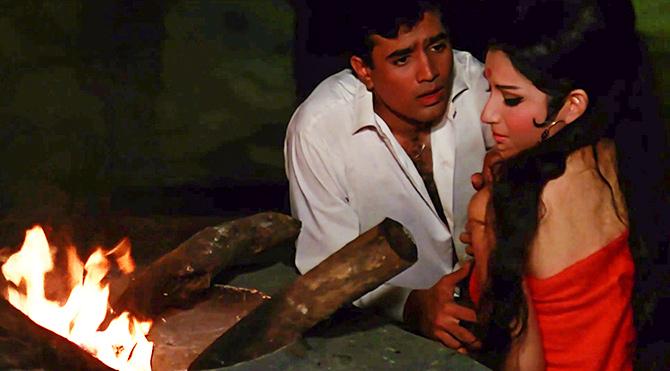 Don't you just love the fact that the man behind Dheem patapat dhingadi pokko and Roop tera mastana is one and the same? What a steamy, sexy about-turn!
Song: Kaise kahen hum
Movie: Sharmeelee
Music: S D Burman
Lyrics: Neeraj
Mood: Heartbroken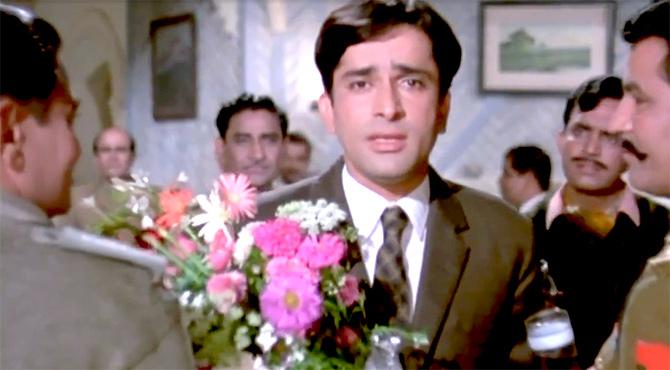 Short of breaking down, Kishore Kumar goes all out to articulate Shashi Kapoor's anguish and despondency dipped in the cynical ink of the great Neeraj.
Song: Tune abhi dekha nahi
Movie: Do Aur Do Paanch
Music: Rakesh Roshan
Lyrics: Anjaan
Mood: Gloating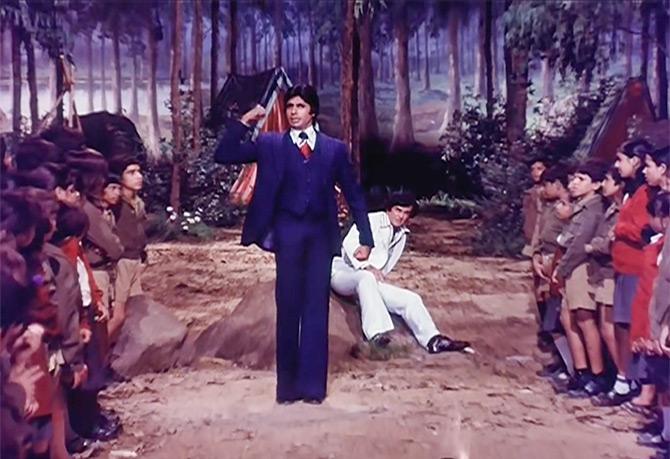 In lesser hands, this would shape into a gimmick but Kishoreda's breathless one-upmanship gives it a memorable, tongue-twisting edge.
Song: Hum bolega ka to bologe ke bolta hai
Movie: Kasauti
Music: Kalyanji-Anandji
Lyrics: Verma Malik
Mood: Cupid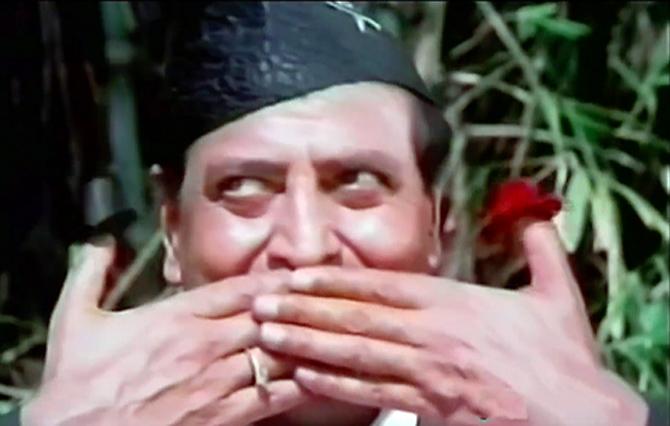 Kishore Kumar's sh-heavy accent to play on Pran's Nepali character is clever enough to not only acknowledge the silliness for what it is, but also revel in it.
Song: Lukk chipp lukk chipp jao na
Movie: Do Anjane
Music: Kalyanji-Anandji
Lyrics: Anjaan
Mood: Fatherly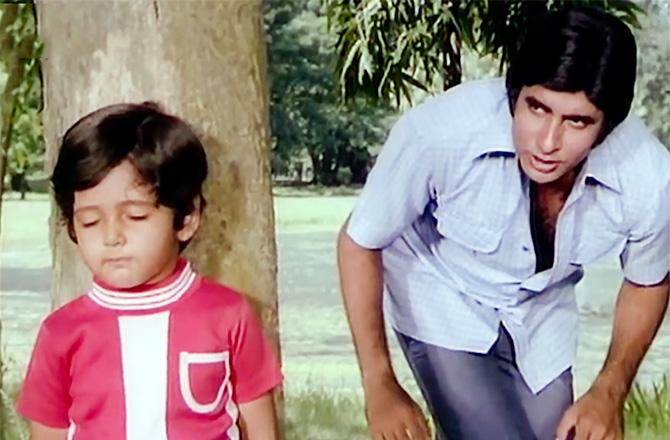 It's one thing to sing cute songs and another to sound cho chweet.
But Kishoreda was the last word on kid friendly, savouring a scenario's cheek-pulling 'Alle aao na' zeal, whilst bursting into paternal affection and baby talk.
Song: Zindagi aa raha hoon main
Movie: Mashaal
Music: Hridaynath Mangeshkar
Lyrics: Javed Akhtar
Mood: Upbeat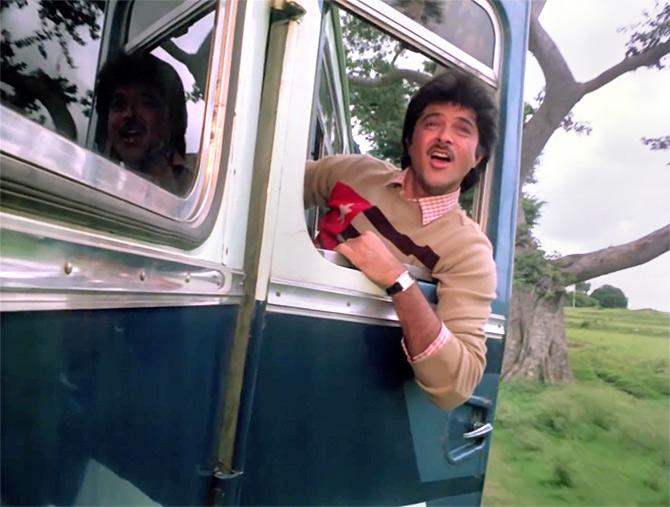 How can anybody not feel ready to take on the world after hearing Kishore Kumar's inspiring, garden-fresh take on young, uncorrupted, starry-eyed idealism?
Song: Dil aisa kisi ne mera toda
Movie: Amanush
Music: Shyamal Mitra
Lyrics: Indeevar
Mood: Resentful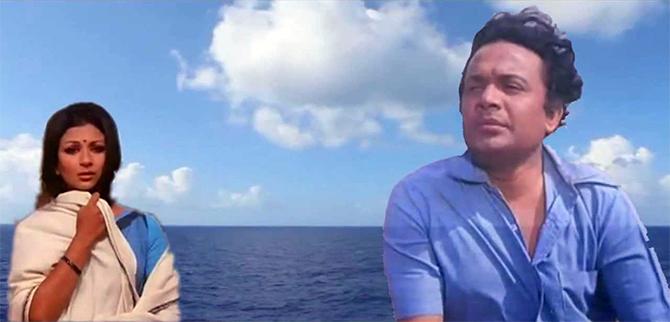 Listen carefully and you'll hear a distinctly grudging tone in Kishore Kumar's skilful rendition of this evergreen Amanush song.
Somehow, his gift for nuance doesn't get as much credit as his trademark goofiness.
Song: Thodi si jo pee li hai
Movie: Namak Halal
Music: Bappi Lahiri
Lyrics: Anjaan
Mood: Drunk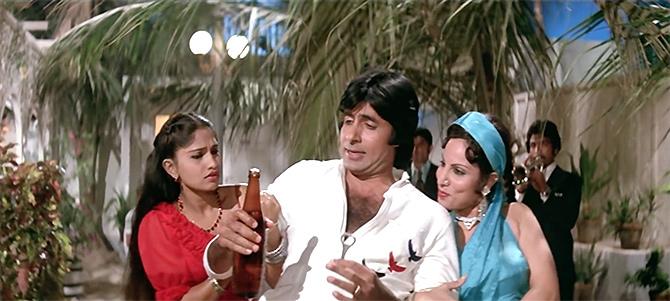 High on hiccups and swooning, one could compile a rollicking playlist out of Kishore Kumar's deliciously drunkard moments in song.
Song: Paisa yeh paisa
Movie: Karz
Music: Laxmikant-Pyarelal
Lyrics: Anand Bakshi
Mood: Pragmatic

Kishore Kumar mulls over money matters in a manner so cheeky, so cheerful and so la la la la, it can never go out of fashion.
Song: Khaike paan Banaraswala
Movie: Don
Music: Kalyanji-Anandji
Lyrics: Anjaan
Mood: F-U-N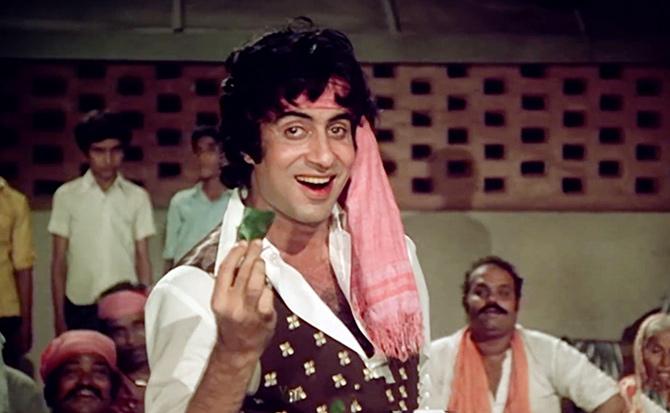 Bet paan sales went up after watching the Big B relish a banaraswala in Don, to whose merry mood Kishoreda contributes greatly.
Song: Kuch toh log kahenge
Movie: Amar Prem
Music: R D Burman
Lyrics: Anand Bakshi
Mood: Comforting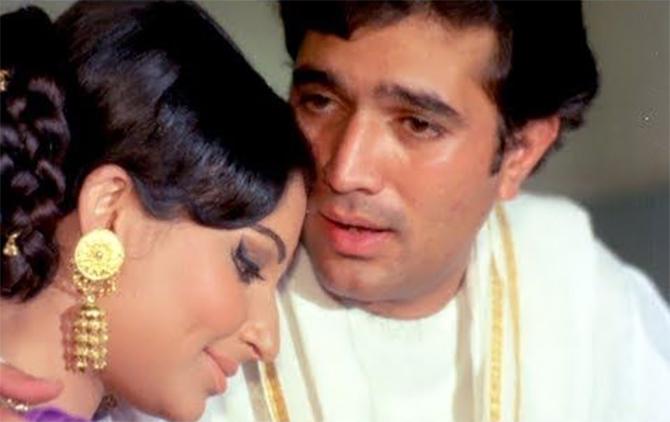 The lucid, lilting wisdom of Kuch toh log kahenge in Kishore Kumar's sympathetic voice continues to comfort and calm like few have or will.