A strong feeling of patriotism reverberates in songs sung by our soldiers on screen.
Whether on war footing or the war front, they boost each other's morale and for the love of motherland and glory.
With war dramas like Ajay Devgn's Bhuj: The Pride of India and Sidharth Malhotra's Shershaah on OTT, Sukanya Verma lists 10 rousing songs that inspire sentiments of valour and victory.
Ab Tumhare Hawale Watan Saathiyon, Haqeeqat
Music: Madan Mohan
Lyrics: Kaifi Azmi
Singer: Mohammad Rafi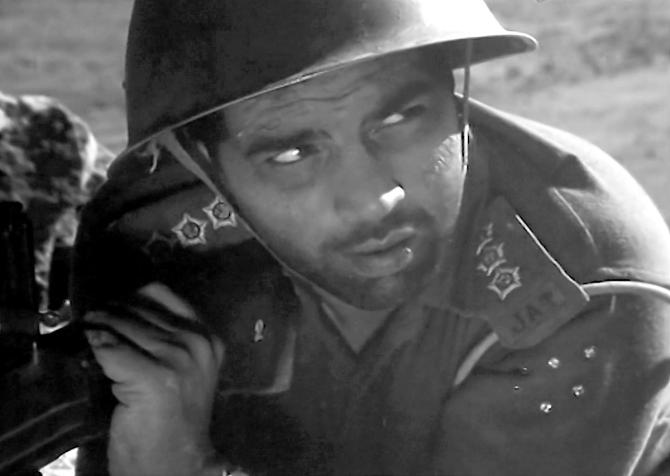 The overwhelming martyrdom and determination in Rafi's poignant rendition of Kaifi's all-time classic is an unforgettable glimpse into the Indian Army's heroism and will.
Vande Mataram, Anand Math
Music: Hemant Kumar
Lyrics: Bankim Chandra Chatterji
Singer: Lata Mangeshkar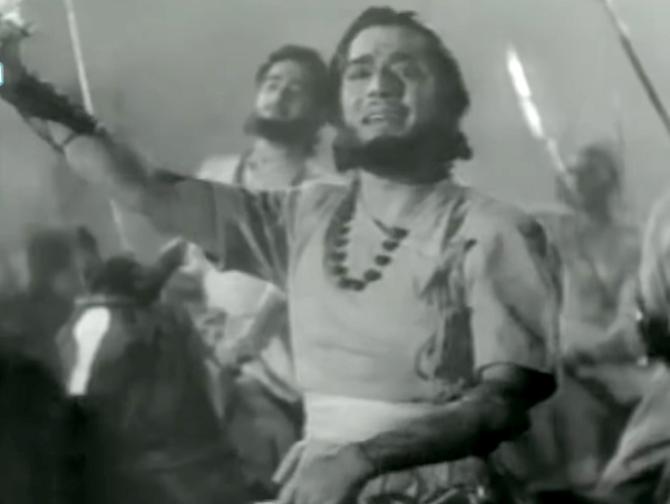 Adapted from Bankim Chandra Chatterji's classic novel Anandamatha, the film focuses on an early Indian rebellion against the British and the emotionally charged chants of Vande Mataram convey this ardour most effectively.
Kadam Kadam Badhaye Ja, Samadhi
Music: C Ramchandra
Lyrics: Rajendra Krishan
Singer: C Ramchandra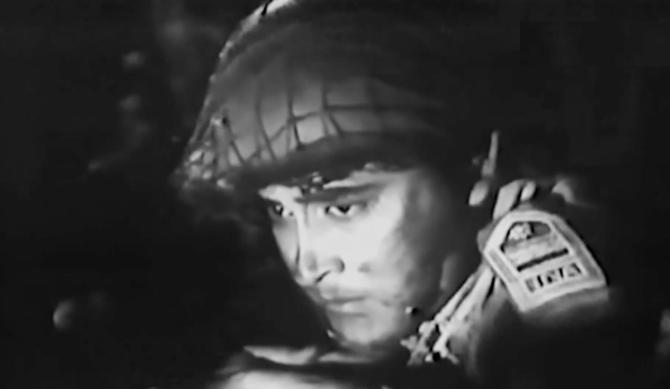 In Ramesh Saigal's 1950 patriotic spy drama, Ashok Kumar plays a devoted nationalist who joins Subhas Chandra Bose's Indian National Army and Kadam Kadam's war call vigour establishes his single-minded aim to impressive results.
Ae Watan Ae Watan Humko Teri Kasam, Shaheed
Music: Prem Dhawan
Lyrics: Prem Dhawan
Singer: Mohammad Rafi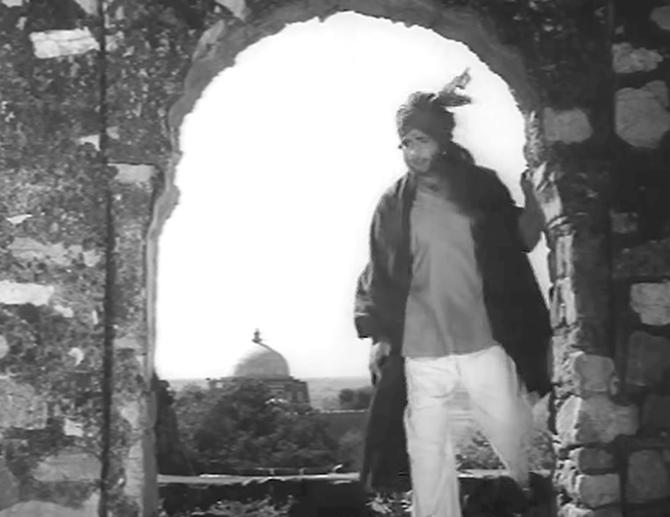 Though the war waged in Shaheed is on an individual level and centres on young freedom fighter Bhagat Singh's resistance to the British Raj, marking Manoj Kumar's tryst with patriotic dramas, the spirit of desh bhakti and sacrifice it evokes resonated deeply with listeners for generations to come.
Taqat Watan Ki Hum Se Hai, Prem Pujari
Music: Sachin Dev Burman
Lyrics: Neeraj
Singers: Mohammad Rafi, Manna Dey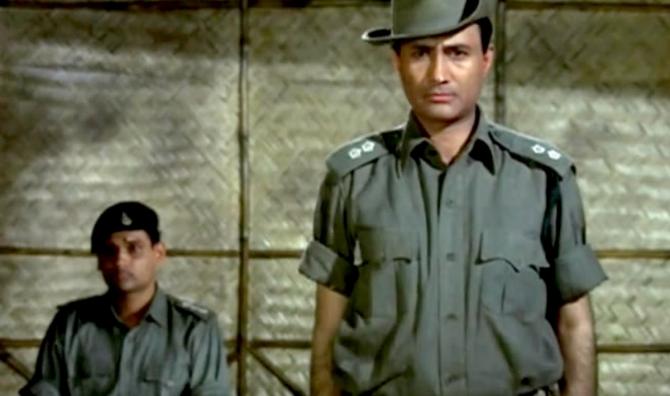 At the brink of the 1962 War, a disgraced soldier redeems himself by embodying the principles of army life firmly put across in Neeraj's feisty words -- Taqat Watan Ki Hum Se Hai. Himmat Watan Ki Hum Se Hai. Izzat Watan Ki Hum Se Hai. Insaan Ke Hum Rakhwale.
Hindustan Ki Kasam, Hindustan Ki Kasam
Music: Madan Mohan
Lyrics: Kaifi Azmi
Singers: Manna Dey, Mohammad Rafi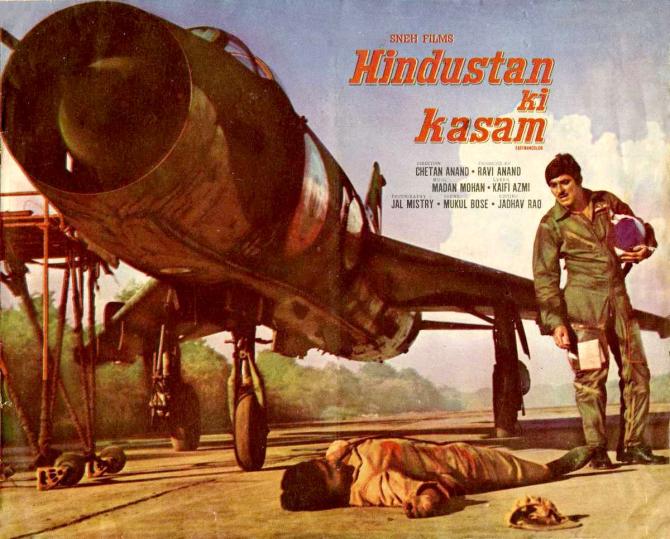 Chetan Anand's recreation of Operation Cactus Lilly during the 1971 War received acclaim for its balanced politics and authenticity in depicting MiG-21s, Gnats and Sukhoi-7s.
And the fortitude of its will-emerge-victorious-even-if-it-costs-our-lives war cry is suitably delivered in a potent title song.
Hindustan Hindustan, Border
Music: Anu Malik
Lyrics: Javed Akhtar
Singer: Shankar Mahadevan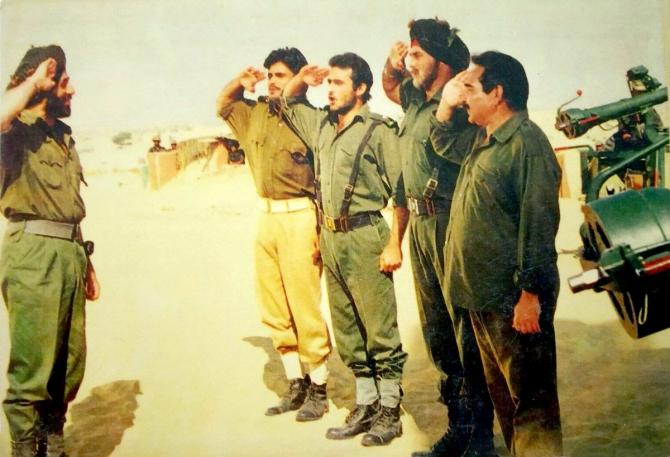 J P Dutta's blockbuster multi-starrer offers an action packed account of the Battle of Longewala in the 1971 War whose patriotic fervour finds emotional resonance in Javed Akhtar's soulful penmanship and cheering for Meri Aan Meri Shaan Meri Jaan -- Hindustan Hindustan.
Kandhon Se Milte Hain Kandhe, Lakshya
Music: Shankar-Ehsaan-Loy
Lyrics: Javed Akhtar
Singers: Sonu Nigam, Kunal Ganjawala, Hariharan, Roop Kumar Rathod, Vijay Prakash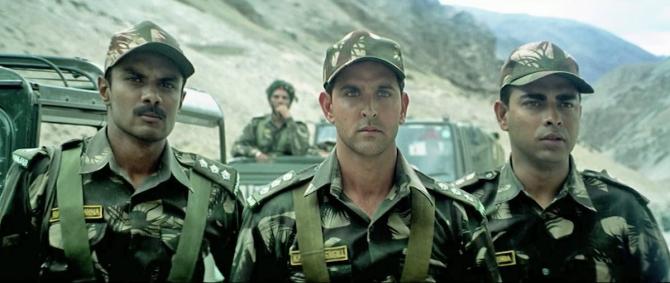 The sheer exuberance and brotherhood packed in Lakshya's Kandhon Se Milte Hain Kandhe reveals an unconquerable spirit that will prove daunting for the enemy across the border in Farhan Akhtar's coming-of-age tale amidst the 1999 Kargil War.
Challa, Uri
Music: Shashwat Sachdev
Lyrics: Kumaar
Singers: Romy, Vivek Hariharan, Shashwat Sachdev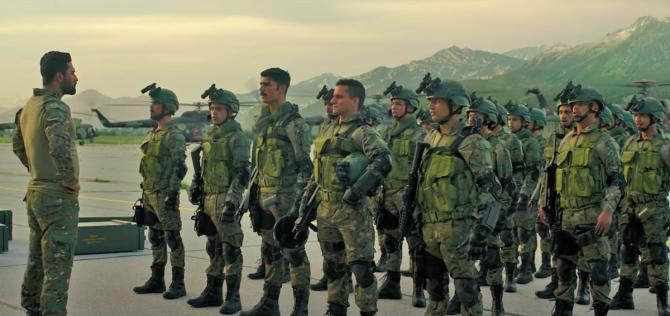 Uri's soundtrack veers away from the traditional mould of patriotic melodies to pack in contemporary sounds and a noticeable rise of aggression in its temperament.
Challa's adrenalin pumping gusto forms a striking background as Indian soldiers prepare for a surgical strike against the nation's enemies.
Ae Watan, Raazi
Music: Shankar-Ehsaan-Loy
Lyrics: Gulzar
Singer: Sunidhi Chauhan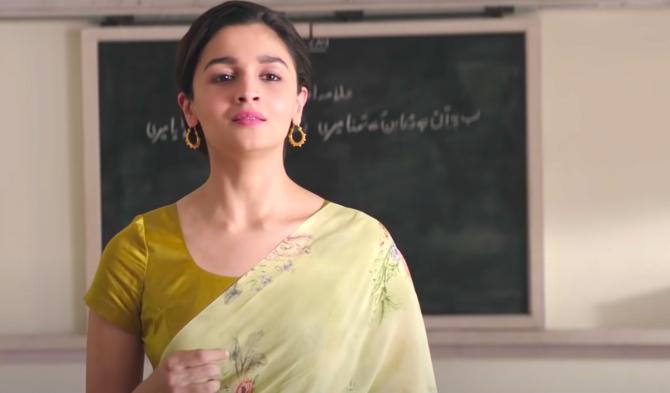 Ae Watan's intense emotions hit hard in an ingeniously crafted scene of Meghna Gulzar's Raazi.
Employed like a soldier skilled in spying by RAW, Alia Bhatt's patriotism take precedence over her personal life against the backdrop of the 1971 War, which is highlighted gently but profoundly in Ae Watan.